Thailand Explores 90-day Visas for European Visitors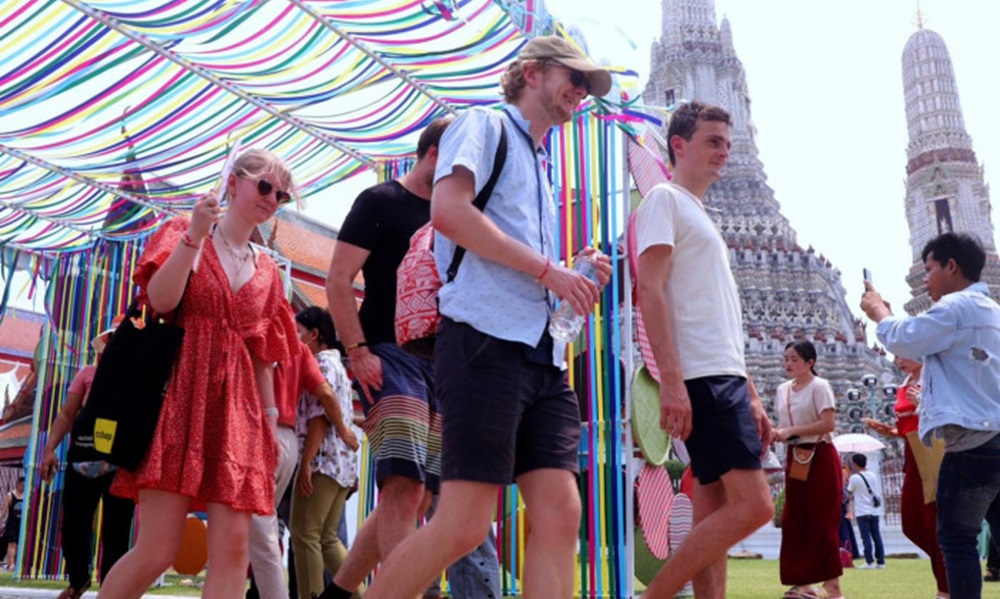 Thailand's government is mulling changing visa restrictions for visitors from European nations and is planning hundreds of cultural and sporting events to entice visitors to stay longer and spend more, according to Thailand's foreign ministry.
Mr. Prommin Lertsuridej, a close advisor to Prime Minister Srettha Thavisin, told the Bangkok Post in an interview Thursday that the administration is exploring allowing visitors of some European countries to remain for up to 90 days.
He also stated that over 3,000 activities, such as music concerts, marathons, and other cultural festivities, will be organized through next year to attract tourists.
Prime Minister Srettha, who took office in August, and has recognized tourism as a "quick win" for Thailand's economic growth. His administration has temporarily relaxed visa restrictions for travelers from Russia, China, Kazakhstan, India, and Taiwan, and has directed airlines to expand routes while streamlining airport operations to reduce visitor wait times.
He also intends to enable nightlife entertainment venues in Bangkok, Phuket, Chiang Mai, and Chonburi to stay open until 4 a.m. beginning next month.
While Thailand has lifted most pandemic-era restrictions on visitors, average expenditure per traveller has trailed behind pre-Covid levels and has fallen short of government forecasts.
In 2019, the country received about 40 million foreign visitors, generating 1.91 trillion baht in revenue. According to official data, each tourist spent an average of 47,895 baht each vacation that lasted nine days that year. Thailand had received 981.7 billion baht in foreign tourist receipts as of November 12 this year, having welcomed 23.2 million foreign tourists. That implies it is currently 12% below the 2019 per-trip spending goal.
The Tourism Authority of Thailand has established a goal of returning international tourism earnings to pre-Covid levels by 2024, with a target of at least 2 trillion baht ($57 billion).
Premier Srettha announced last week the "Winter Festival" celebrations, which will include the Loi Krathong festival, the Bangkok Marathon, and New Year's Eve. The event is intended to highlight Thailand's distinct culture and attract tourists during the busy season, which runs from November to January.
"We will design more attractions and promotions to incentivize tourists to stay longer," said Mr Prommin, the premier's secretary-general. "Longer stay, more events to attract them, more nightlife fun." This is how we intend to increase tourist spending."

Thailand and China Unite in 'Star For You Tour'
The government of Thailand has also launched the "Star For You Tour," a promotion aimed at improving Thai-Chinese ties and encouraging tourism, in conjunction with the corporate sector, including Thai and Chinese partners. This program, which will benefit Thailand's economy by the end of the year, capitalizes on Thailand's soft power by promoting well-known Thai artists and unique travel experiences.
In accordance with government directives, the "Star For You Tour" campaign aims to encourage tourism among Chinese tourists through Thailand's soft power.
The event uses influencer marketing strategies to target Chinese tourists who are fans of Thai artists, offering them a one-of-a-kind travel experience to various Thai tourist destinations as well as the opportunity to attend a special concert, the Thai-Chinese Tourism Business Association, the Immigration Bureau, the Tourist Police, Thai Airways International Public Co., Ltd., OTOP Trader, Thai Sports, Exact Scenario Co., Ltd., and Propoliz products.
The campaign's highlight is the "Star For You Meeting Concert" at the Queen Sirikit National Convention Center on December 2, 2023. Fans are anticipated to flock to this one-of-a-kind reunion of four popular performers from a popular series.
The performance will include two well-known couples: Film Thanapat and Jam Rachata from the TV shows "Khun Chai" and "Law Of Attraction," and Daou Pittaya and Offroad Kantapon from the boy band Laz 1, who are also recognized for their roles in "Love In Translation" on Channel One 31. This is the first time these artists will join the stage, creating a one-of-a-kind performance for this event.
Thailand received 2,876,426 Chinese tourists from January 1 to November 10, 2023, according to the Tourism Authority of Thailand (TAT). The "Star For You Tour" is expected to attract at least 5,000 additional Chinese tourists, potentially generating up to 300 million baht.
This influx is considered as a vital contribution to the Thai economy, particularly during the holiday season, and is expected to strengthen Thailand-China relations.
The organizers, Nee Krung Connect Co., Ltd. and Siam Casa Trading Co., Ltd., promise an amazing performance, emphasizing that it will be unlike any other performance witnessed in other nations.