Avelo Celebrates 1 Million Passengers At Tweed With Free Roundtrips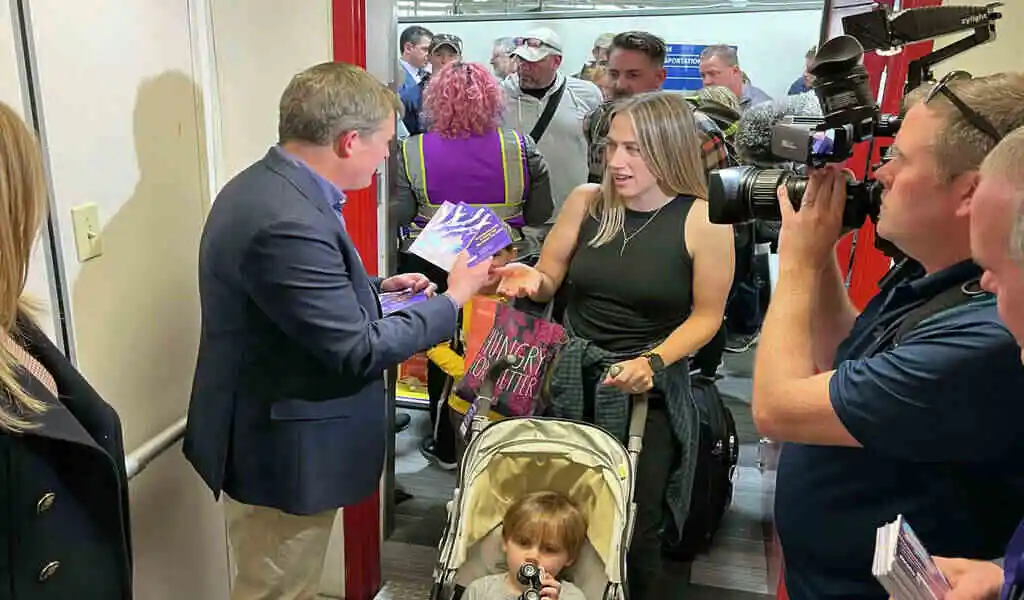 (CTN News) – After arriving at Tweed New Haven Regional Airport for her Avelo Airlines flight to Fort Myers, Fla., Sandy Smerekanicz wasn't expecting anything all that special beyond a smooth trip when she arrived at Tweed New Haven Regional Airport Friday.
As a result, Smerekanicz, of Beacon Falls, and her companion, Jack Burns, ended up with a voucher for a free future round-trip flight anywhere Avelo flies-a voucher that Avelo founder, Chairman and CEO Andrew Levy personally gave to her.
In addition to them, there were 182 passengers on board the flight at 2:25 p.m. of the Avelo flight that was carrying Avelo's millionth passenger since it began operating Tweed flights 16 months ago.
The trip is fantastic!" Smerekanicz exclaimed as she waited to board the plane. She said it was amazing! She remarked that it was more comfortable to fly on a small airline such as Avelo from a smaller airport such as Tweed, because it was "so much more friendly."
A number of other guests attended the event along with Levy, including Senator Richard Blumenthal, D-Conn., Mayor Justin Elicker, State Department of Economic & Community Development Commissioner Alexandra Daum, Tweed New Haven Airport Authority Executive Director Tom Rafter, and CEO of Avports Jorge Roberts are a few of the people who attended the event along with Levy, including Senator Blumenthal, D-Conn.
According to Levy, who spoke to the press prior to the event, "We are celebrating being able to reach this milestone." The New Haven office is still our biggest space, so while we are expanding in other areas of the country, New Haven remains our biggest market.
There has been a lot of ups and downs," Levy said with a laugh. It is always popular to give away free stuff, so I think a lot of people will be pretty excited about this in the future." he joked.
On Nov. 3, 2021, Avelo, which employs nearly 200 people in New Haven, will begin flying from the Tweed Airport in New Haven.
Recently, the airline announced new routes from New Haven to Greenville-Spartanburg, S.C., its 15th destination in that direction. "We think there are quite a few more we can add in the next few years," he said, although he was not ready to give a specific date.
According to Levy, there are one or two more (destinations) that are likely to be announced in the near future.
Is Avelo Airlines successful?
The airline carried over 1.2 million passengers on more than 10,000 flights in 2022, added 15 airports to its route map, and expanded its workforce by 220 employees to 550. However, Avelo was not profitable last year.
SEE ALSO:
Rare, Long-Lasting Tornado Tears Through Mississippi, Killing At Least 23