5 Injured, 3 Dead in Multiple Shootings in Central Thailand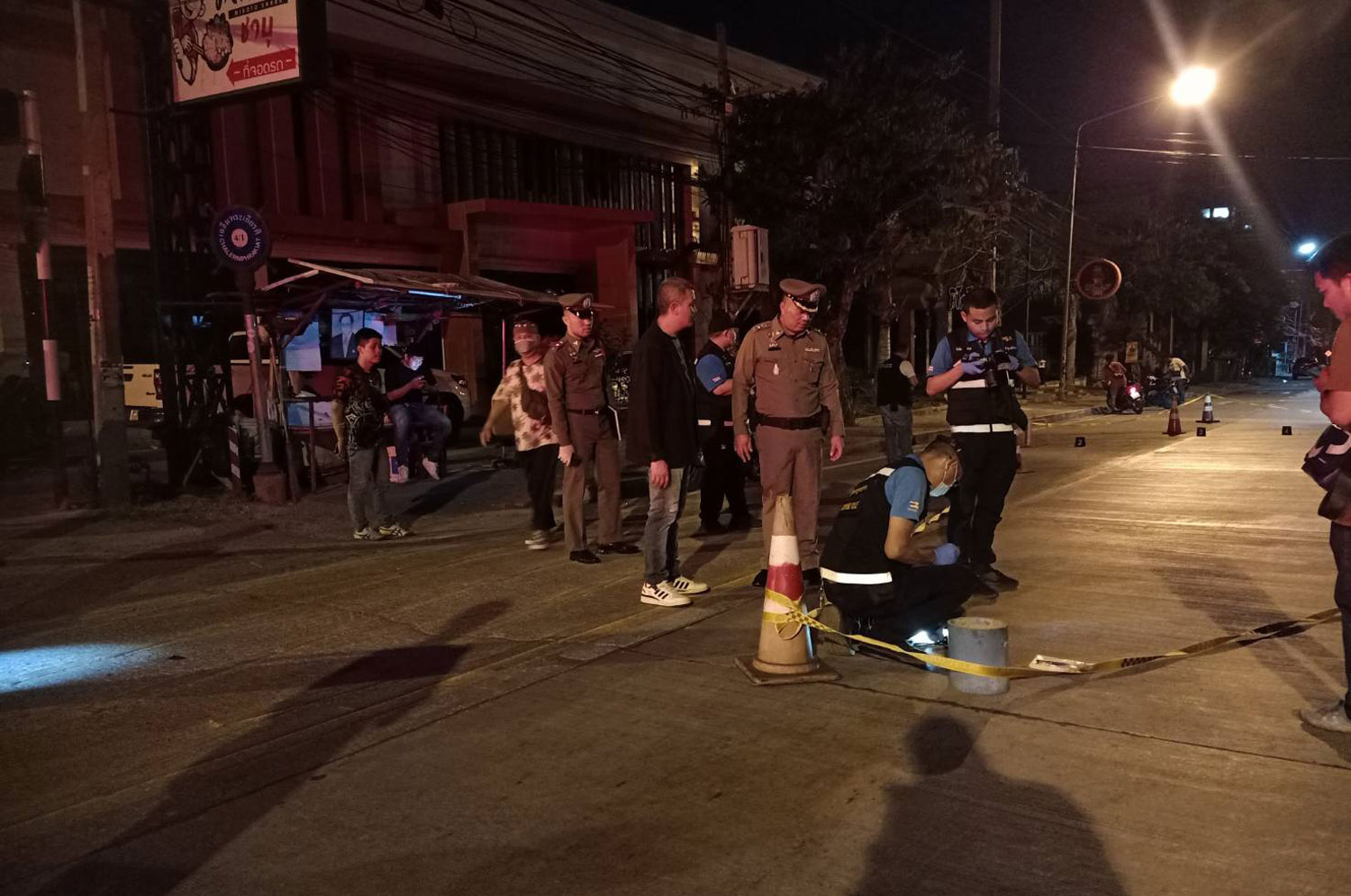 A gunman who opened fire on a car in Pattaya, injuring two women, on Friday afternoon, Nopporn "Benz" Inpom, 29, was apprehended at a house in Thailand's Chonburi Province. Police seized a Honda Jazz with and a 9mm handgun from the suspect, according to Pattaya police.
The suspect was being transported to the Pattaya police station to face charges in connection with the crime.
In the early hours of Friday, a Thai woman and a Chinese woman were shot at their car in the resort city. Police believe they were unfairly targeted.
According to Police, who was alerted around 2.10 a.m., the attack occurred at the entrance of Soi Chalernprakiat 4/1 in the Bang Lamung district of Pattaya Chonburi.
When police and forensic officers arrived, they discovered a black Mercedes-Benz with Bangkok license plates parked nearby, with bullet traces on its doors, side mirrors, and body. The officers also discovered bloodstains inside the car and on the road.
Six cartridges and a bullet were also discovered inside the vehicle. Before the officers arrived, the two injured women were taken to Pattaya Memorial Hospital. One of the victims, Nippawan Wola, 26, was shot in both cheeks, while the other, Li Xinying, 24, was shot in the left wrist.
Employees at the nearby Ying Club told police that a group of teenagers had a fight with some South Korean tourists inside the venue prior to the shooting. During the altercation, the employees had intervened.
After the pub closed around 2 a.m., a car carrying the Koreans involved in the fight and another car carrying the two women left in separate directions. The teenagers then drove away in the same direction as the victims' vehicle. Following that, several rounds of gunfire were heard.
The attackers may have mistakenly targeted the victims' car, according to police. Officers worked in groups to examine surveillance video to find the vehicle used by the suspected shooter.

Shooting Rampage in Phetchaburi Thailand
A man who went on a shooting rampage at a housing estate in Muang district of Phetchaburi  province in central Thailand on Wednesday, killing three people and injuring three others, including a police officer, was killed in a police shoot-out early yesterday, ending a 15-hour standoff.
Mr. Anuwat Laemthong, 29, began shooting indiscriminately from a two-story house in the Krungphet Villa housing estate in tambon Ton Mamuang around 1.37pm on Wednesday.
Around 100 special operations police officers surrounded the house and attempted to persuade the gunman to surrender.
Police brought his mother to the house around 7 p.m. to help him surrender. He refused and only shot occasionally.
Three men had been killed and three others had been injured by that point. Pasit Em-oth, 22, and Rathakorn Thongkaew, 22, were both fourth-year Phetchaburi Rajabhat University students who arrived at the house on a motorcycle. Sirapat Wattana, 27, a truck driver from tambon Pho Phra, was the third.
Pol Sub Lt Kanoksak Muthakan, chair of the Ton Mamuang TAO, was hit when he arrived to negotiate with Anuwat; Pol Lt Somchai Yaemyuan, a special operations officer, was hit in the cheek; and Krisda Sritha, 35, was driving by on his way home.
At 3:33 a.m. yesterday, police commandos stormed the house, sparking an exchange of gunfire. At 3.47 a.m., Anuwat was shot dead on the second floor, bringing the 15-hour standoff to an end. He was found to be in possession of a 9mm pistol.
The families of those killed in the incident, according to Governor Nathachai Nampoolsuksawat, are entitled to compensation.
Anuwat worked as a forest ranger at Thap Lan National Park for six months in 2020, according to Provincial Police Chief Pol Maj Gen Piti Naruekhatpichai, and his work contract was not extended.
He stated that Anuwat was charged in a case in November. He had previously appeared in the Phetchaburi Court twice. A third hearing was scheduled for Wednesday, but Anuwat and a man on the opposing side did not show up.
Meanwhile, Rathakorn's father, Suvit Thongkaew, demanded justice for his son, claiming that he could have been saved.
"My son was reportedly shot in the afternoon," he said, believing he was still alive after being shot. My son might not have died if he had received assistance."