Japan's Ex-PM 'Shinzo Abe' Assassination Suspect Charged With Murder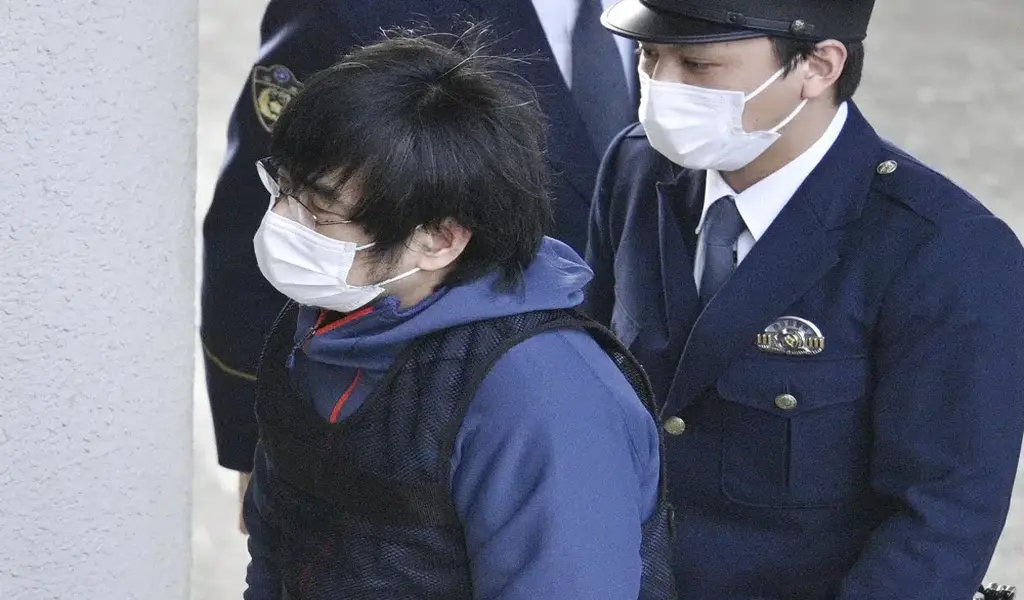 (CTN NEWS) – TOKYO – The suspect in the death of former prime minister Shinzo Abe has been officially charged by Japanese authorities with murder and will now face trial, a court announced on Friday.
'Tetsuya Yamagami' is accused of shooting Abe outside a railway station in Nara, western Japan, in July while the former prime minister was giving a campaign address.
Yamagami was detained right afterwards. He subsequently underwent a roughly six-month long mental evaluation, which according to the prosecution demonstrated his readiness for trial.
According to the Nara District Court, Yamagami was also accused of breaking a weapons control legislation.
According to police, Yamagami claimed to them that he assassinated Abe, one of Japan's most prominent and polarising politicians, because of Abe's alleged affiliations with a religious movement he detested.
Yamagami said in his declarations and in posts on social media that were attributed to him that he harboured resentment because his mother had given the Unification Church enormous sums of money, ruining his family's finances and ruining his life.
ppl using the assassination of shinzo abe as support for the argument that "if you ban guns in America, ppl will get them away" are dumb as hell bc no American is smart enough to create a doohickey pic.twitter.com/NXJgqbuouQ

— alyssa (@mistapussy) December 15, 2022
Masaaki Furukawa, one of his attorneys, told The Associated Press on Thursday that Yamagami will be held accountable for the grave repercussions of his alleged conduct and that his defence team will work to have the sentence reduced.
Although experts claim the death penalty is often meted out for several homicides and that Yamagami may receive life in prison if found guilty, Japanese law permits the death sentence for murder.
As is customary in murder cases and other serious criminal prosecutions in Japan, no date has been set for the trial, which is anticipated to include a panel of civil jurors in addition to the regular bench judges.
In Japan, there are no pretrial conferences, and trials are the norm for defendants.
It will be months before his trial starts because of how complicated the case is, according to Furukawa.
Police are apparently contemplating adding other claims, including making weapons, breaking the legislation governing the control of explosives, and causing property damage to buildings.
The assassination prompted the resignation of top local and national police commanders and the tightening of security regulations for politicians and other significant figures in a nation famed for its public safety and strict firearms laws.
Hirokazu Matsuno, the chief cabinet secretary, responded to Yamagami's indictment by saying, "We must take very seriously the horrible act of violence that culminated in the death of former Prime Minister Abe."
With the G7 conference and upcoming national municipal elections, he asserted that Japan would secure the security of dignitaries and political leaders.
Some Japanese have shown sympathy for Yamagami, particularly for those who similarly suffered as descendants of members of the Unification Church, a group that is regarded as a cult in Japan and is well known for forcing members to make large donations.
Numerous people have donated care packages to Yamagami's family or the jail facility, and thousands of people have signed a petition asking for forgiveness for him.
Regardless of his challenging past, according to Kazuo Kobayashi, 64, a resident of Chiba in Tokyo, Yamagami should be brought to justice.
"I think it's good to bring him to justice and make it plain what is right and what is wrong," he stated. "I want the case to be thoroughly investigated to determine the truth so that Japan can learn a lesson for the future."
Since Abe's grandfather, former Prime Minister Nobusuke Kishi, assisted the church in taking root in Japan in the 1960s due to mutual beliefs in conservative and anti-communist causes.
The inquiry into the issue has revealed years of intimate links between the party and the church.
Fumio Kishida, the current prime minister, has lost support for how he handled the church matter and for insisting on arranging a rare, contentious state funeral for Abe.
Kishida reorganised his Cabinet in August to get rid of ministers with ties to the church, but the governing party's probe, which was published in September, revealed that about half of its 400 national parliamentarians had ties to the church.
In addition, his administration has launched a probe that could result in the church's religious designation being revoked, according to Kishida, who claimed to have no relationships with the institution.
The government also passed a regulation intended to assist those harmed by the church's fundraising methods, but experts deem it insufficient.
Yokohama resident Yoshihiro Morishima, 72, stated that the church has long been a societal issue and that "I would prefer that it disappear at this moment."
"Although it would be exactly what the suspect desired, I don't mind."
RELATED CTN NEWS
Britain Criticizes 'Eroding Freedoms' In Hong Kong, Prompting China's Rebuke
U.S. And Japan Announce Plans To Strengthen Their Partnership
China Buys 'Golden Shares' In 2 Units Of Alibaba