Top 10 Cake Ideas that Can Bring Joy to Your Day
Cakes hold a special place in our hearts, symbolizing celebrations, milestones, and joyous occasions. Whether it's a birthday party, an anniversary, or any other special moment, a beautifully crafted cake can elevate the mood and create unforgettable memories.
In this article, we'll explore ten delightful cake ideas that can add an extra layer of happiness to your day. From the whimsical Pinata to the classic Cheese frosting, these cakes are perfect for birthdays, anniversaries, and any celebration that calls for a delectable party cake.
Pinata Cake: A Burst of Fun and Surprises
A Pinata Cake is a delightful treat that combines the joy of breaking open a pinata with the sweetness of cake. It's perfect for birthdays and celebrations that need an element of surprise.
This cake is as much fun to make as it is to eat. Start by baking two layers of your favorite cake and let them cool. Once cooled, hollow out the center of one layer, leaving a rim around the edge. Fill the cavity with colorful candies, sprinkles, or small toys. Then, spread a layer of frosting on top of the unaltered cake layer and place the hollowed-out layer on top. Frost the entire cake to seal the surprise inside. As you cut into the cake, the hidden treasures spill out, delighting everyone at the celebration.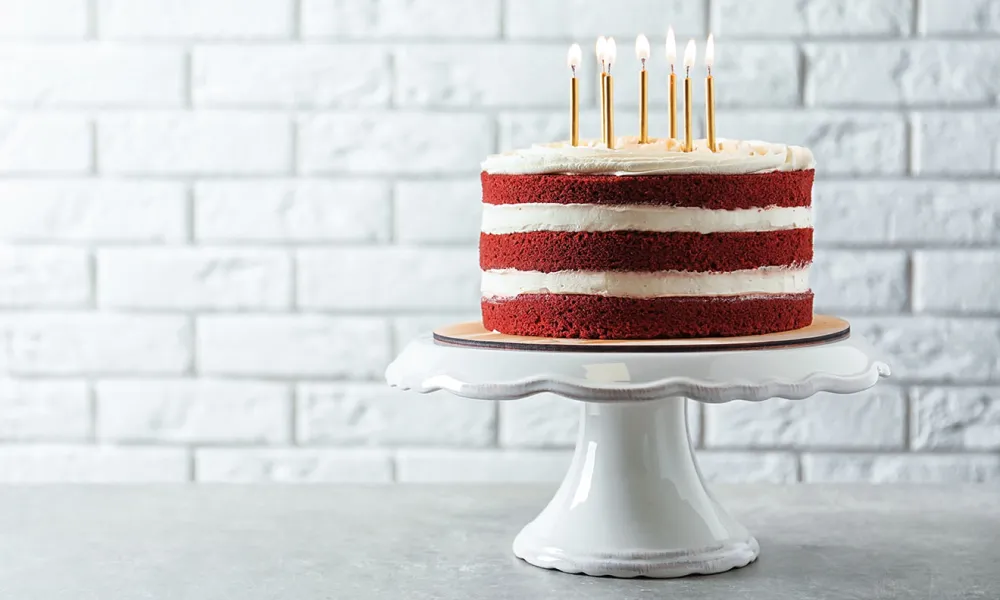 Cream Cheese Frosted Red Velvet Cake: Classic Elegance
Cream Cheese frosting is a timeless favorite, known for its rich, tangy flavor that pairs perfectly with a variety of cake flavors. One classic pairing is the Cheese Frosted Red Velvet Cake, a beloved choice for birthdays and anniversaries.
The Red Velvet cake, with its subtle cocoa flavor and vibrant red color, contrasts beautifully with the creamy, slightly tangy cheese frosting. This combination creates a cake that's not only visually appealing but also indulgently delicious. Whether adorned with intricate decorations or kept elegantly simple, a Cheese Frosted Red Velvet Cake is a crowd-pleaser that adds a touch of sophistication to any celebration.
Rainbow Cake: A birthday of Happiness
A Birthday Party Cake is all about bringing joy and excitement to the celebration. It's often a multi-layered, colorful cake adorned with vibrant decorations and sprinkles.
This cake idea is perfect for kids and the young at heart. Each layer can be a different flavor, and the frosting can be a palette of bright colors. The fun doesn't stop at the cake's appearance; it continues with each bite as you savor the delicious blend of flavors. From chocolate and vanilla to strawberry and lemon, a Cake offers a taste of celebration with every slice.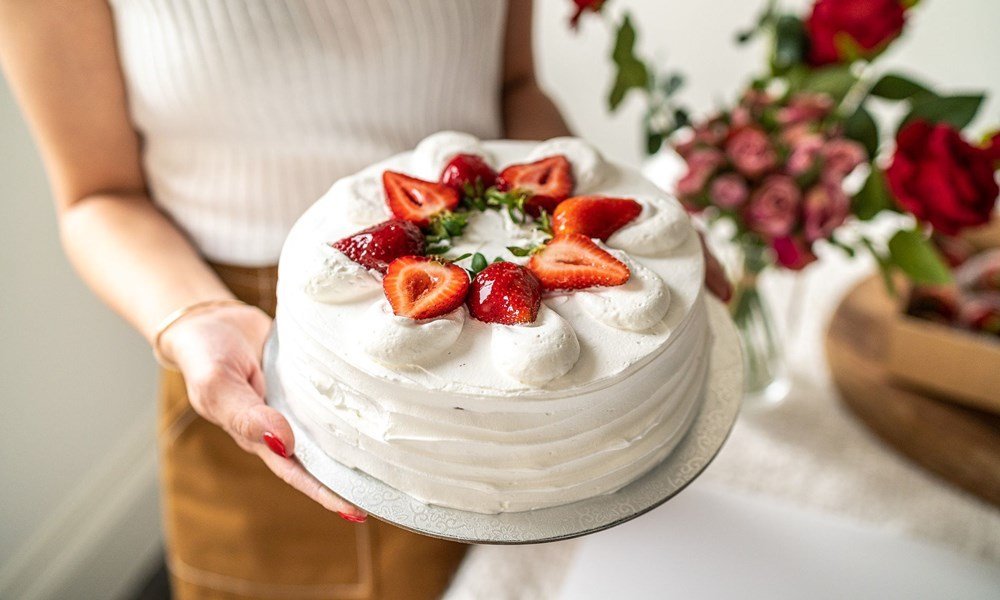 Vanilla Cake: Elevate Any Occasion
Sometimes, you don't need a specific reason to celebrate; life itself is worth commemorating. That's where a Celebration Cake comes in—an all-purpose, versatile cake that's suitable for any occasion, big or small.
The beauty of a Celebration Cake lies in its simplicity. It can be a single-tier cake with a classic flavor like vanilla or chocolate, adorned with a heartfelt message or a minimalist design. It's the cake you turn to when you want to mark an achievement, show appreciation, or simply share a sweet moment with loved ones. Its versatility makes it a go-to choice for impromptu gatherings and spontaneous celebrations.
Strawberry Shortcake: A Taste of Summer
When fresh strawberries are in season, there's no better way to celebrate their sweet juiciness than with a classic Strawberry Shortcake. This cake is perfect for summer birthdays and outdoor gatherings.
A Strawberry Shortcake typically consists of layers of sweet, buttery cake alternated with layers of fresh strawberries and whipped cream. The combination of soft cake, ripe berries, and airy whipped cream creates a light and refreshing dessert that captures the essence of summer. It's a cake that's as visually appealing as it is delightful to eat, making it a top choice for warm-weather celebrations.
Tiramisu Cake: A Taste of Italy
For those who appreciate the rich flavors of coffee and mascarpone cheese, a Tiramisu Cake is a taste of Italy that can transform any occasion into a sophisticated affair.
This cake takes inspiration from the classic Italian dessert. It features layers of coffee-soaked sponge cake, creamy mascarpone filling, and a dusting of cocoa powder on top. Tiramisu Cake is a dessert and coffee all in one, making it an excellent choice for dessert lovers and coffee enthusiasts alike. It's a cake that exudes elegance and is perfect for celebrating milestones and romantic anniversaries.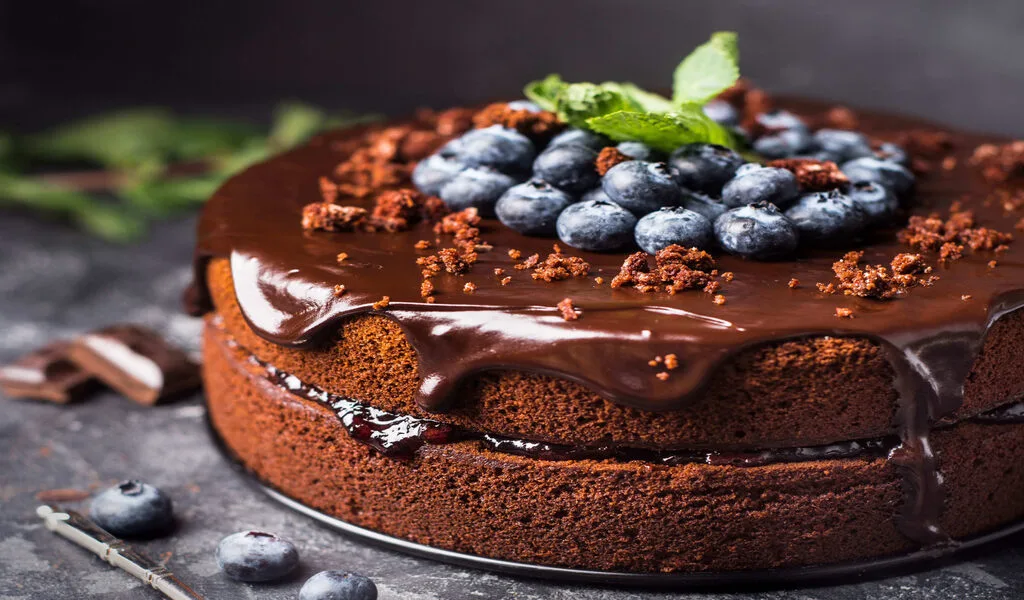 Chocolate Ganache-Dripped Cake: Decadent Indulgence
For those who can't resist the allure of rich, velvety chocolate, a Chocolate Ganache-Dripped Cake is the ultimate indulgence. This cake is perfect for those special occasions when you want to treat yourself and your guests to a chocolate lover's dream.
To create this masterpiece, start with a decadent chocolate cake. Then, prepare a silky chocolate ganache—a mixture of chocolate and cream—that's gently poured over the cake, allowing it to cascade down the sides in beautiful drips. The result is a cake that's both visually stunning and sinfully delicious. It's a top choice for anniversaries and celebrations where chocolate is the star of the show.
Lemon Blueberry Cake: A Burst of Citrus Sunshine
When you want to infuse a touch of citrusy brightness into your celebration, a Lemon Blueberry Cake is the way to go. This cake captures the essence of spring and is perfect for birthdays, bridal showers, and brunch gatherings.
The Lemon Blueberry Cake features layers of lemon-flavored cake filled with a luscious blueberry filling and topped with lemon cream cheese frosting. The zesty lemon flavor complements the sweet burst of blueberries, creating a harmonious blend of tanginess and sweetness. This cake not only looks inviting with its cheerful yellow and blue hues but also offers a refreshing taste that awakens the senses.
Anniversary Fondant Cake: Elegance and Romance
Anniversaries are a time to celebrate love and commitment, and what better way to do so than with an Anniversary Fondant Cake? This cake is a symbol of elegance and romance, making it the perfect choice for marking another year of cherished togetherness.
A Fondant Cake is characterized by its smooth, satin-like icing that provides a blank canvas for intricate decorations. For anniversaries, it's common to see delicate sugar flowers, intricate piping, and personalized messages adorning the cake's surface. While the exterior is a work of art, the cake's interior can be filled with flavors that hold special meaning for the couple. From classic vanilla to exotic fruit fillings, an Anniversary Fondant Cake is a testament to enduring love.
Miniature Cupcake Tower: Bite-Sized Bliss
Sometimes, it's the small things that bring the most joy. A Miniature Cupcake Tower is a delightful way to celebrate without the need for a large cake. It's perfect for intimate gatherings, baby showers, and bridal teas.
A Cupcake Tower consists of a variety of bite-sized cupcakes, each adorned with colorful frosting and decorations. You can mix and match flavors to cater to different tastes, creating a miniature dessert buffet that guests can enjoy at their leisure. The tower itself serves as a charming centerpiece, adding a touch of whimsy to the celebration. Plus, miniature cupcakes are easy to portion and share, making them an ideal choice for smaller events.
Conclusion
Cakes have the remarkable ability to evoke happiness and create lasting memories. Whether you opt for the whimsical surprise of a Pinata Cake, the elegance of an Anniversary Fondant Cake, or the cheerful burst of a Party Cake, each cake idea has the power to bring joy to your birthdays anniversaries day.
Cakes, in all their delicious forms and flavors, symbolize love, celebration, and the sweet moments that make life special. So, the next time you're planning a special occasion, consider these cake ideas as your ticket to a slice of happiness. Indulge, celebrate, and savor every bite.