Russia Fired 20 Cruise Missiles And 2 Drones At Ukraine Killing At Least 16 People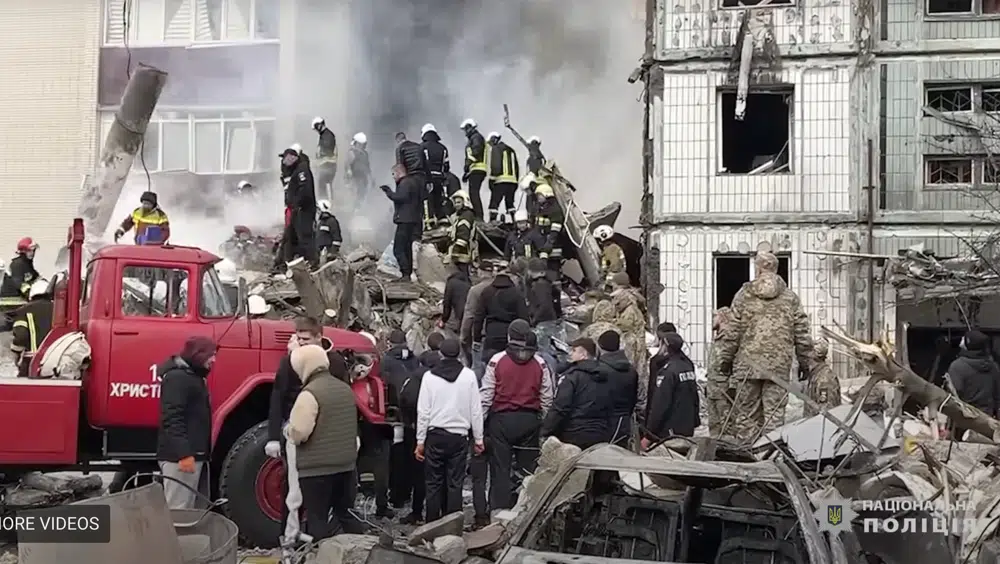 (CTN News) – At least 16 people were killed when Russia launched more than 20 cruise missiles and two drones at Ukraine early on Friday.
The majority of the casualties occurred when two missiles struck an apartment complex in the country's centre, according to officials. There were three kids among the deceased.
Despite no reports of any targets being hit, the missile attacks included the first one against Kyiv, the capital of Ukraine, in almost two months.
Ukrainian national police said 17 people were wounded and three children were rescued from the rubble
According to the Kyiv municipal authorities, two unmanned aerial vehicles and 11 cruise missiles were intercepted by the Ukrainian air force over Kyiv.
Uman, a city situated about 215 kilometers (134 miles) south of Kyiv, was the site of the attacks on the nine-story residential structure in central Ukraine.
According to the interior ministry, that incident resulted in the deaths of 14, including a toddler and two children under the age of ten.
According to rescue responders at the scene, a 75-year-old woman who resided in a nearby building was another victim. She experienced internal bleeding as a result of the massive blast's shock wave.
According to the Ukrainian national police, three children were pulled from the wreckage and 17 people were injured. Hospitalised were nine people.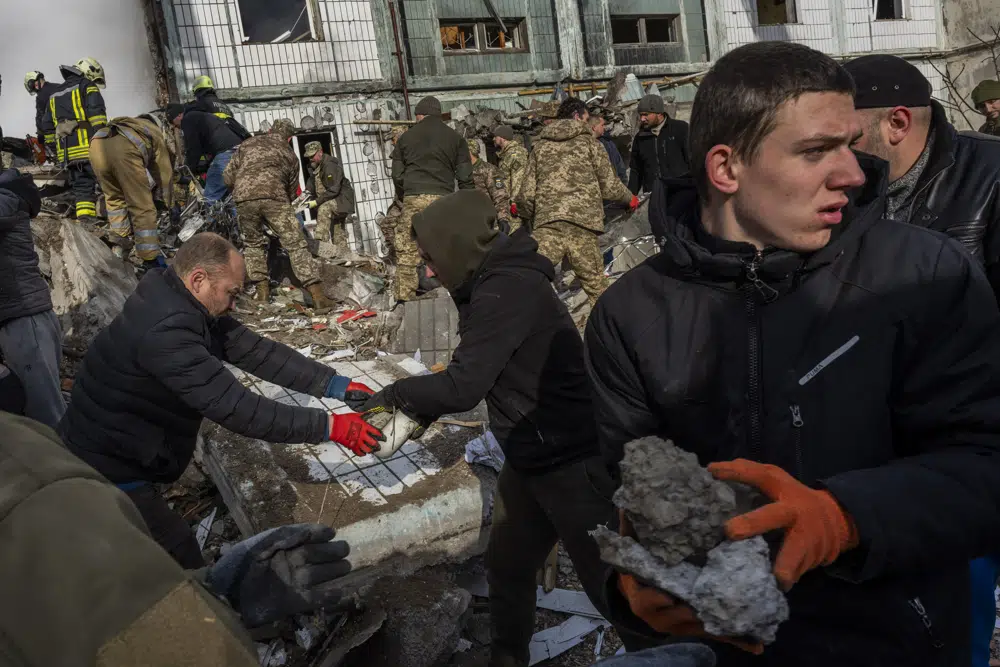 In eastern Ukraine, where a gruelling war of attrition has taken root, the shelling was nowhere near the war's wide front lines or active combat zones.
Moscow has launched numerous long-range missile attacks that frequently target civilian areas without warning
The strikes, according to Ukrainian officials and analysts, are a calculated intimidation tactic by the Kremlin. Russia has denied having any military objectives against civilians.
Those who survived the Uman attacks described harrowing moments when the missiles struck while it was still dark outside.
A resident of the building named Halyna claimed that the blast coated her and her husband with glass.
When they noticed flames outside their window, they hurried outside, but not before Halyna made sure her friend in the next-door flat was okay.
"I called her repeatedly on the phone, but she didn't answer. She told The Associated Press, "I even rang the doorbell, but there was still no response.
She entered her friend's flat using the spare keys and made sure she was okay. On the floor of her flat, she was discovered dead.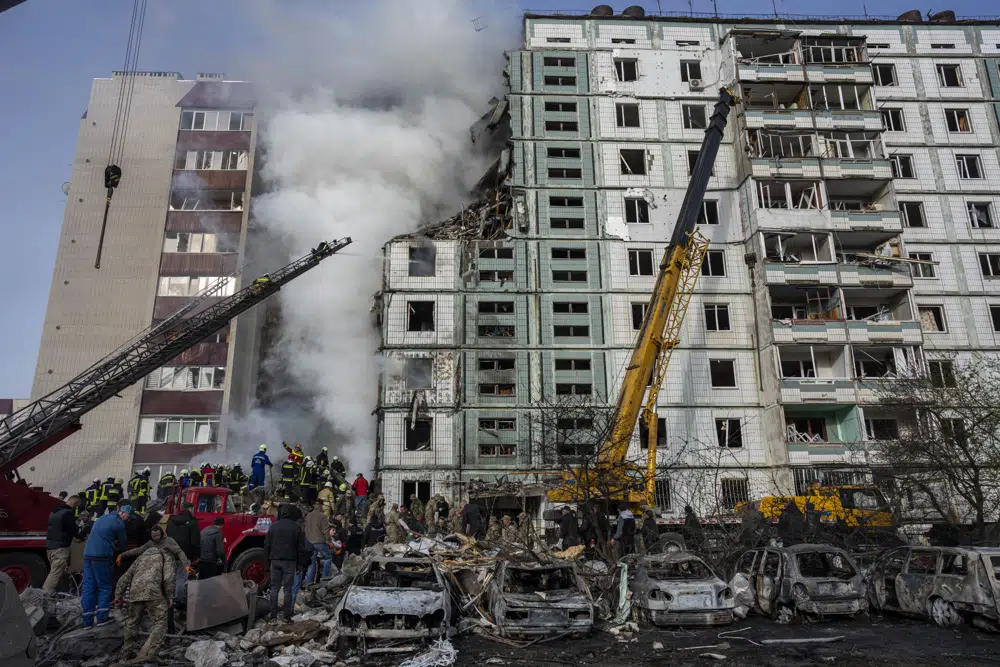 Halyna cited security reasons for not giving up her last name
Glass from the explosion flew everywhere, according to Olha Turina, a resident of another building, who spoke to the AP.
Turina reported that one of her child's classmates was missing. Her husband is fighting on the front lines.
"I don't know where they are, and I don't know if they're alive," she said. "I don't understand why we must endure this. Nobody was ever bothered by us.
Hours after the incident, smoke was still billowing and three body bags were lying close to the building.
Soldiers, civilians, and rescue personnel combed through the debris outside in search of additional victims as locals dragged their possessions from the ruined structure.
Rescue workers took one woman to get assistance while she was crying in shock
According to regional governor Serhii Lysak, another incident in the eastern city of Dnipro also claimed the lives of a 31-year-old lady and her 2-year-old daughter.
In addition, a private residence and a business were damaged, injuring four additional persons.
After a "long and meaningful" phone chat between President Volodymyr Zelenskyy and Chinese President Xi Jinping, during which Xi promised to send a peace envoy to Ukraine and other countries, came the strikes.
The shelling on Friday, according to Ukrainian Foreign Minister Dmytro Kuleba, demonstrated the Kremlin's lack of interest in a peace agreement.
"Russia's response to all peace initiatives is missile strikes killing innocent Ukrainians in their sleep, including a 2-year-old child," he tweeted.
"Removing Russia from Ukraine is the only way to achieve peace."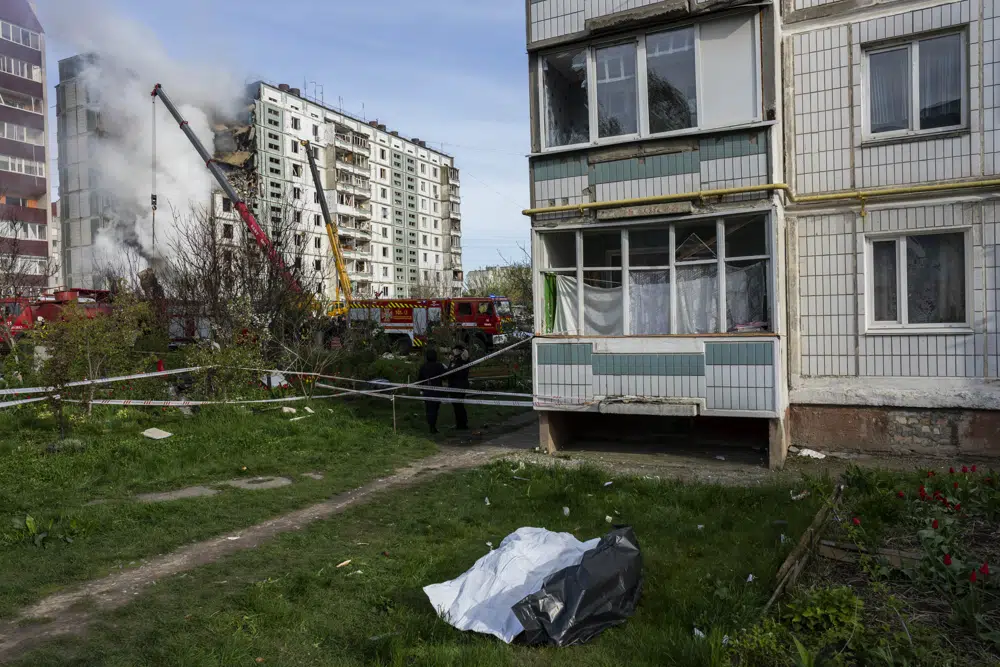 Ukraine intercepted 21 of 23 Kh-101 and Kh-555 type cruise missiles launched, as well as the two drones
Power lines and a road in one neighbourhood of Kyiv were damaged by missile or drone fragments that were shot down. There were no casualties reported.
There was no information available on whether the system was activated on Friday, despite Ukrainian officials announcing last week that they had received American-made Patriot missiles, giving Kyiv a long-needed new shield against Russian airstrikes.
The Kyiv City Administration said that the city's anti-aircraft system had been turned on. Around 4 a.m., air raid sirens began to sound, and the alert was over in about two hours.
The capital had not been subject to a missile assault since March 9. Russian drone strikes have recently been repelled by air defences.
According to Valerii Zaluzhnyi, the chief commander of the Ukrainian Armed Forces, the missiles were fired from aircraft that were flying above the Caspian Sea region.
Overall, he claimed, Ukraine shot down the two drones and 21 of the 23 launched cruise missiles of the Kh-101 and Kh-555 types.
As each side shelled the positions of the other from a distance, the war largely came to an end over the winter and turned into an attrition war.
With the help of Western friends, who have also been supplying ammunition and providing training for Ukrainian troops, Ukraine has been bolstering its mechanised brigades.
As Ukraine prepares for a potential counteroffensive, NATO announced on Thursday that more than 98% of the combat vehicles promised to it during Russia's full-scale invasion and war have been delivered.