[WATCH] PlayStation Giveaway Turns into a Riot in New York City
New York: Kai Cenat, a social media influencer, is facing charges in New York City of inciting a riot and organising an unlawful gathering after the internet streamer gathered thousands of his followers, many of whom were minors, with promises of giving away goods, including a new PlayStation.
The gathering resulted in scores of arrests, with some jumping atop automobiles, hurling bottles, and throwing punches.
Cenat was released from police custody early Saturday after receiving a desk appearance ticket, which police use to order a defendant to appear in court to answer charges. According to a police official, he will appear in court on August 18.
The chaos in New York City's Union Square on Friday afternoon highlighted the power that social media influencers have over those who follow and adore them.
"Social media cannot raise our children," Mayor Eric Adams declared at a press conference on an unrelated murder on Saturday.
Police stated they apprehended 65 people, including 30 minors. Several persons were injured, some of them had bleeding faces. Ambulances transported at least four persons.
"I don't think people realise the level of discipline that we demonstrated in taking a very dangerous, volatile situation and bringing it to a level of resolution without any loss of life, substantial property damage, or young people harming themselves," Adams said.
Cenat, 21, is a video maker with 6.5 million followers on the live streaming website Twitch. He also has 4 million YouTube subscribers, where he publishes daily life and comedy vlogs like "Fake Hibachi Chef Prank!" and his most recent video, "I Rented Us Girlfriends In Japan!"
His 299 YouTube videos have received more than 276 million views. He was named streamer of the year at the 12th annual Streamy Awards in December.

Centa and AMP Apologizes Over New York Riot
In an email Saturday, media officials for AMP, which represents Cenat and a limited group of other influencers, stated that the Union Square event was designed to convey appreciation to supporters.
"We've hosted fan meet-ups and video shoots in the past, but nothing on the scale of what happened yesterday," AMP added.
"We recognise that our audience and influence is growing, and with that comes greater responsibility," the statement concluded. "We are deeply disheartened by the outbreak of disorderly conduct that has affected innocent people and businesses, and we do not condone such behaviour."
The corporation apologised and stated that it was cooperating with authorities.
Cenat showed gift cards he planned to give out while live streaming on Twitch from a truck as the event grew in popularity. Observing the throng and police presence, he advised, "Everyone who's out there, make sure you're safe…." We're not going to do anything until everything is safe."
He and his entourage eventually exited the truck and dashed through a crowd, across a street, and into the park, where Cenat was mobbed by a cheering, shoving mob.
Cenat was evacuated "for his safety" at some point in the afternoon, according to New York authorities Department Chief Jeffrey Maddrey, and authorities were in contact with him. Cenat was hoisted over a barrier and out of the throng in videos aired on social media and captured from news helicopters. He was then placed in a police vehicle.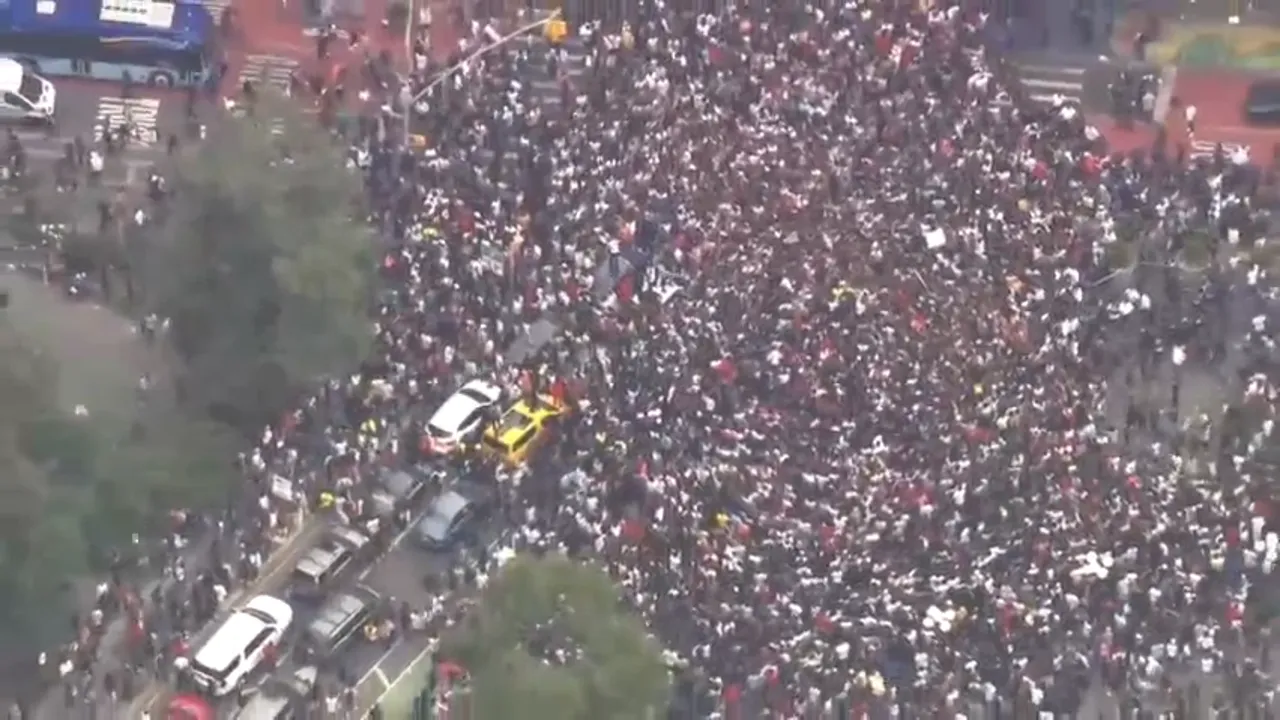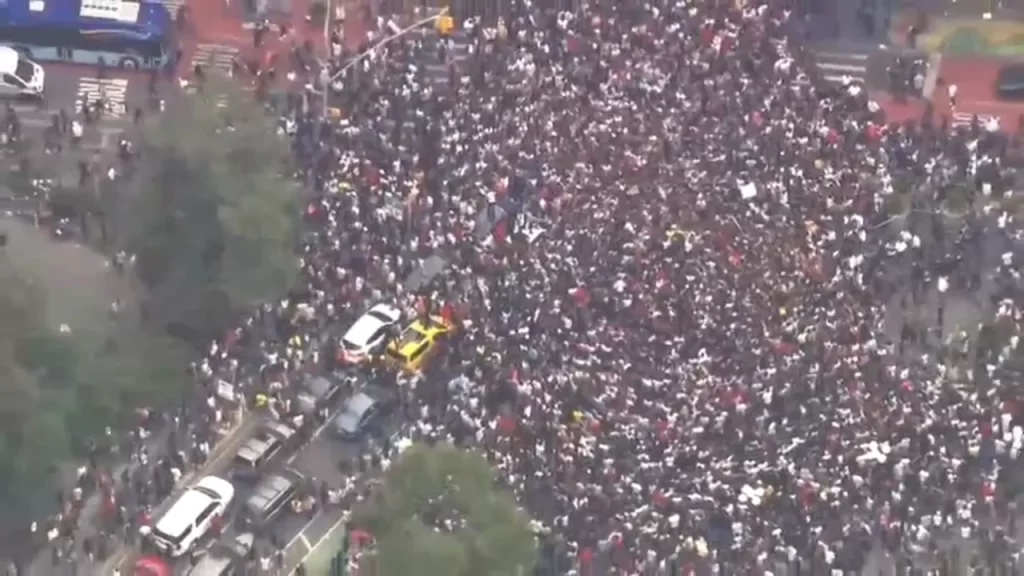 Aerial TV news footage showed a swarming, densely packed mob fleeing through the streets, mounting park facilities, and clogging traffic. Teenagers yelled and swung things at car windows, flung paint cans, and set fire extinguishers off. Some others climbed onto a moving car, only to fall off as it accelerated away. Others pounced on or scaled city buses.
Skylark Jones, 19, compared the scenario to "a movie," saying cops arrived in riot gear and started "charging at people."
Jones attended with a friend in the hopes of winning one of the prizes. When they arrived, the situation was already crowded, and things were getting out of hand even before Cenat arrived, he added.
According to Maddrey, three officers were injured.
"We've seen things like this before, but never at this level of danger," Maddrey explained.
"Listen, we're not opposed to young people having fun. "We're not opposed to young people gathering," Maddrey stated. "But it can't be at this dangerous level." Today was a bad day for a lot of individuals."