Pro-Palestinian Demonstrators Flood UK Streets Demands End To Israel's Gaza Attacks
(CTN NEWS) – Tens of thousands of pro-Palestinian protesters have taken to the streets in London and various cities across the UK to call for an end to Israel's attacks in Gaza.
The demonstrators, waving flags and banners, expressed their demand for the cessation of the bombing.
Several arrests were made, with some being treated as suspected hate crimes.
Protests also occurred in Manchester, Glasgow, Belfast, and other urban centers.
These demonstrations come in the wake of heightened conflict between Hamas and Israel, with Israel intensifying its strikes in response to a cross-border attack by Hamas that resulted in casualties and hostage-taking.
According to the Hamas-run health ministry in Gaza, over 7,500 Palestinians have been killed in Israeli retaliatory strikes.
The UK has seen substantial protests over the past three weekends in various major cities.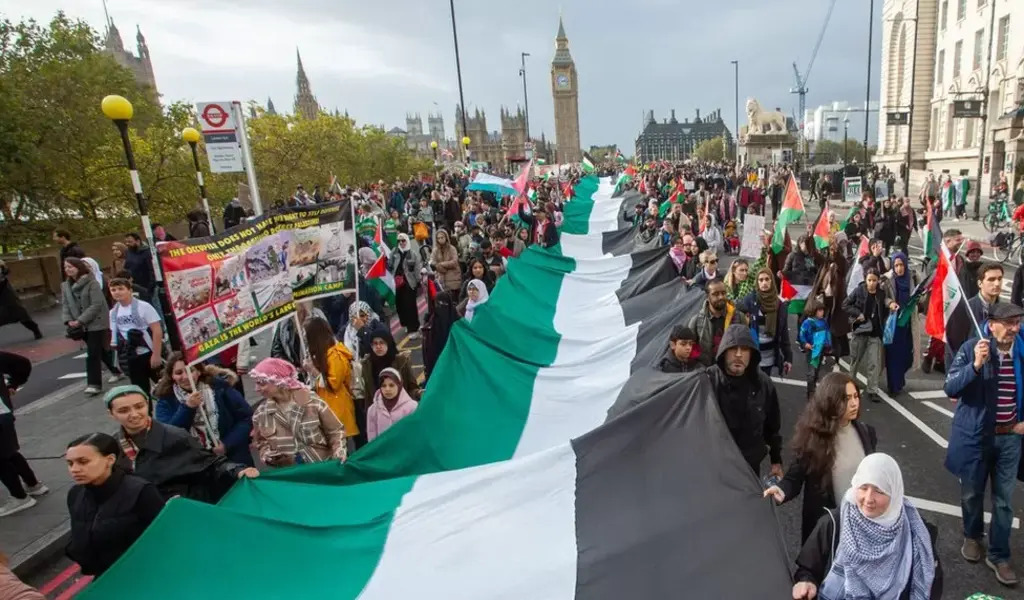 Protests in London and Worldwide Call for End to Gaza Conflict and Palestinian Rights
On Saturday afternoon, crowds gathered near the Golden Jubilee Bridge in London, displaying signs with messages such as "Gaza, stop the massacre" and "Free Palestine, end Israeli occupation."
A sound system led the demonstrators in chants like "Stop arming Israel. Stop bombing Gaza" and "We are all Palestinian."
ome in the crowd also chanted "from the river to the sea," a phrase that has generated debate.
UK Home Secretary Suella Braverman had suggested that it could be interpreted as a violent desire to erase Israel, a perspective shared by Israel and many Jewish groups.
However, Palestinian Solidarity Campaign and other activists argue that the slogan conveys the right of all Palestinians to freedom, equality, and justice.
During the London march, an emotional Chrif El Amraoui expressed his distress, saying, "Just now marching, I'm crying because children are killed daily.
Why? Why do they want more to be killed?" Abdul Mahfuudi, who attended the protest with his children, emphasized the importance of ending the killing of children, saying, "They need to stop."
Over 1,000 Metropolitan Police officers were present in London during the protest. Of the nine arrests made, seven were related to alleged public order offenses, some of which were treated as hate crimes, and two were for suspected assaults on officers.
Earlier, one person was arrested in Whitehall for assaulting an officer, who remains in the hospital with a head laceration but is reportedly in good spirits.
Protests have been unfolding globally with demonstrators advocating for an end to the conflict and the entry of aid into Gaza.
In New York, protestors demanding a ceasefire swarmed Grand Central Terminal, leading to a temporary closure of the station.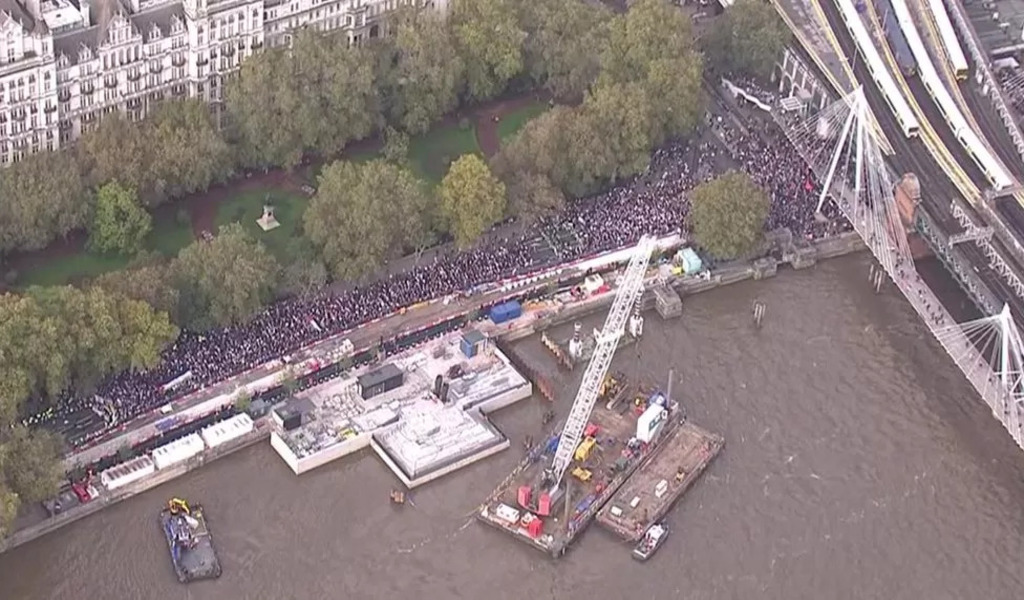 Additionally, one man was arrested in Waterloo Road on suspicion of a racially aggravated public order offense and making threats to kill.
Near Downing Street, officers appeared to detain someone, and scuffles ensued between the police and demonstrators, with punches and kicks being exchanged.
Officers instructed the demonstrators to disperse, and one person was carried away amid chants of "let him go" from other protesters.
Scotland Yard issued an appeal to identify two women in connection with an alleged hate crime incident in Trafalgar Square.
Throughout Saturday, the police used public order powers to prevent protesters from gathering outside the Israeli embassy.
Extra powers were in place until midnight, allowing officers to search individuals or vehicles for weapons or dangerous instruments and to require people to remove items concealing their identity.
These powers applied across the City of Westminster and Kensington and Chelsea.
On Saturday evening, the police announced on social media that they were monitoring a group at Piccadilly Circus and would use separate powers to disperse anyone causing anti-social behavior.
In other parts of the UK, thousands attended a pro-Palestinian rally outside Manchester's Central Library at St Peter's Square.
On Friday, the region's mayor, Andy Burnham, joined international calls for a ceasefire by all sides and for the release of hostages.
About 3,000 protesters gathered in Belfast City Centre for a rally, marching along Royal Avenue to City Hall.
In Glasgow, thousands gathered in George Square, calling for an immediate ceasefire, with many in the crowd climbing onto statues and monuments.
MORE RELATED NEWS:
Increased Risk of Israeli War Crimes due to Gaza Communications Shutdown
UK-Israeli Citizen Reunites With Mother Freed From Hamas Captivity, Father Still Missing
Labour Leaders Divided: Growing Pressure On Sir Keir Starmer Over Israel-Gaza Conflict Stance