Speed Boat Accident in Phuket Leave 6 Passengers Critically Injured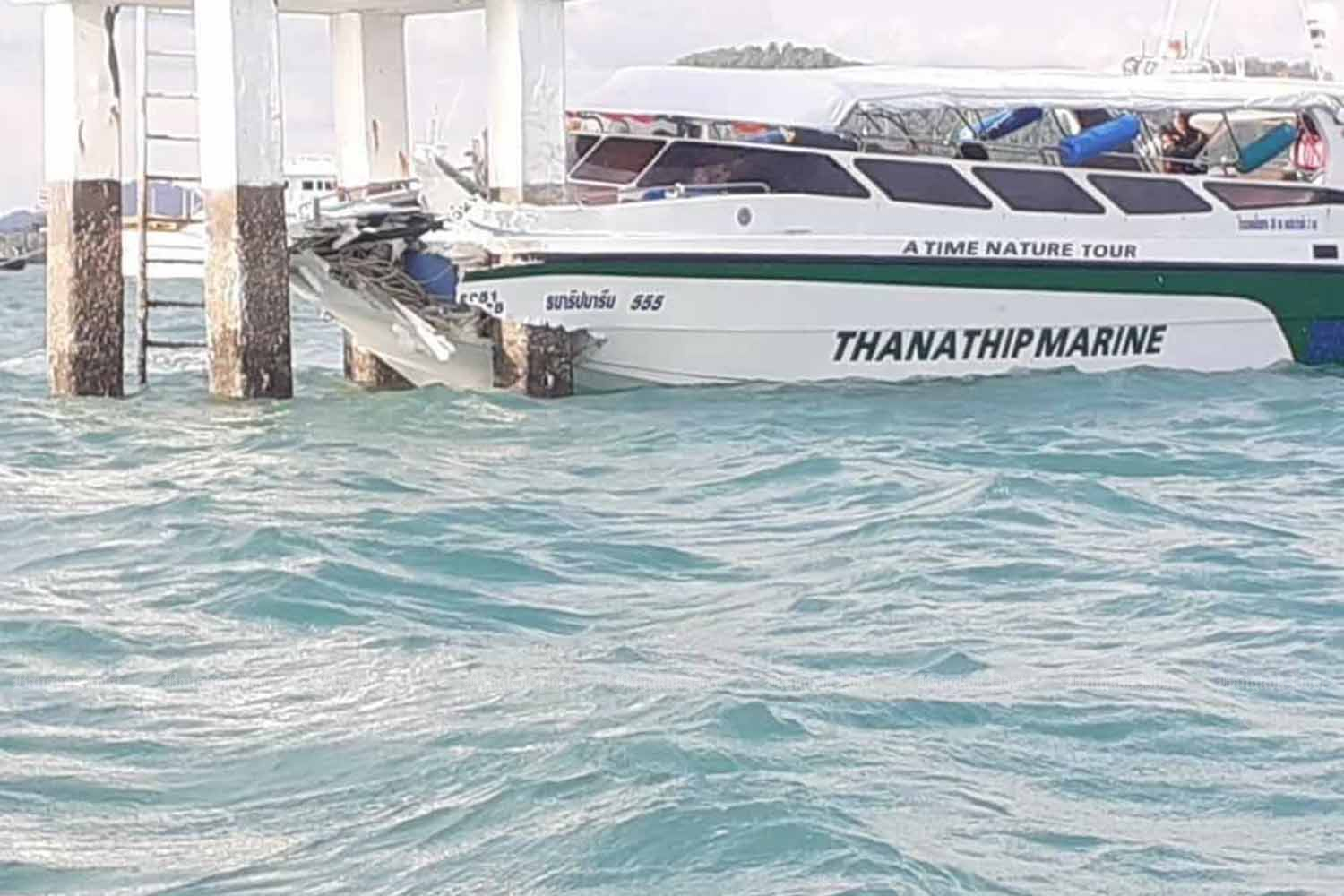 Six people are in critical condition after a boat, carrying 37 passengers, collided with a channel marker in Phuket, Thailand on Wednesday evening. Four Russians and two Thais remain in critical but stable condition at Vachira Phuket Hospital.
The accident around 5.30 p.m., the speed boat Thanathip Marine 555 was returning from the Phi Phi Islands to Chalong Bay, carrying international tourists, including 21 Russians, nine Kazakhs, and one each from Hong Kong, China, and Ukraine.
The Thai passengers included the driver, his aides, and a tour guide.
The boat collided with a channel marker about 700 yards from the Chalong pier, causing extensive damage. Around ten persons were injured, including the boat driver.
Two people were said to have suffered critical injuries, while others had minor injuries. They were sent to seven hospitals on the island.
The four Russians and two Thais are in critical but stable condition, according to Dr. Weerasak Lorthongkam, director of Vachira Phuket Hospital.
He stated that two of the four were just transported from Chalong Hospital and are now being treated at Vachira Phuket Hospital, while the other two are being treated at Bangkok Hospital Phuket.
Authorities are exploring stronger screening standards for drivers, including for illicit substances, as a result of the collision, he said, in order to prevent such an incident from happening again.
Strict standards will also be implemented to demand passenger and crewman lists, he added, adding that every boat must insure its passengers.
"Luckily, no one drowned or fell off the boat," he claimed, adding that it was insured. "Life jackets are necessary to prevent loss of life."
Nachapong Pranit, chairman of the province maritime department, said the boat was brought to the Koktanod area in tambon Chalong following the incident for inspection by Chalong police and other agencies.
He stated that the office will question the boat's mechanic and other pertinent personnel today and that the captain will be brought for interrogation as soon as his condition improves.
Mr Nachapong had earlier directed officials in Phuket to inspect the damage to the channel marker.
Because of the incident, the Phuket marine office cited Section 170 of Navigation in the Thai Water Act 1913 to halt the boat's operation, he said, adding that the boat must be assessed for safety by officials before it can resume operation.
Boat accidents can occur in various locations in Thailand, including popular tourist destinations such as Phuket, Pattaya, Krabi, and Koh Samui. It's important to note that I don't have access to real-time information or specific details about recent boat accidents beyond my September 2021 knowledge cutoff.
However, it's advisable to consult local news sources, official authorities, or reputable travel websites for the most up-to-date and accurate information on boat accidents in Thailand. These sources will provide the latest news, safety guidelines, and any precautions that travelers should be aware of when it comes to boating activities in Thailand. It's always essential to prioritize safety and follow the advice of local authorities and experts when participating in water-based activities.