Police Find US$6.5 Million Worth of Heroin in Smugglers Car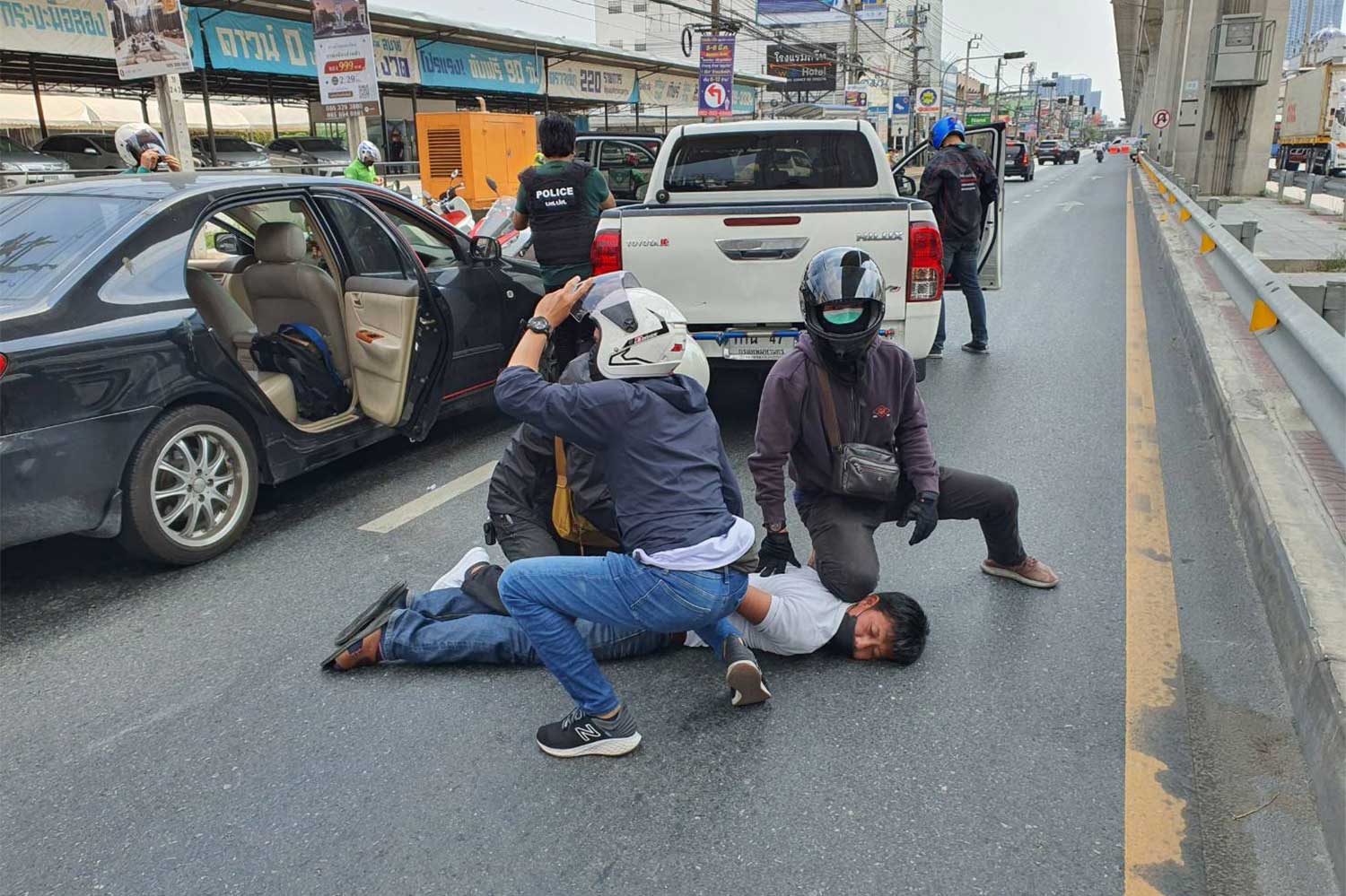 Police from the Narcotics Suppression Bureau on Friday arrested four Myanmar nationals in a sedan while they stopped in traffic, seizing 100 bars of heroin found in their car.
NSB police assisted by US Drug Enforcement Administration officers arrested four suspects, two men and two women.
Following a traffic stop in the middle of Soi Sukhumvit 109 in Tambon Samrong Nua in Muang district, the four were pulled from their car.
Police said 100 bars of heroin, weighing 37.5 kilograms in total, with a street value of more than 200 million baht (US$6.5 million) were found in the vehicle.
Win-Win Mong, 51; Tey Mong San, 46; Tan Gee, 44; and Thian Than, 43, were identified as the suspects, but no spelling for their names was provided.
According to police, the four told them they had lived in Thailand for 4 or 5 years. Recently, they were contacted by a man in Myanmar who asked them to smuggle heroin for sale in areas near Bangkok.
The suspects were taken into custody by the Narcotics Suppression Police to be held in anticipation of legal action. In the meantime, investigators are extending their investigation.

Police Seize 270Kg of Marijuana
Earlier on Friday, in northeastern Thailand's Nakhon Ratchasima province, 3 Thai men were caught with 270 kilograms of high-grade marijuana.
A drug suppression police team arrested Napavorn Phitpheng, 34, Surin Chan-on, 29, and Jirayu Ounpaisarnwong, 37.
Nine packages containing 270 kilograms of high-grade marijuana were found on the suspects' two vehicles at kilometre markers 3-5 on Road 201 in Sikhiu district, in Nakhon Ratchasima.
Police said they were tipped off about a drug delivery from Laos going to central Thailand.
Meanwhile, Public Health Minister Anutin Charnvirakul announced legislation is being expedited to allow people to grow cannabis legally both for medical and economic purposes.
Cannabis (Marijuana) and hemp were recently delisted as narcotic substances last year.
He said after delisting goes into effect, cannabis and hemp will be legal for personal consumption and sale, within limits, since they will be considered economic or commercial plants by law.
As a result of the delisting, cannabis and hemp extracts containing tetrahydrocannabinol, the chemical responsible for the psychoactive effects of cannabis, are excluded. It will become effective 120 days after the announcement is published in the Royal Gazette. A date has yet to be set.
Mr. Anutin said Friday at a seminar on medical cannabis in Surin that efforts are being made to expedite the passage of the bill to provide a framework for action after the delisting.
Trending CTN News: