How to Create a Tree Diagram Easily
Lead-in Part
A tree diagram is an acclaimed management planning tool used by various domains, including engineering, design, manufacturing, and planning to help project managers depict the hierarchy of the tasks and the subtasks.
With the help of a tree diagram, project managers get an idea about those tasks and subsequent subtasks, including the need and order in which they need to be completed.
Traditionally, we draw a tree diagram using one item that branches into multiple subtasks or branches.
Each of these subtasks is further spread out into two or more subtasks. The process keeps on repeating until the desired project is completely laid out in the right hierarchical manner.
Typically, a tree diagram consists of a root node, a node, and a leaf node. These nodes are connected from the root notes, which are further linked together by adding connectors, commonly termed branches or links.
These branches also help in depicting the relationship between different nodes. As you can see from this perspective, creating a tree diagram requires precision and understanding of different nodes.
Considering the importance of a tree diagram, we recommend using tree diagram software to help you create different tree diagrams with utter ease.
Some of the reasons why you should use tree diagram software are:
With tree diagram software, you can easily add multiple subbranches.
A tree diagram software makes it easy for you to modify the content of any or all subbranches.
Using tree diagram software, one can easily share the designed tree diagram with peers.
Importance of Tree Diagram
Tree diagramming is crucial in different domains. Tree diagrams are widely used for learning syntax to create a decision strategy. Some of the most important benefits of creating a tree diagram are as follows:
Understanding Root Causes: By creating a tree diagram, we can understand the root cause of any problem. Since a tree diagram is structured so that all the subbranches are mapped, it becomes effective for a product manager to find the bottlenecks and implement evaluating methods to find potential solutions.
Improving in Communication: By breaking down the entire project into multiple subbranches, a project manager can easily use a tree diagram to explain the details to their team members.
Analyzing the Process: Each project comes with its ins and outs, and just by analyzing it in detail, one can understand how to begin developing the project or which areas need extra attention. All this and more can easily be achieved by creating tree diagrams.
How to Create a Tree Diagram [Step-by-Step]
There are two ways to create a tree diagram. The first way is a more generic way to create a tree diagram in your notebook. However, to understand the broad generalities, this process is not recommended for multiple reasons, including:
Such tree diagrams might look unprofessional.
Project Managers will have a difficult time updating the subbranches or doing any kind of modifications.
One will need a great deal of expertise to create and later understand such tree diagrams.
We recommend using software to create a tree diagram to rectify such issues. One of the best tree diagram software in the market is EdrawMax, which comes with free templates and customization options that make it easy to create tree diagrams.
Check out the following steps to create a tree diagram using EdrawMax:
Download EdrawMax: Head to EdrawMax's official website to download the free tree diagram software. The tool is fully compatible with Windows, macOS, Linux, and Web systems. Select the right OS and download it.
Once you have downloaded the tool, register using your Google Account or any other official email address.
Once inside the EdrawMax system, you will see 280+ diagram types in between.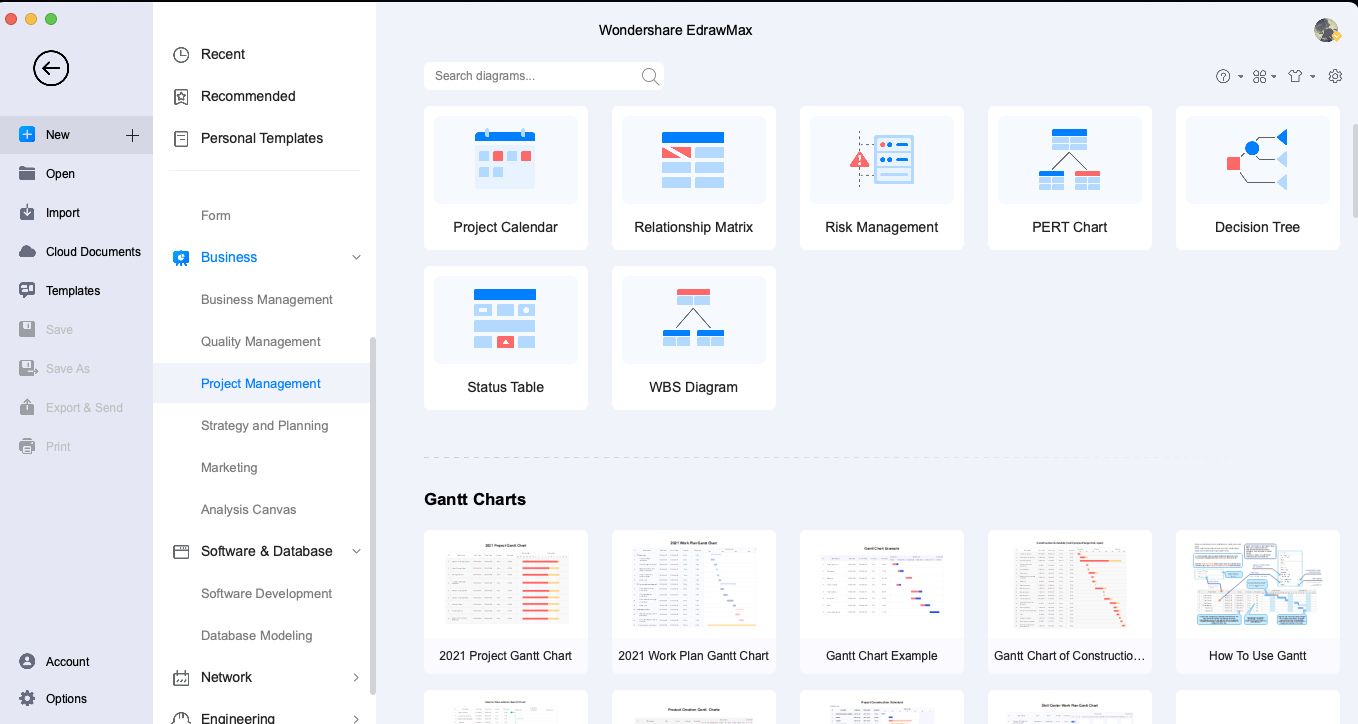 Head to the 'Business' diagram type. It will open subcategorize of different Business-related diagrams, like Business Management, Quality Management, and more.
Click on 'Project Management,' followed by 'Decision Tree.' Here you will now find several built-in tree diagram templates that you can easily refer to start working on your tree diagram.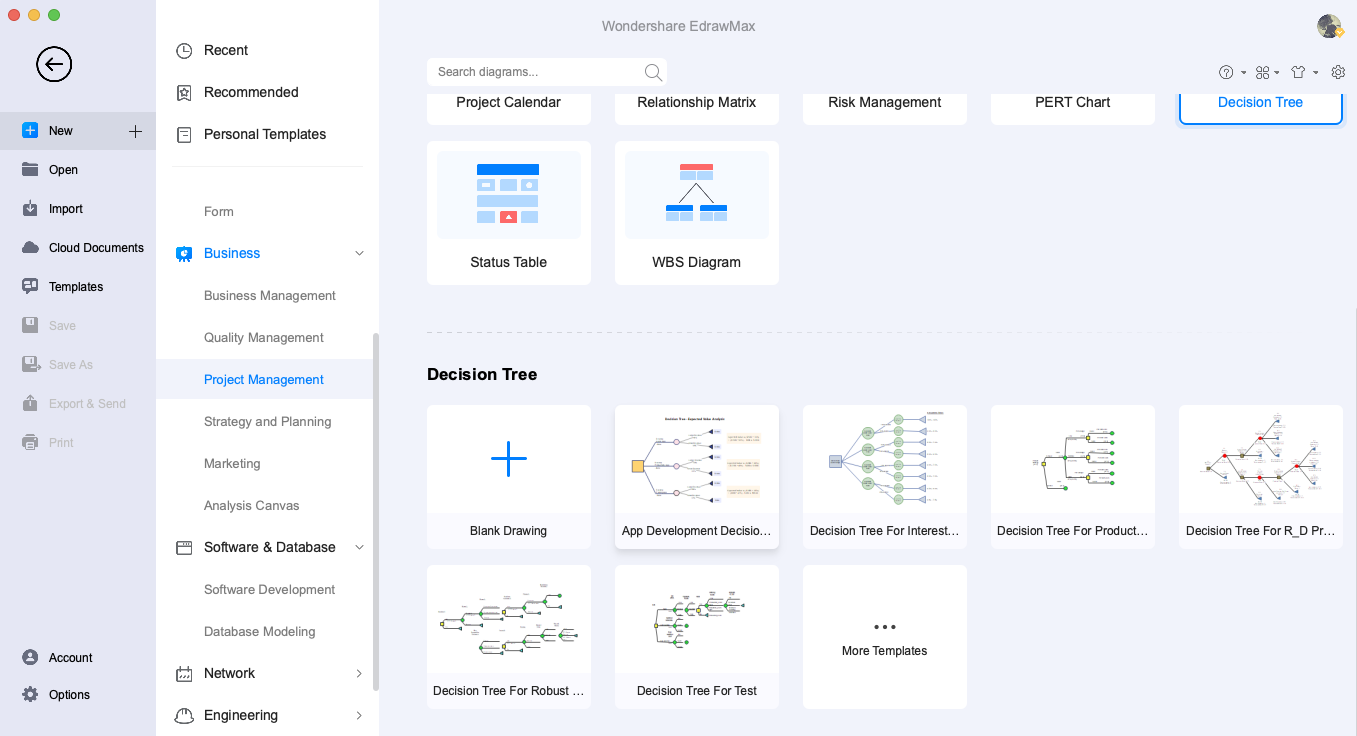 Template Access: EdrawMax has an enormous template community. Head to the 'Templates' section from the homepage. Search for 'Tree Diagrams' in the Search Bar.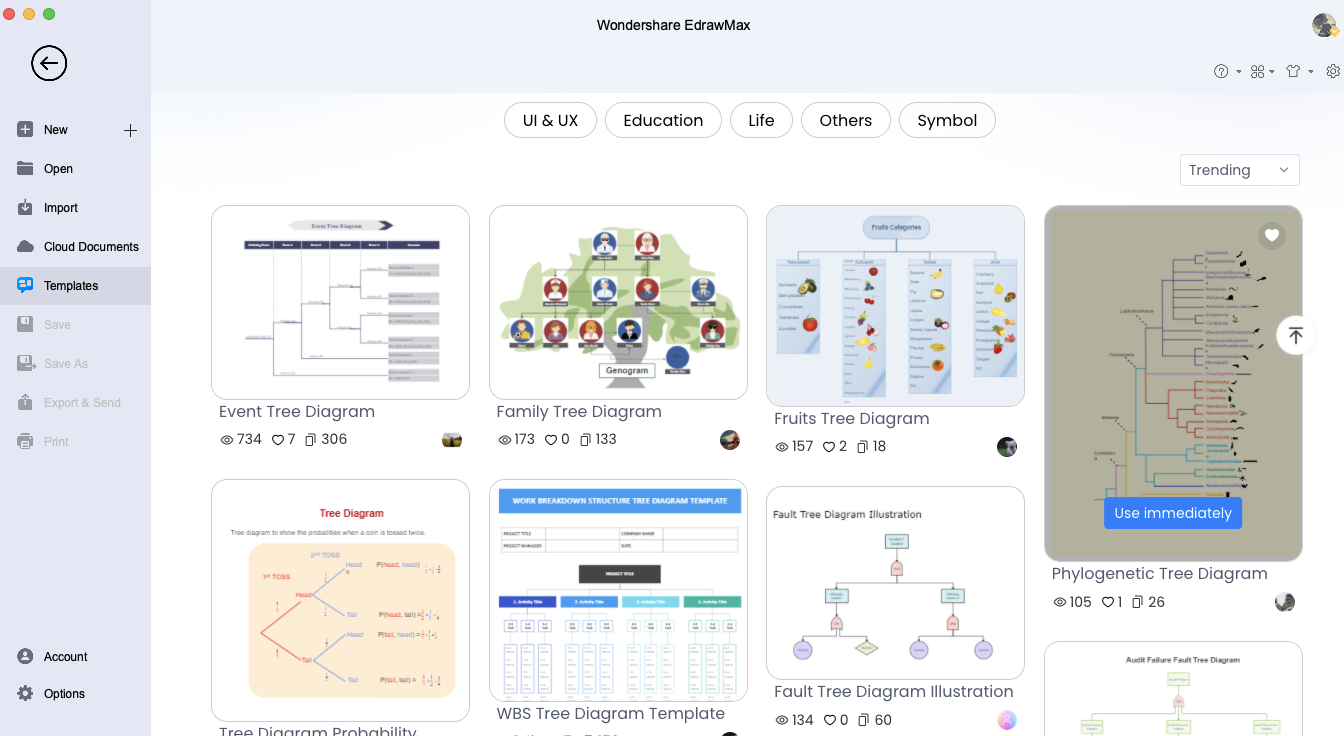 You will now see hundreds of tree diagrams designed by EdrawMax's registered users. Some of the most common tree diagram templates are Event Tree Diagram, Fruits Tree Diagram, Fault Tree Diagram Illustration, WBS Tree Diagram Template, and more.
Click on the tree diagram templates to check their content.
If you find it relevant to your requirements, click on 'Use Immediately,' and all the content of that tree diagram template will be imported into your diagramming canvas.
Create from Scratch: Head to the 'Business' diagram type from the homepage. Click on 'Project Management,' followed by 'Decision Tree.' To create a tree diagram from scratch, click on '+' to open a Blank Drawing.
In the diagramming board, you will see several decision trees symbols. Start using them to create your tree diagram.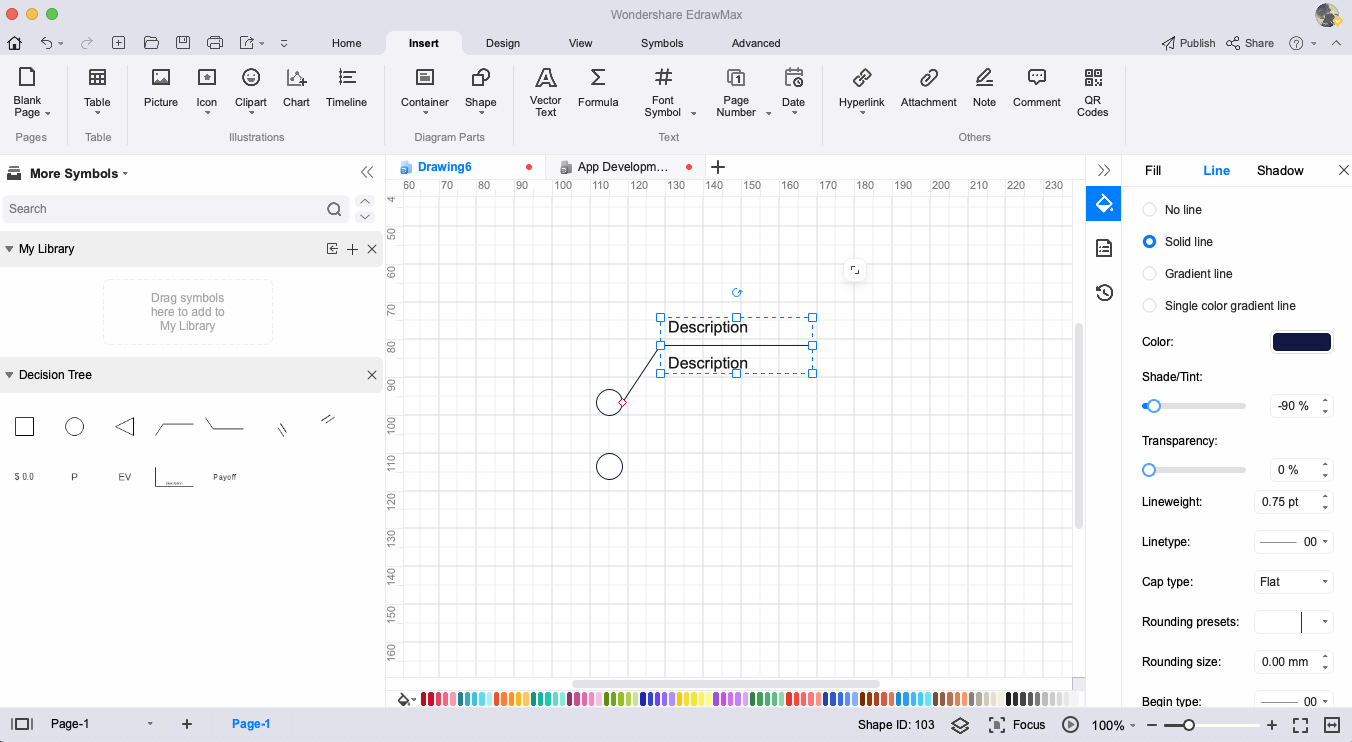 First, choose your main topic or concept.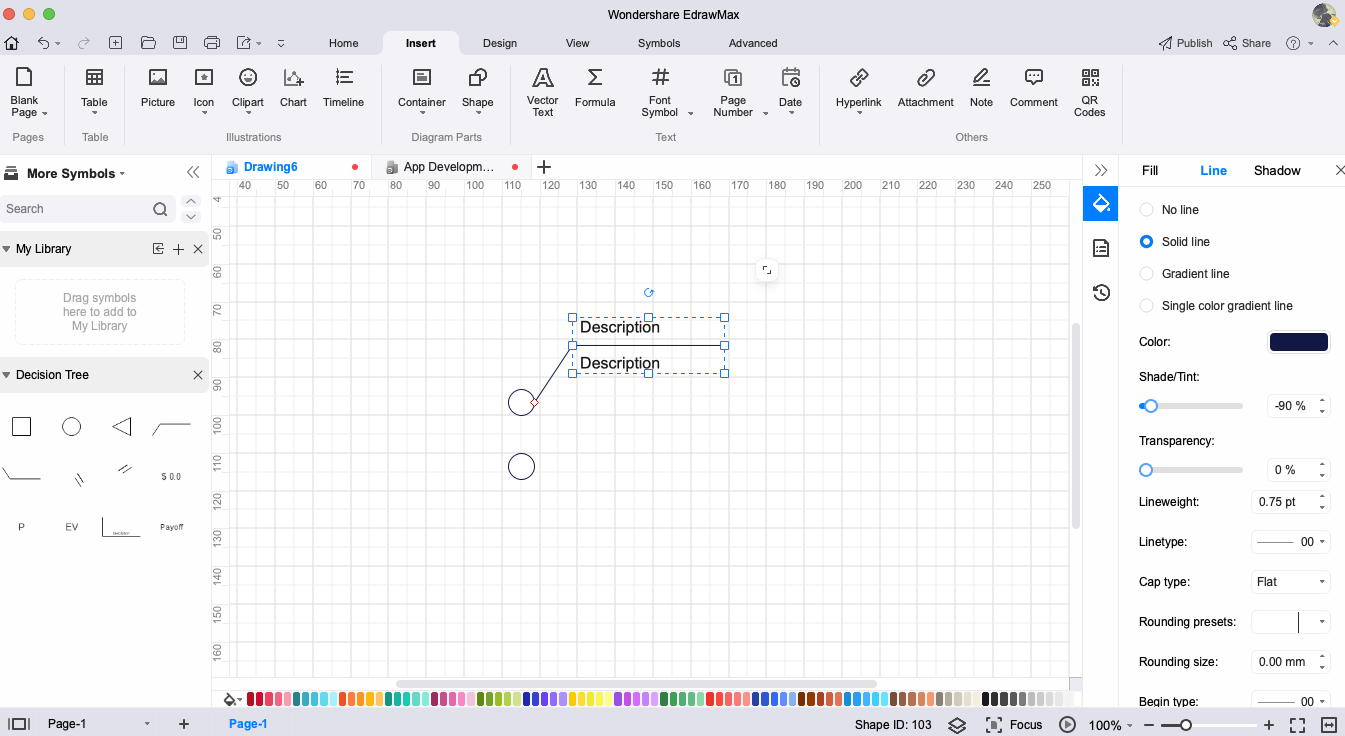 Create the first branches and keep on adding branches.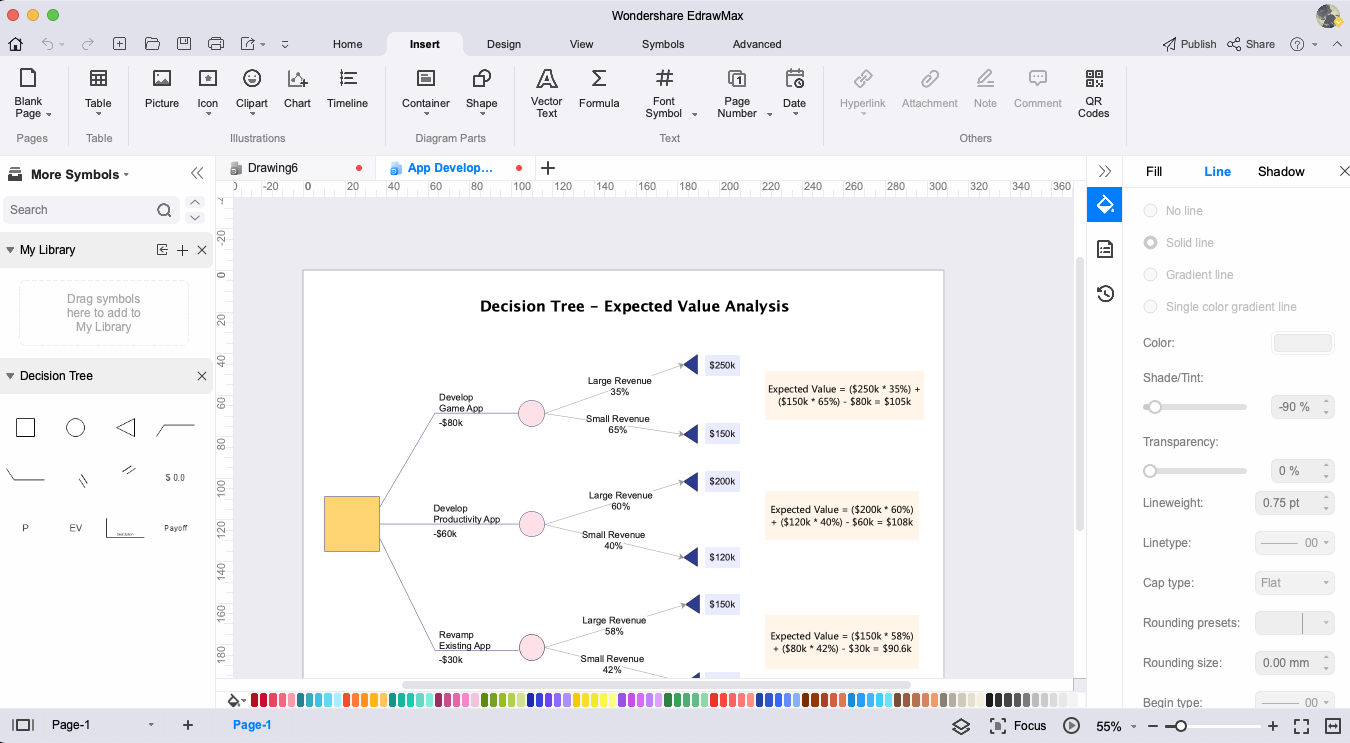 Make some adjustments once you are done adding the branches.
Customization: With EdrawMax, you can easily customize your tree diagrams. In the left section, you will find multiple customizing options. From changing the colors of the boxes to adding the shades, you can fully customize your tree diagram.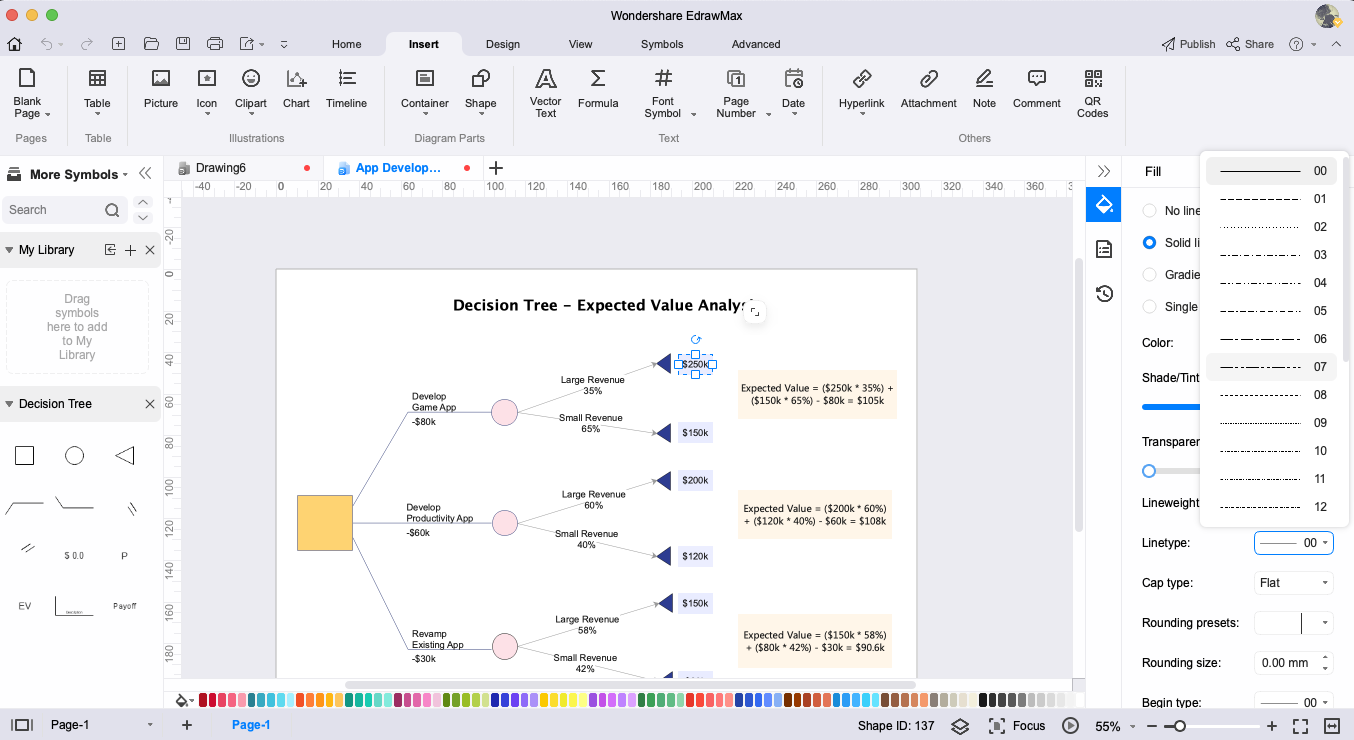 Export & Share: After designing your tree diagram in EdrawMax, you can export it in multiple formats, like Graphics (JPEG, PNG, SVG), Office (Word, Excel, PowerPoint), PDF, HTML, Visio, and more. Using this tree diagram software, you can share your tree diagrams to different social media platforms, like Facebook, Twitter, Line, and Pinterest.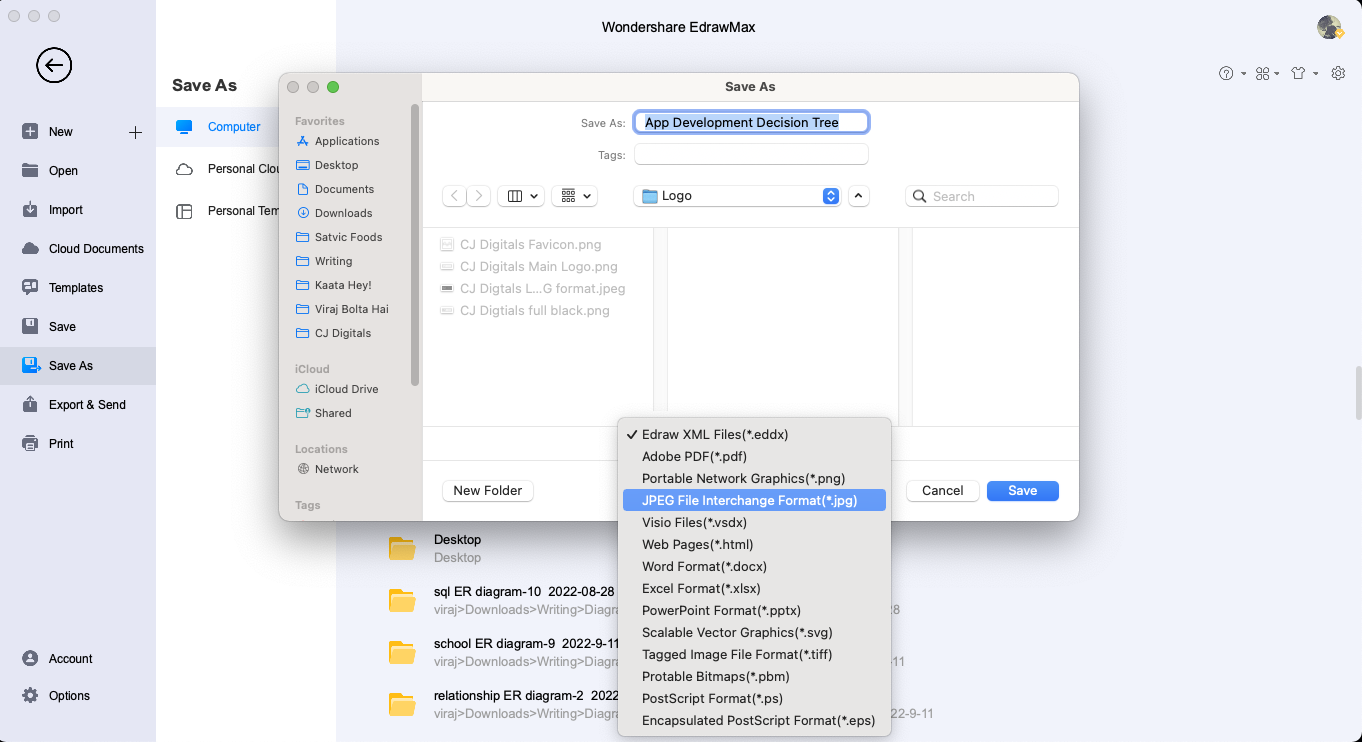 Using the online collaboration option, you can further get on with your remote team and work on your tree diagrams.
As you saw here, creating a tree diagram with EdrawMax is simple and highly effective.
Final Thoughts
As we discussed in this guide to creating tree diagrams, a tree diagram helps the user to understand the outcomes and probabilities by visualizing them. By creating tree diagrams or decision trees, one can easily track and analyze the entire scenario in a much simpler way.
That being said, using software like EdrawMax to create your tree diagram eliminates the complications that might arise during the drawing process.
With this tree diagram software, you can easily access free templates and symbols and later share your tree diagrams with your peers using the multiple export and sharing options.
Related CTN News:
Best Ways to Turn your Home's Equity into Cash
Thailand Issues 10 Step Guide on Cannabis to Tourists
The Ultimate Guide to Choosing Accurate SpO2 Sensor