1.6 Tons of Crystal Methamphetamine Seized in Southern Thailand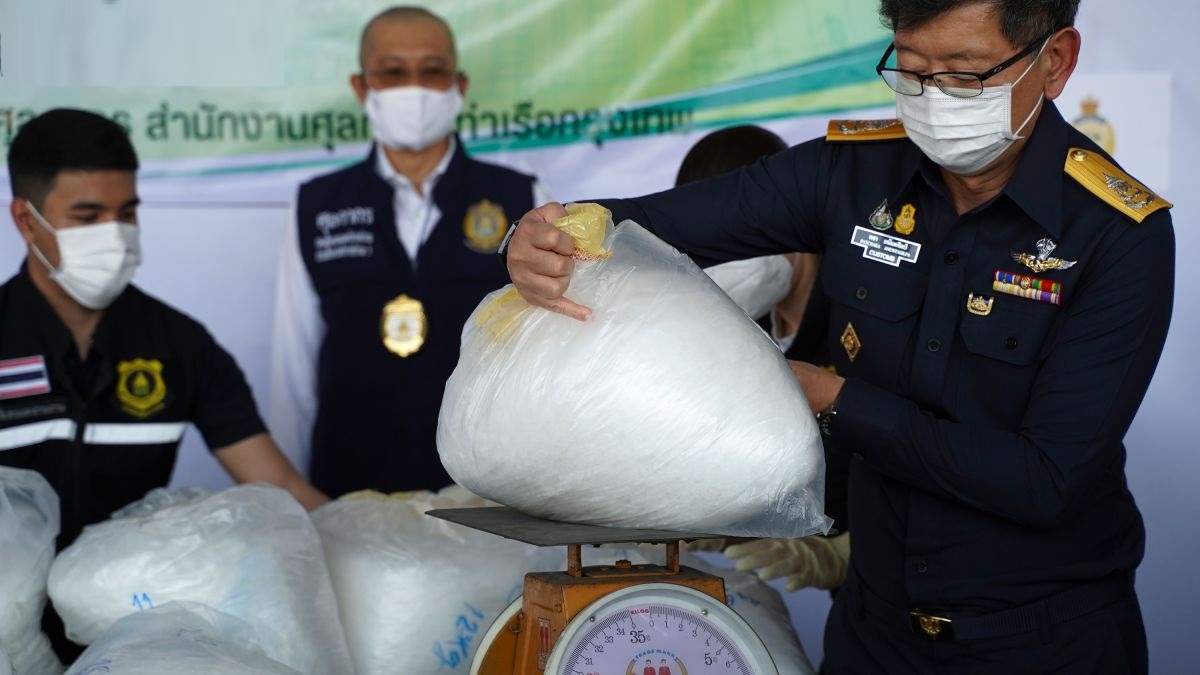 Thailand's Office of Narcotics Control Board announced on Sunday that 9 people were arrested and 1.6 tons of crystal Methamphetamine aka "Ya Ice" was seized as the drugs were  being put onto a boat to be smuggled out of the country.
The operation was carried out with the assistance of local police at Mai Khao dock in Tha Sala district of southern Thailand's Nakhon Si Thammarat province .
They were apprehended while unloading 1.5 tons of crystal meth from two vans. They told police that the drugs were going to be loaded onto a boat bound for other countries. According to a source, the suspects' network has already smuggled significant amounts of drugs out of the country at least three times.
The crackdown was begun when local officials received information from the destination country that a substantial amount of crystal meth was about to be smuggled from the dock.
The network chose to carry out the effort just before election day, assuming that local officials would be concerned with securing election facilities, according to the ONCB.
The probe was being broadened in order to find other members of the network. Police were collecting evidence from the boat in the hopes of uncovering information that might lead them to more suspects.
Meanwhile, on Friday, Metropolitan Police intercepted approximately 1.4 million methamphetamine pills in a pickup truck in Bangkok.
The arrest occurred on Tiwanon Road in Nonthaburi, according to Pol Col Theeradej Thammasuthee, chief of Crime Suppression Division sub-division 6. Suwicha Musikakun, 41, and Chaikup Taemdee, 41, were arrested after 1.4 million meth pills were discovered in the Toyota pickup they were driving.
The arrest was made as part of a bigger sweep ordered by the Royal Thai Police ahead of the general election on Sunday, with the goal of bringing down the so-called "A-kuay" drugs network, according to Pol Col Theeradej.
The information that led to the bust was gathered during a prior arrest in which suspects pointed out a network that began in Ayutthaya and supplied drugs to central Bangkok.
Mr Chaikup admitted to authorities that he was paid 50,000 baht per trip and supplied 10,000 baht to his cohort. Both have been reported to the Narcotics Suppression Bureau, who will take legal action.
Mr Chaikup was also detained in 2007 for cocaine possession, according to court documents.
Drug Addition and Methamphetamine in Thailand
Methamphetamine is a major problem in Thailand, where it is frequently referred to as "ya ba," which translates to "crazy medicine." Methamphetamine is used by around 2% of the Thai population on a regular basis, and the drug is widely available throughout the country.
Methamphetamine manufacture and distribution in Thailand is primarily controlled by organised crime syndicates. The substance is manufactured in huge quantities in neighbouring nations such as Myanmar and Laos before being trafficked into Thailand via numerous methods, including porous borders.
To fight the methamphetamine problem, the Thai government has implemented a variety of measures, including law enforcement attempts to destroy drug trafficking networks and a crackdown on drug usage and possession. Furthermore, the government has developed public health initiatives to raise awareness about the dangers of methamphetamine use and to encourage people to seek drug addiction treatment.
Despite these measures, methamphetamine remains a big problem in Thailand, and the country remains a major transit hub for regional drug trafficking.
Methamphetamine addiction is a significant problem in Thailand. Methamphetamine, also known as "yaba," is a powerful stimulant drug that is often abused in the country. The drug is widely available, and its use has become increasingly popular in recent years.
According to the United Nations Office on Drugs and Crime, Thailand has one of the highest rates of methamphetamine use in the world. In 2020, it was estimated that there were approximately 400,000 methamphetamine users in the country.
The Thai government has taken several steps to address the problem of methamphetamine addiction in the country. These efforts include increased law enforcement to crack down on drug trafficking, as well as the implementation of drug treatment programs and rehabilitation centers for those struggling with addiction.
However, despite these efforts, methamphetamine addiction remains a significant problem in Thailand. The drug is highly addictive and can have serious health consequences for those who use it. It is important for individuals struggling with addiction to seek help and support to overcome their dependence on this drug.