Over 100 Starbucks Workers Walk Out Ahead Of Shareholder Meeting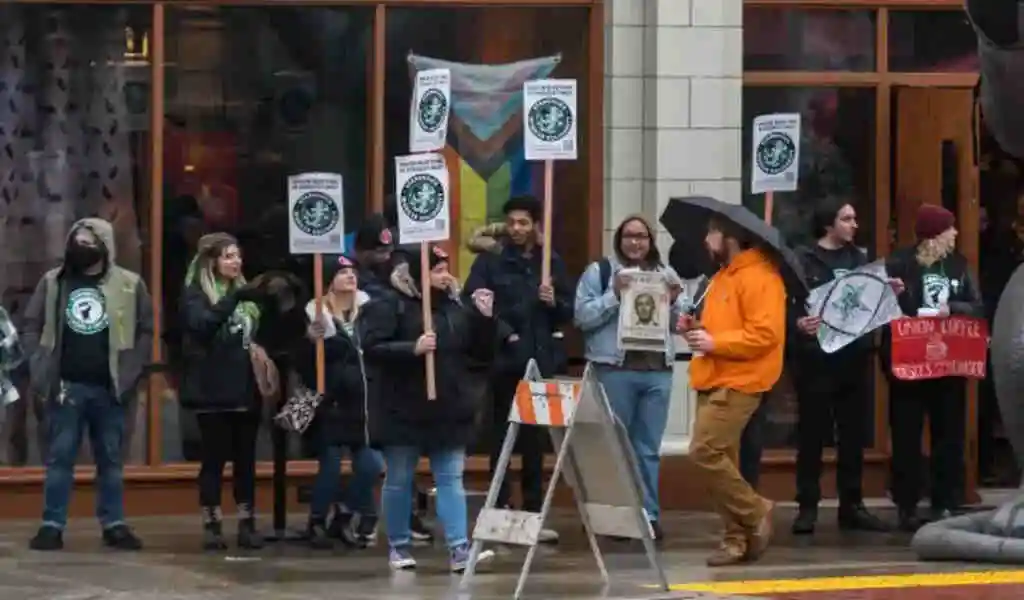 (CTN News) – There were more than 100 Starbucks workers who walked out on Wednesday ahead of the company's annual shareholder meeting and protested on the steps of ' main headquarters in Seattle.
In response to Starbucks' aggressive anti-union efforts against worker organizing, the actions were taken. It is alleged that has fired hundreds of workers in retaliation for organizing unions, intimidated workers, closed stores, withheld benefits, reduced schedules, and delayed bargaining a first union contract as a result of the actions.
There has been no allegation or charge of violation of labor laws that has not denied or rejected.
More than 7,500 Starbucks employees have won union elections in 280 stores across the US since the union campaign began in early 2022, but the union campaign has slowed down since then as has opposed the union campaign.
Despite the initiatives, Howard Schultz, who has served as Starbucks chairman and former CEO since 2003, had been scheduled to testify before a Senate committee on health, education, labor, and pensions last week over the company's union-busting practices.
I always believe baristas like me are what keep our stores running smoothly. The staff at the cafe always remember our loyal customers' regular orders, make the lattes, clean up spills, and are often the bright spot in our customers' day when they come to us for help.
Pappin, who is a Seattle Starbucks worker, pointed out that our work is at the center of everything that does.
Instead of celebrating the lawbreaking former CEO who is hell bent on silencing thousands of workers, Starbucks must respect our right to organize and meet with us to negotiate a better contract. Starbucks is the company from which we deserve a better deal."
Employees at are asking shareholders to approve a resolution calling for a third-party assessment of' commitment to workers' rights.
Starbucks is accused of violating its own commitments concerning collective bargaining rights and non-interference in its global human rights statement.
As Starbucks celebrates their provenance and record profits this week, my partners have to deal with the reality that they are being nickel-and-diced to extract as much labor as possible as cheaply as possible," said Maria Flores, who has worked at for three years in Queens, New York.
SEE ALSO:
What Is ROI And How To Calculate ROI?