Must-Visit Cannabis Cafes in West Hollywood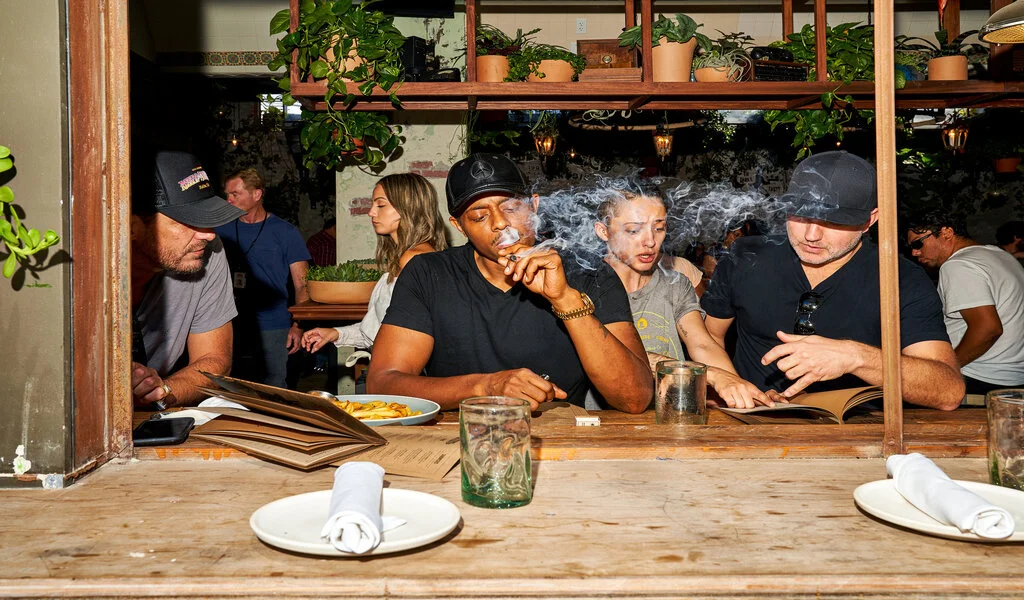 Are you in the mood for a cup of coffee with a little bud on the side? West Hollywood has become a hot spot for cannabis cafes, offering a unique experience for both the canna-curious and seasoned canna consumers.
We've got everything from lounges with an artistic flair to restaurants serving infused food items. So, get ready to take a trip through some of the must-visit cannabis cafes in West Hollywood!
Top Cannabis Cafes to Visit in West Hollywood
With quality products, expertly crafted cuisine, and a welcoming atmosphere, these top cannabis cafes in West Hollywood are the ideal places to have an ultimate cannabis experience.
Rainbow Bar & Grill
This iconic restaurant and bar have been a fixture of the LA music scene since the 1970s. The Rainbow Bar & Grill is a cannabis-friendly establishment, which means you can light up and enjoy your favorite strains while you're there.
It is also home to some of the city's best rock 'n' roll memorabilia, with photos and mementos of some of the biggest names in music history lining the walls.
To top it all, their menu is packed with classic American dishes like burgers, sandwiches, salads, and some delicious vegetarian and vegan options. And as for the drinks, let's say that the Rainbow's signature cocktails are not for the faint of heart!
So whether you're a music lover, a cannabis enthusiast, or just looking for a good time, the Rainbow Bar & Grill is the place to be.
Address: 9015 Sunset Blvd, West Hollywood, CA 90069
Timings: Monday – Friday: 11 am to 2 am, Saturday and Sunday: 3 pm to 2 am
The Herbal Chef
The Herbal Chef, or THC, is a top-tier cannabis culinary experience. They transform weed into food art, with themed dinners curated to the max, from the packaging to the clever dish names.
It is the only cannabis restaurant incorporating water-soluble terpenes in its delectable and refreshing cocktails. Even for frying, they exclusively utilize organic ingredients and healthy oils in their food.
You can adjust the dosage for their savory courses and CBD-infused desserts according to your preferences. Whether it's a birthday or a private event, you can expect fantastic food that will leave you grinning from ear to ear.
Address: LA, Private Locations
Timings: Reservations Only
Fantom Flower
Looking for a new and exciting spot to enjoy some cannabis with friends? Look no further than the soon-to-be-opened Fantom Flower Lounge!
This fun and inviting lounge in West Hollywood's Rainbow District is the perfect place to relax and unwind while enjoying some top-quality cannabis products.
Fantom Flower promises to be the ultimate cannabis lounge and stage. Get ready for a delightful experience with cannabis offerings, fine dining, live entertainment, and special events.
The cherry on top? An on-site nurse will help you learn more about cannabis and make informed health choices. Plus, you can indulge in the chef's vegan menu that features delicious snacks, appetizers, drinks, and entrees.
Relax in the community gathering space and discuss the benefits of cannabis with like-minded folks.
Address: 8811 Santa Monica Boulevard
Timings: Coming Soon
Wrapping Up
There is no doubt that West Hollywood is a mecca for cannabis enthusiasts, with an abundance of unique and innovative cannabis cafes to explore. These cafes offer an unforgettable experience that you won't want to miss out on.
But, if you're not in the mood to head out, you can still enjoy your favorite cannabis products from the comfort of your home with Grassdoor, the best West Hollywood weed delivery service. So, sit back, relax, and let Grassdoor bring the party to you!
Related CTN News:
How To Find Cheap Flights: Tips And Tricks For Budget Travelers
Taiwan Plans To Offer $165 Per-Visitor To Spend Time There
Thailand's PM Expects 30 Million Foreign Tourists In 2023