Wondershare Recoverit Review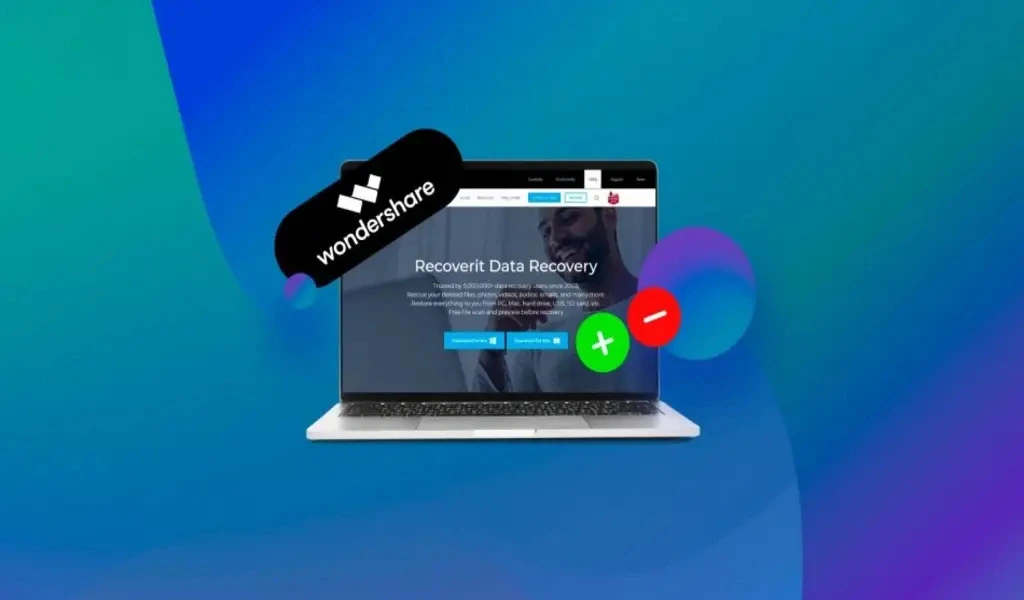 Companies and individuals rely on data to make myriads of decisions. However, things can go wrong and the same critical data gets lost through deletion, device crash, and malware attacks among others. To fix this problem, you simply need good data recovery software.
Fortunately, Wondershare Recoverit is considered one of the best data recovery software currently on the market. But is this true? Let's review Wondershare Recoverit and see whether it is really worth your coin.
What is Wondershare Recoverit
Wondershare was developed in 2003 and has undoubtedly been received well by users across the globe. It has rolled out a wide range of amazing applications and Wondershare Recoverit is among those great applications by Wondershare.
Wondershare Recoverit was developed to specifically address the issue of data recovery. It is described as an all-in-one data recovery tool capable of handling recoveries otherwise considered by other tools as impossible!
Wondershare Recoverit lets you recover photos, videos, documents, emails, audio files, and many other files from hard drives and external drives. It is supposed to recover over 1000 different types of file formats from any location.
According to the website, users can retrieve data lost from over 500 possible scenarios. Wondershare Recoverit offers different pricing plans and features vary depending on the chosen plan.
Detailed Wondershare Recoverit Review
Key Features
Wondershare Recoverit comes with several good data recovery features. These features, as aforementioned, will depend on the pricing plan selected. The features of Wondershare Recoverit include:
Supported File Formats- Wondershare Recoverit lets you recover nearly all types of files and file systems. To be precise, you can recover over 1000 different file formats including NTFS, HFS+, FAT, audio, mail, photos, and videos among others. Remember you don't need additional data or charges to retrieve any file type.
Supported Storage Devices- With Wondershare Recoverit, you can retrieve data from over 2000 storage devices including internal and external devices. Some of the storage devices include USB flash drives, a pen drive, a camera, a camcorder, a video player, PC/Mac, a hard drive, and a music player. The list is long.
Data Loss Scenario Recovery- Wondershare Recoverit lets you recover lost data from over 500 real-life data loss scenarios. Such scenarios include device corruption, formatting, accidental deletion, malware attacks, damaged devices, unknown error codes, and system crashes. Therefore, you can do several recoveries including corrupted video repair, system crashed computer recovery, NAS data recovery, and Linux data recovery among others.
Advanced Video Repair- If your video is corrupted, truncated, or broken, Wondershare Recoverit gives you two modes to repair it. You can use the quick mode or advanced recovery mode. For example, dropping your camera while recording a video can result in a broken video. This tool can recover the video even if the recording device is damaged.
Enhanced Photo and Video Recovery- Wondershare Recoverit runs a full scan to retrieve all videos and photos on your device. It makes it easier by also allowing you to select and recover the missing parts. You can also gather and match the segments of videos of different qualities including HD, 4K, and 8K videos. This ensures that you recover most of your videos and images.
Verdict: Wondershare Recoverit features are great and functional. They address nearly all the data loss scenarios, file formats, and storage media. Furthermore, it is continuously being updated with the latest releases (Wondershare RecoveritV12) to help it seamlessly adapt to the evolving data recovery needs.
However, the recovery speed is fairly slow when recovering large files or doing a deep scan. Although scanning and recovery speed often largely depends on the disk size and type, it needs some ramp-up.
Several other competitors have this issue but should not be an excuse. Users want to retrieve effectively and timely. Therefore, speed is paramount.
Rating: 4.5 out of 5 stars
Ease of Use
Before using Wondershare Recoverit, you should download it from the official website and then install it on your device. The download speed will depend on the speed of your internet connection while the installation process is simply following the few on-screen instructions. After installation, you simply launch the program and get started.
The data recovery process involves is simple. You simply choose the target drive/storage medium and then wait for the program to automatically scan for lost data in that storage medium. The retrieved files will be saved in their respective file location.
However, you can edit the destination depending on your preferences. Furthermore, you can preview the file by double-clicking the retrieved file.
Verdict: The interface is straightforward. It opens without confusing instructions. The storage media including quick access options like recycle bin and desktop are displayed in the primary interface for easy access. The icons are well-arranged and the steps are few and easy to follow. You probably won't struggle as a newbie.
However, previewing doesn't work on the free version. You can only experience this feature with the paid plans. Also, some message pop-ups on the screen can confuse you especially when there are unexpected system issues like low device memory.
Nevertheless, a few interactions with the software will definitely make you handle several data recovery options.
Rating: 4.7 out of 5 stars
Pricing
Pricing is a critical component and can make or break the customers' decisions. However, pricing is largely dependent on the features offered. Wondershare Recoverit offers three pricing options namely free, individual, standard, and education.
Individuals
Premium-$99.99 per year
Standard- $79.99 per year
Essential- $69.99 per year.
Teams & Business
$119.99 per year per user.
For Students
Essential 1-Year License- $48.99
Standard 1 Year License- $55.99
Premium 1 Year License- $69.99
For Educator
The price is dependent on the target number of users.
Verdict: It is clear that Wondershare Recoverit pricing offers several flexible plans. You can also find options for multiple users depending on your needs. This makes it useful for various fields and scenarios. However, the features offered depend on the plan you choose.
The free plan is limited and cannot allow you to preview or recover files. It is very limited. Also, the difference between yearly and monthly subscriptions is so narrow, and many users raise eyebrows.
While Wondershare Recoverit plans offer good features, the prices are a bit expensive. Nevertheless, it is slightly cheaper than other alternatives such as the EaseUS data recovery tool. Its least lifetime license goes for $119.99.
This can be a cost-effective option. Nevertheless, you need to consider an option that gives you the features you need.
Rating: 4.0 out of 5 stars.
Success Rate
The success rate is important for any data recovery tool. This is what the tool is designed to do and should be as high as possible. Wondershare Recoverit offers up to 95% success rate.
This means there is a high chance that the desired data will be retrieved. This high success rate alongside support for many file formats and devices makes it effective in retrieving various files.
Verdict: at 95%, the success rate is satisfactory.
Rating: 4.8 out of 5 stars.
General Customer Reviews
Several customers across different sites are impressed by the features and recovery rates of Wondershare Recoverit. Most of them highlight the ability of Wondershare Recoverit to retrieve data under various scenarios and storage media.
However, the major problem is pricing. Also, most of them are concerned that the free version cannot do data recovery.
Conclusion
After going through this Wondershare Recoverit review, you can seamlessly decide whether this tool is a great fit for you. Free of bias, several things about this tool tick the boxes. If you are impressed, choose a package that meets your needs and budget.
SEE ALSO: Meta's Proposed $14 Monthly Ad-Free Instagram Subscription Sparks Privacy Debate In Europe