Trump "Witch Hunt" Civil Fraud Trial Begins in New York City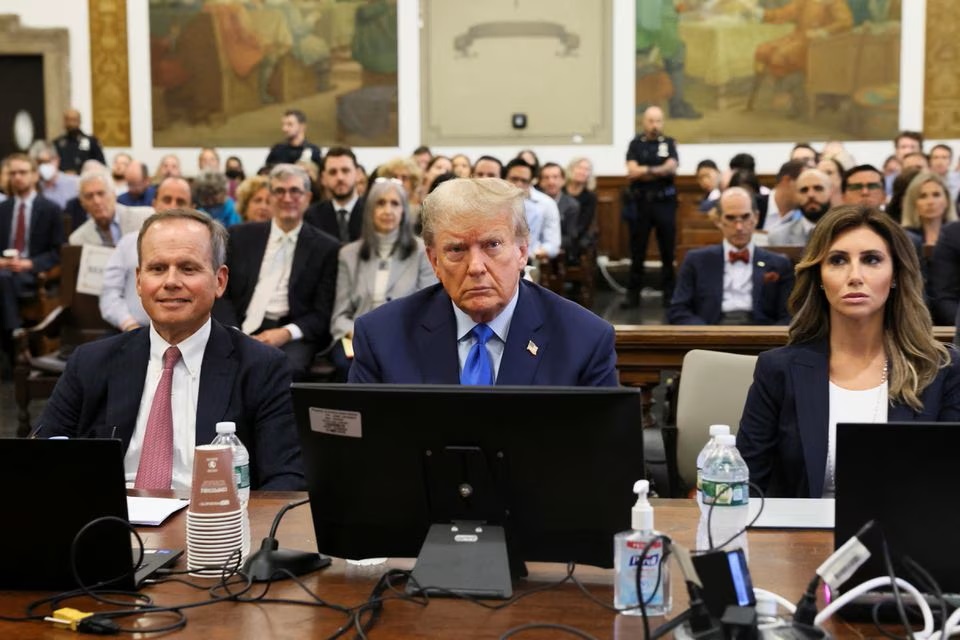 Donald Trump, the 45th president of the United States, showed up at a Manhattan courthouse to defend himself and his family business in a civil dispute that could deal a severe blow to the Trump real estate empire.
Democratic New York Attorney General Letitia James has accused Trump, the frontrunner for the 2024 Republican presidential nomination, of misrepresenting the worth of his assets by billions of dollars to obtain favourable loan and insurance terms.
Trump remarked, "This is a continuation of the single greatest witch hunt of all time," as he entered the courtroom at the state courthouse in lower Manhattan.
"Our company is fantastic. I was successful in starting my own business. He went on to describe how great it was. Some of the world's most valuable property is located there. And now I must face this rogue judge."
Trump, dressed in a dark blue suit with a bright blue tie and an American flag pin on his lapel, once again branded James, who is Black, a "racist," and said that the Democrat had a vendetta against him.
A court document from an other case indicates that the former president will be present for the trial's opening week. A spokesperson for the case claimed that he will likely testify at a later date.
Before entering the courthouse, James told reporters, "No matter how much money you may have, no one is above the law." The law, while strong, is nevertheless extremely vulnerable. Today's court hearing will be the conclusive evidence."
Trump's Alleged Fraud
Just before entering the courthouse, Trump's attorney Alina Habba stated, "We will continue to fight in hopes that there is some degree of law and order. Although I have doubts about the system, I believe in Donald Trump.
Justice Arthur Engoron ruled last week that James had proven her fraud case against Trump, his two adult sons and 10 of his companies.
James is demanding sanctions totaling at least $250 million, including a lifetime ban on business activity in the state of New York for Donald Trump, Jr., and Eric Trump, and a five-year ban on commercial real estate activities by Trump and his flagship Trump Organisation.
According to Trump, this whole thing is a political witch hunt.
The judge in James' case against Trump, his two adult sons, and ten of his companies, Arthur Engoron, concluded last week that James had proven her case of fraud.
Engoron gave a scathing account of how they fabricated prices. Trump even estimated the worth of his Trump Tower condo at three times its actual size.
"A discrepancy of this order of magnitude, by a real estate developer sizing up his own living space over decades, can only be considered fraud," he said.
Trump claimed on Truth Social that the judge's assessments were bogus.
Trump's New York City landmarks
Engoron revoked the business licences of the corporations that owned Trump's New York City landmarks including Trump Tower and his golf courses and said that he would appoint receivers to dissolve the businesses.
Although the verdict only affects a small fraction of Trump's portfolio of over 500 firms, it does involve some of his most lucrative holdings.
Losing such valuable assets would be devastating to Trump's finances, however the details of how such order would be carried out have not yet been settled. Additional costs would accrue if Engoron tacked on sanctions against businesses.
There is a tentative end date of early December for the experiment. A total of over 150 persons, including Trump, have been named as possible witnesses, but the trial is more likely to boil down to a showdown between experts arguing over financial documents.
James claims Trump "grossly" inflated the prices of his assets to secure better deals from lenders and insurers, resulting in hundreds of millions of dollars in ill-gotten savings.
Even though deed constraints put a cap on the value of his Mar-a-Lago club and mansion in Florida at $28 million, James listed it as having a maximum value of $739 million.
Trump confronts this and other legal challenges as he bids for reelection to the White House in 2024. None of his opponents for the Republican nomination have been able to overcome his overwhelming financial advantage over them.
The four indictments against Trump make him the first serving or former U.S. president to face criminal charges.
In Florida, he faces charges related to his handling of secret documents after leaving office; in Washington, D.C., he faces charges related to his efforts to undo his defeat in the 2020 presidential election; in Georgia, he faces charges related to measures to overturn election results; and in New York, he faces charges related to hush money payments to a porn star.
Trump has pleaded not guilty in all four cases and has denied any wrongdoing.