US Military Industrial Complex the Clear Winner in the Ukraine War
As the Ukraine war approaches its one-year anniversary, only one clear winner has emerged from the proxy war with Russia, the US military industrial complex. Without American weapons, Ukraine would not have been able to hold out against Russia.
However, as the conflict continues, some EU officials have claimed that the US is profiting from the conflict through weapon sales and gas prices. Analysts have warned of excessive spending and the expansion of the US military industrial complex (MIC) beyond what is required to respond to Ukraine.
Defence budgets are also increasing around the world as countries replenish stocks sent to Ukraine and try to strengthen military capabilities in the face of mounting security threats.
Finally, the military industrial complex is in for a windfall.
During the Cold War, the military industrial complex was a term used to describe the relationship between a government and defence industry contractors who lobby for increased military spending.
The MIC of a country has the potential to influence government policy, particularly if there are legislators who can benefit from the partnerships.
Military Industrial Complex Jobs
In the United States, there is a broader stake in keeping the industry afloat, particularly for local economies that rely heavily on defence contractors for employment. The sector directly supports 800,000 jobs.
In his 1961 farewell address, former US President Dwight Eisenhower warned of the rise of the MIC and its threat to democracy, describing it as a major issue.
Large military sales were necessary during the Cold War, but the question was how to control them and what democratic safeguards could be put in place. Today, however, there does not appear to be the same level of concern.
Since Russia's full-scale invasion in February 2022, the US and its NATO allies have provided Ukraine with tens of billions of dollars in military aid.
Including this latest aid package, the US has spent more than $100 billion on the Ukraine war, which is $16 billion more than Russia's entire military budget for 2023.
Contracts have been issued thick and fast in order to accelerate weapon production and fill supply gaps. And only a few companies in the highly consolidated industry are reaping the benefits.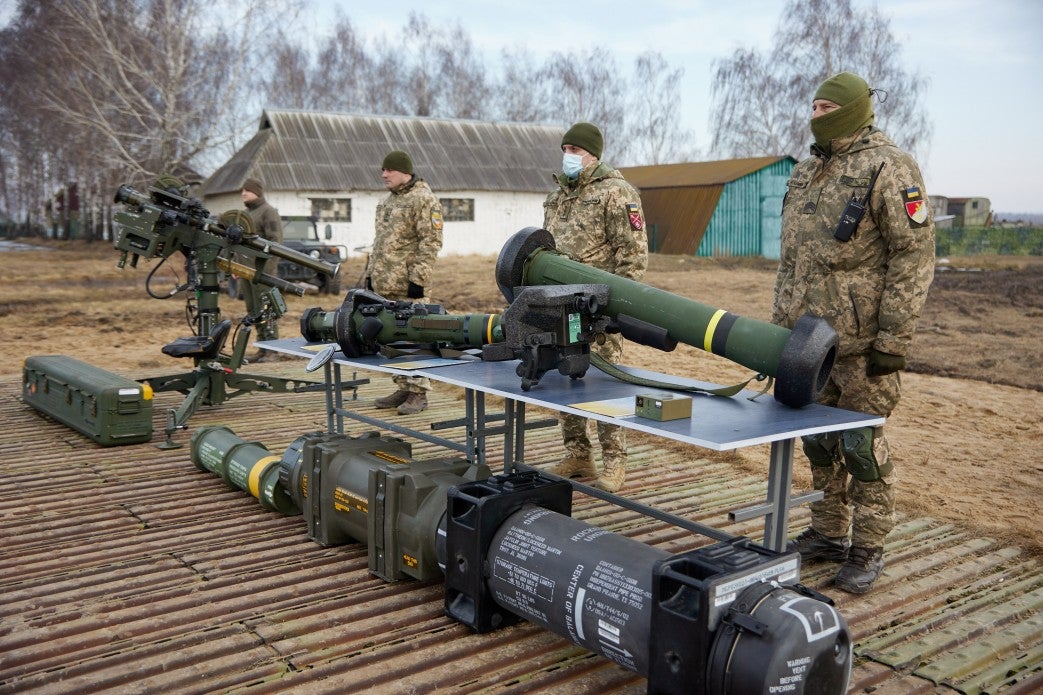 US Military Contractors Stocks Soar
Lockheed Martin, Raytheon, Boeing, and Northrop Grumman are among the top US contractors. They also manufacture some of the most sought-after and expensive weapons sent to Ukraine. The conflict has boosted their stock prices, with Northrop Grumman's increasing 40% by the end of 2022 and Lockheed Martin's increasing 37%.
The Pentagon announced in October that contracts totaling $US1.2 billion were in the works to replenish US military stocks for weapons sent to the battlefield.
Lockheed Martin's popular Javelin anti-tank missiles, dubbed "Saint Javelin" after Ukraine's protector, increased production from 2,100 to nearly 4,000 per year. While its High Mobility Artillery Rocket Systems (HIMARS) production increased from 60 to 96 units per year.
In November, the US increased the stakes by awarding Raytheon, which also co-produces Javelins, a $US1.2 billion contract for six more National Advanced Surface-to-Air Missile Systems (NASAMS) for Ukraine.
Soon after, Lockheed Martin was awarded a $US7.8 billion contract modification for F-35 aircraft, as well as a $US431 million contract to provide new HIMARS and support services to the US Army and its foreign allies.
Stocks of Lockheed Martin, Raytheon, and Northrop Grumman have risen since Russia's invasion, with Lockheed up nearly 38% this year.
Lockheed Martin received more money from federal contracts in 2020 than the Department of State and USAID combined.
The US Senate passed a funding bill last month that included a record $US858 billion in annual defence spending, up from $US740 billion the year before. It was $US45 billion more than President Joe Biden had proposed.
The bill includes funding for Taiwan and Ukraine, allowing the Pentagon to purchase massive quantities of high-priority munitions through multi-year contracts, both to assist Kyiv in its fight against Russia and to replenish US stockpiles.
EU Accuses US of Profiteering
Meanwhile, European officials accuse the United States of profiting from the Ukraine conflict in the energy and defence sectors while Europe suffers. Top European officials are reportedly angry with the US administration, claiming that the US is profiting from the war while the EU suffers.
EU countries are instead importing gas from the United States, but the price is nearly four times that of the same fuel in America.
Then there's the likely increase in orders for American-made military equipment as European armies run out of weapons after sending them to Ukraine.
High US gas prices, according to French President Emmanuel Macron, are not "friendly," and Germany's economy minister has called on Washington to show more "solidarity" and help reduce energy costs.
EU ministers and diplomats are reportedly dissatisfied with the Biden administration's failure to consider the impact of domestic economic policies on European allies.
By Geoff Thomas