Folding Utility Cart: Know All The Types, Features And Uses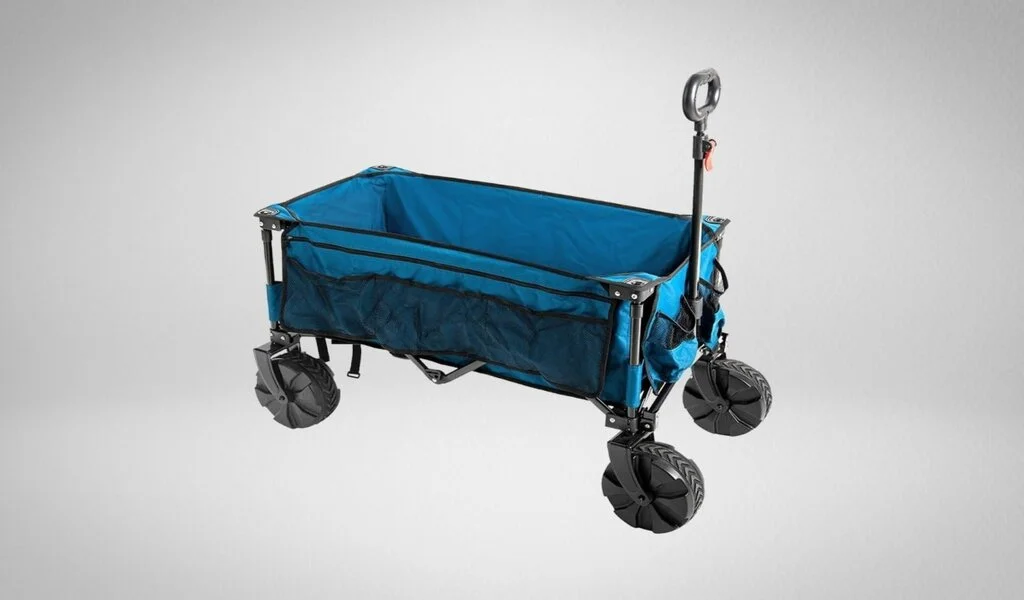 Folding utility carts are practical and adaptable devices made to make moving heavy or large things simpler and more convenient.
Usually made of lightweight, strong materials like aluminium, steel, or plastic, their foldable features make them simple to store and transport when not in use.
Homes, offices, warehouses, and outdoor locations are just a few of the places where these carts are frequently employed.
They have many advantages, including lowering the possibility of injury from lifting big objects, boosting productivity and efficiency, and conserving time and energy.
To assist you in choosing the folding utility cart that best suits your needs, we will examine the many types, components, capacities, features, uses, and upkeep of folding utility carts in this article.
Types of Folding utility carts
Each style of folding utility cart has distinct advantages and features that make them handy for a variety of applications and environments.
It's critical to consider both your unique requirements and the qualities that will be most beneficial for your intended application when selecting a folding utility cart.
Collapsible waggons: With four wheels and a strong structure, these carts are ideal for hauling heavy items over rough terrain. Usually, they have a sizable storage area that can be folded down and compacted for simple storage when not in use.
Wheeled folding carts: These carts resemble collapsible waggons but are more manoeuvrable in compact spaces and often have a smaller storage area. They can be folded down to a small size for storage and frequently have a handle and wheels for convenient mobility.
Garden carts: These carts are made specifically for use in gardens and frequently have a sizable storage area for equipment, plants, or dirt. They normally include a handle and four wheels for convenient mobility, and when not in use, they may be folded down for storage.
Shopping carts: These are carts that are made particularly for carrying groceries. They frequently have a wire or fabric basket, wheels, and a handle for flexibility. They are a handy alternative to carrying bulky bags when moving groceries because they can be folded down for storage.
Beach carts: These carts are made to be used on sand-covered beaches and often have broad, flexible wheels that can roll over the sand with ease. They frequently fold down for simple storage and transit and have a sizable storage area for beach equipment.
Utility hand trucks: These carts have a platform or storage basket and are made to handle large goods. For ease of movement, they frequently have a handle and two huge wheels that can be folded down for storage when not in use.
Features to consider while choosing a Folding utility cart
Folding mechanism: How easily the cart can be folded and stored will depend on its folding mechanism. While some carts can be folded and stored with just one hand thanks to a straightforward folding mechanism, others take more work.
Handle: The cart's handle should be simple to use and comfortable to grip. It's crucial to pick a cart with a handle that is the proper height for you and strong enough to carry the cart's weight.
Weight capacity: The amount of weight the cart can support will depend on its weight capacity. It's crucial to pick a cart with a weight capacity that meets your requirements.
Wheels: The kind of wheels the cart has will affect how simple it is to manoeuvre the cart over various terrains. Others feature larger, inflatable wheels that can withstand difficult terrain. Other carts have small, plastic wheels that are suitable for smooth ground.
Size and dimensions: The cart's size and dimensions will affect how much storage capacity it has and how efficient it is. It's crucial to pick a cart that is the proper size for the purpose for which it will be used.
Accessories: Some carts are equipped with canopies, storage compartments, and cup holders. It's crucial to pick a cart with add-ons that are appropriate for your intended purpose.
Material used: The cart's stability and endurance to the elements will depend on the material used in its design. While some carts are built of strong steel or weather-resistant plastic, others are made of lightweight aluminium.
Uses of Folding Utility Carts
Shopping for groceries: Whether you live in an apartment or have a long trip to the grocery store, folding utility carts are ideal for hauling food. The cart is simple to fill with groceries and fold down for storage once you get home.
Gardening: You may move instruments, plants, and soil about your yard or garden using folding utility carts. Moreover, they can be utilised to move yard trash to a compost bin or another disposal location.
Outdoor occasions: Foldable utility carts are excellent for outdoor occasions including festivals, concerts, and picnics. The cart may be used to move food, beverages, and other supplies, and it can be folded down for simple storage after usage.
Laundry: To transfer your laundry from your home to the laundromat, use folding utility carts. After you're finished, you can fold the cart down for convenient storage after loading it with laundry bags.
Home renovation projects: Foldable utility carts can be helpful for transporting equipment and supplies throughout the house. They can also be used to move rubbish and debris to a disposal location.
Moving: Little objects like boxes, clothing, and household items can be moved using folding utility carts. They can be helpful for moving things to and from storage containers as well.
In conclusion, folding utility carts are handy and adaptable items that can help with a variety of chores and increase productivity. Folding utility carts come in a variety of designs, each with unique features and advantages. It's crucial to consider aspects like weight capacity, size, wheels, handle, material, folding mechanism, and accessories when selecting a folding utility cart.
Grocery shopping, outdoor activities, gardening, moving, laundry, beach getaways, and home repair projects are a few frequent uses for folding utility carts.
You may streamline many different activities and make them more fun by using a folding utility cart.
Related CTN News:
Mid-Autumn Festival Statement By The Prime Minister, Justin Trudeau
Remarriage in Canada When Divorce Occurs in Other Countries
Tips on Increasing the Efficiency of Wood Burning Heater