Western Leaders Uncertain Over Vladimir Putin's End Game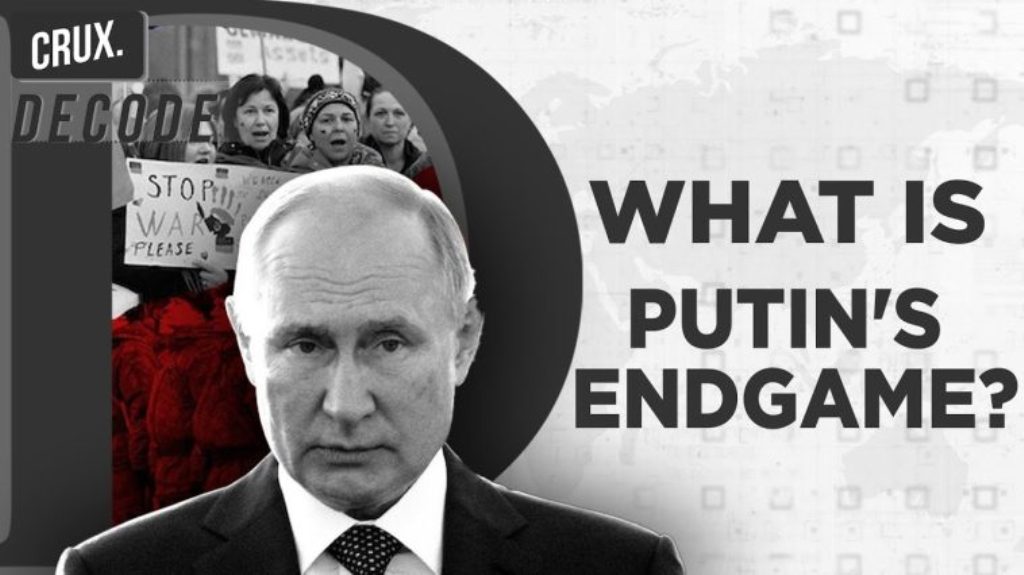 Western leaders scratch their heads in uncertainty over what their actions against Vladimir Putin will accomplish.
NATO, the U.S., and the European Union have focused on strangling Russia's economy and arming Ukrainian forces. However, it is unclear how this will end the war.
Nobody knows what President Vladimir Putin is thinking, but even the harshest measures are unlikely to dislodge his determination to force the Western-leaning former Soviet republic back into Moscow's orbit.
U.S. officials and NATO allies may not say it publicly, but they don't see any breaking point for Putin – either an economic disaster or battlefield losses so catastrophic – that would prompt him to withdraw his troops and allow Ukraine's leaders to govern peacefully.
In announcing a ban on Russian energy imports on Tuesday, Biden said, "Ukraine will never be a victory for Putin." However, Ukraine might not be a complete loss for Putin either.
The sanctions and military aid may have slowed down Vladimir Putin's advance on Ukraine and perhaps dissuaded him from targeting other countries.
Sanctions and military aid to Ukraine may serve as a warning to other powerful countries considering attacking weaker neighbors. However, Western officials have been vague on how these actions will end the conflict.
Internal pressure on Vladimir Putin
Under Secretary of State for Political Affairs, Victoria Nuland provided one of the most direct answers. According to her, internal pressure on Vladimir Putin will be more effective than external pressure.
She testified before Congress that Putin will end this conflict when he realizes that his own leadership standing will be at risk. This is with his own military and with his own people.
"Either he changes course, or the Russian people could take matters into their own hands."
Senator Lindsey Graham of South Carolina made an even more provocative statement, calling for the Russian people to assassinate Putin. President Biden and his administration quickly distanced themselves from that statement.
So far, Putin shows no signs of losing his grip on power. It's also frightening to imagine how a nuclear-armed Putin would react if cornered by a genuine threat to his power.
There is no guarantee that Ukraine will win a military victory outright. In spite of the resilience of Ukrainian fighters and their determination to battle against Russian troops until they leave, they are severely outgunned and would find it difficult to push Russian troops back across the border.
A diplomatic solution
At the same time, NATO nations aren't going to risk triggering World War III by defending a non-member state.
A diplomatic solution appears unlikely against this backdrop. Since the Russian invasion last month, the Russian government has only hardened its demands, and efforts at diplomacy by French, Israeli, and Turkish leaders have been ineffective.
The top diplomats of the United States and Russia do not even communicate, and lower-level communications are almost entirely focused on the expulsion of diplomats from their respective countries.
'There's no telling how this is going to end and it'll take some time to see how Russia reacts to the apparent dead-end they've gotten themselves into,' Jeff Rathke, a European expert, and Johns Hopkins University president, said.
It's hard to do much until the Russians are willing to negotiate a real solution," he said. As the economic costs of isolating Moscow mount, especially in Europe, the United States and Europe should resist the temptation to negotiate with Putin over Ukraine. "The endgame depends on what the Ukrainians are willing to accept," he said.
Putin Must Be Stopped
The situation in Ukraine can't end well as long as Putin remains in power, said Ian Kelly, a retired U.S. diplomat and former ambassador to Georgia. He now teaches international relations at Northwestern University.
Vladimir Putin has outlined his maximalist goal, which is surrender. This will not be acceptable to the Ukrainians, and it will not be achievable for the Russians."
The act of withdrawing from him is like death to him. He would not accept it.
Antony Blinken, secretary of state, acknowledged that the West is limited in its ability to resolve the conflict.
Our focus is whether or not President Putin will attempt to finally reverse the harm that he's done to himself and to the Russian people. We cannot make this decision for him," he said.
British Foreign Secretay, Elizabeth Truss, who appeared alongside Blinken, suggested the West might not stop at hopes of getting Russia out of Ukraine.
More Bloodshed to Come
It is imperative that Putin fails, she said. Throughout history, we know that aggressors are only aware of one thing: strength. The world is in danger of becoming more dangerous if we don't act now. There will be terrible repercussions for European and global security if Putin is not stopped in Ukraine."
As a result of the uncertainty, U.S. officials are certain of only one thing: an angry and frustrated Putin will pour more troops and firepower into Ukraine and the bloodshed will intensify before the situation returns to normal.
Former U.S. ambassador to Russia William Burns told Congress this week that Putin miscalculated the level of resistance and determination his forces would face from Ukrainians.
Additionally, he said Putin may soon realize that he won't be able to occupy Ukraine or impose a Russia-friendly regime there without facing years, if not decades, of fierce opposition.
The outcome, Burns said, could be an unsettling next few weeks in which Vladimir Putin doubles down without regard for civilian casualties, making urban combat even more brutal.