U.S. Citizens Gather To Commemorate 22nd Anniversary Of 9/11 Across The Nation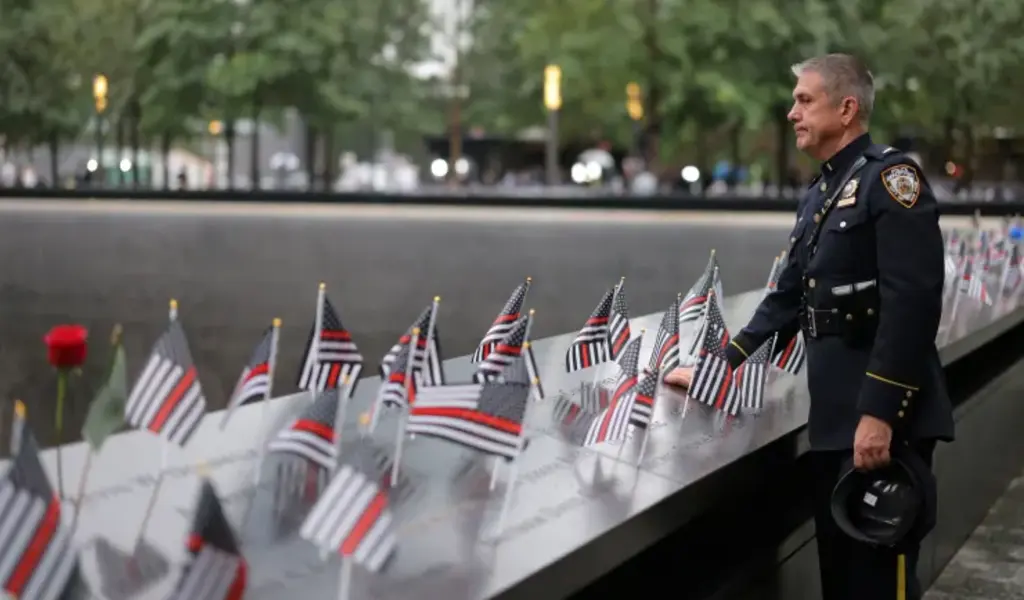 (CTN NEWS) – From coast to small-town America, citizens commemorated the anniversary of 9/11 on Monday, observing moments of silence, sharing heartfelt words, and emphasizing the importance of educating younger generations about the tragic events that occurred 22 years ago.
Edward Edelman, who lost a loved one on that fateful day, expressed, "For those of us who lost people on that day, that day remains ever-present. While the world moves forward, we find a way to carry on, but that day is a constant presence in our lives."
Edelman was speaking as he arrived at New York's World Trade Center to pay tribute to his brother-in-law, Daniel McGinley.
President Joe Biden was scheduled to participate in a ceremony at a military base in Anchorage, Alaska, during his journey back to Washington from a visit to India and Vietnam.
This serves as a reminder that the impact of 9/11 resonated throughout the entire nation, even in the most remote corners.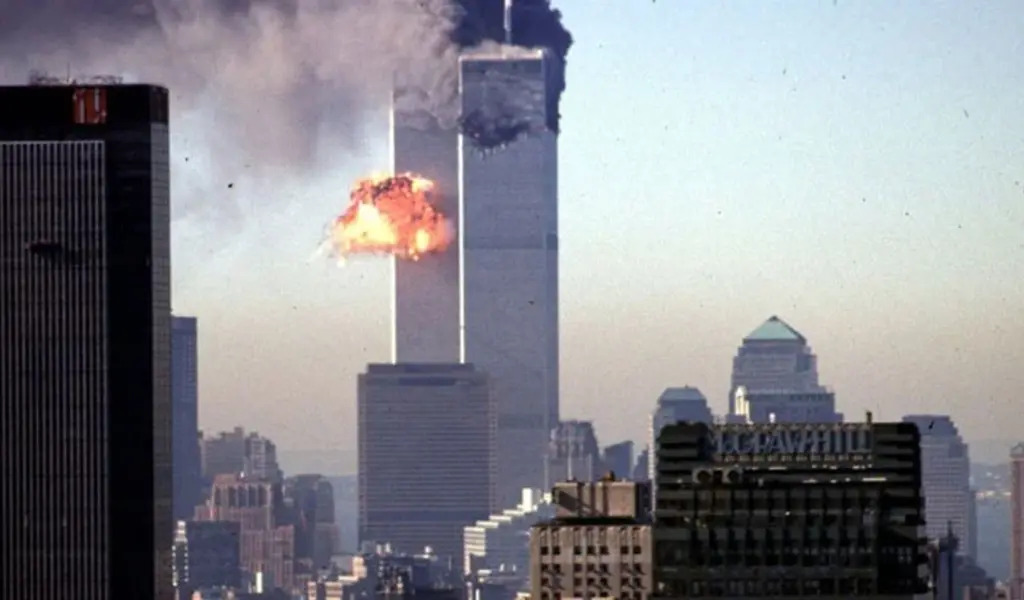 The terrorist attacks claimed the lives of nearly 3,000 people when hijacked planes struck the World Trade Center, the Pentagon, and a field in Pennsylvania.
These attacks fundamentally reshaped American foreign policy and instilled new domestic fears.
Reflecting on that fateful day, Eddie Ferguson, the fire-rescue chief in Virginia's Goochland County, noted, "We were one country, one nation, one people, just as it should be.
That was the prevailing sentiment — that everyone came together and did their part, wherever they were, to offer assistance."
Rural County's September 11 Memorial: Honoring Heroes and Victims
In a predominantly rural county with a population of 25,000, located more than 100 miles (160 kilometers) away from the Pentagon, there stands a September 11 memorial.
This county holds two separate anniversary commemorations: one dedicated to honoring first responders and another paying tribute to all the victims of the tragic event.
Meanwhile, at ground zero in New York City, Vice President Kamala Harris joined other dignitaries for a ceremony held on the National September 11 Memorial plaza.
Unlike previous years, this event did not feature speeches from political figures. Instead, it centered on victims reading the names of those who perished in the attacks and delivering brief personal messages.
Some of these messages included patriotic affirmations of American values and expressions of gratitude towards first responders and the military.
One individual praised the Navy SEALs for their role in eliminating al-Qaida leader and 9/11 plotter Osama bin Laden in Pakistan in 2011. Another made an impassioned plea for peace and justice.
One participant acknowledged the numerous lives lost in the post-9/11 "War on Terror," while many shared heartfelt reflections on their beloved ones who are no longer with them.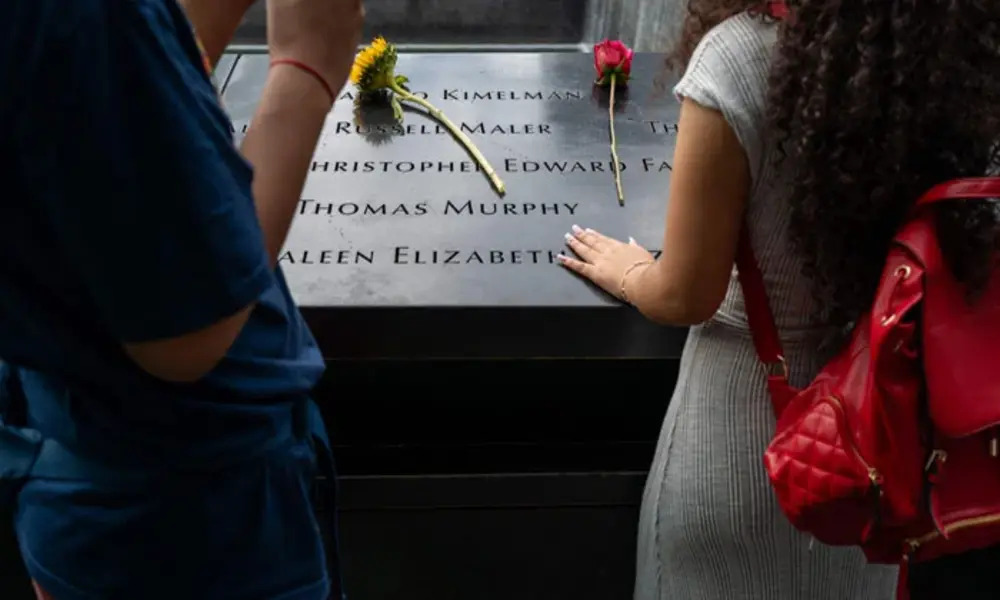 Manuel João DaMota Jr., who was born after his father and namesake passed away, expressed, "Though we never met, I am honored to carry your name and legacy with me."
For 20-year-old Jason Inoa, speaking before the audience about his grandfather, Jorge Velazquez, was a nerve-wracking experience. However, he found the courage to do it for his grandmother, who is suffering from Alzheimer's disease.
He shared, "The one thing she does remember is her husband," after his heartfelt tribute.
President Biden, a Democrat, will become the first president to commemorate September 11 in the western United States. Over the years, he and his predecessors have typically visited one of the attack sites on this solemn occasion.
It's worth noting that Republican George W. Bush and Democrat Barack Obama occasionally marked the anniversary on the White House lawn. Following one such observance, Obama honored the military with a visit to Fort Meade in Maryland.
First Lady Jill Biden Honors 9/11 Victims at Pentagon Memorial
First lady Jill Biden is scheduled to lay a wreath at the 9/11 memorial at the Pentagon.
The solemn ceremony included a giant American flag hanging over the side of the building, tolling bells, and musicians playing taps at 9:37 a.m., the time when one of the hijacked jets struck the military headquarters.
Defense Secretary Lloyd Austin, who served in Iraq during the subsequent war, shared these words, "As the years go by, it may feel that the world is moving on or even forgetting what happened here on September 11, 2001.
But please know this: The men and women of the Department of Defense will always remember."
Vice President Kamala Harris's husband, Doug Emhoff, is expected to attend an afternoon ceremony at the Flight 93 National Memorial near Shanksville, Pennsylvania, where another plane crashed after passengers attempted to regain control of the aircraft.
During a morning observance, Rabbi Jeffrey Myers of Pittsburgh's Tree of Life synagogue, where a tragic shooting took place in 2018, emphasized the importance of ensuring that younger generations are informed about 9/11.
He remarked, "With memory comes responsibility, the determination to share our stories with this next generation, so that through them, our loved ones continue to live."
The National Park Service-operated memorial site is offering a new educational video, virtual tour, and other materials for classroom use. Organizers report that over 10,000 educators have registered for access.
Americans Commemorate 9/11 Through Volunteering and Gatherings
Throughout the nation, many Americans engaged in volunteer work on what Congress has designated as both Patriot Day and a National Day of Service and Remembrance.
Others gathered at memorial sites, firehouses, city halls, campuses, and various locations for anniversary events.
In Iowa, a march commenced at 9:11 a.m. from the Des Moines suburb of Waukee to the state Capitol. In Columbus, Indiana, observances included a remembrance message broadcasted to police, fire, and EMS radios.
Pepperdine University's campus in Malibu, California, displayed one American flag for each victim, alongside the flags of every other country that lost a citizen on 9/11.
New Jersey's Monmouth County, which was home to some 9/11 victims, designated September 11 as a holiday for county employees to allow them to participate in commemorations.
In Fenton, Missouri, Boy Scouts and Girl Scouts raised and lowered the flag at a commemoration event.
The gathering took place near a "Heroes Memorial" featuring steel from the fallen twin towers of the World Trade Center and a plaque honoring Jessica Leigh Sachs, a 9/11 victim with relatives among the town's 4,000 residents.
Mayor Joe Maurath emphasized the importance of remembering such events, saying, "We're just a little bitty community, but it's important for us to continue to remember these events. Not just 9/11, but all of the events that make us free."
RELATED CTN NEWS:
[VIDEO]: Morocco's Earthquake Aftermath: Death Toll Rises As Rescue Efforts Continue
Fall Vaccination Update: New COVID-19 And RSV Vaccines Set To Tackle Triple Threat
[VIDEO]: Air China Flight Safely Lands At Singapore's Changi Airport After Fire And Smoke Incident