Phreah Vihear Temple Reopens After 15 Yeas of Conflict Between Thailand and Cambodia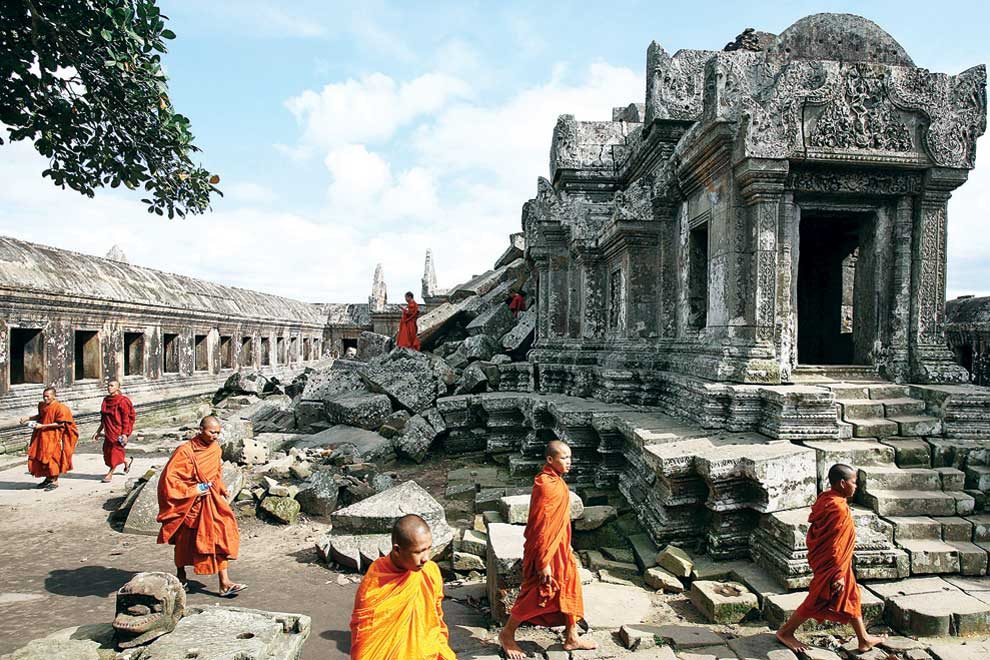 People in Thailand are looking forward to the reopening of the Preah Vihear temple ruins in Si Sa Ket province after a 15-year hiatus in order to encourage tourism and a peace dialogue with Cambodia.
Access to the temple from Si Sa Ket's Kantharalak region has been restricted since 2008 due to border tensions in the area over territory claimed by both countries.
Thousands of soldiers from both countries remain stationed in Si Sa Ket, Ubon Ratchathani, and Surin along the border. In comparison to the overlapping stations that caused conflict in 2011, patrols are placed every 10-15 metres.
In 2013, the International Court of Justice (ICJ) ordered both sides to withdraw the armed detachment stationed in front of the Cambodian temple ruins. The court's decision, however, authorised Thailand and Cambodia to deploy border patrol soldiers on their outer borders.
Despite the fact that the ICJ resolution said that Thailand and Cambodia should pursue a cooperative agreement to mutually develop regions in and around the Preah Vihear temple, there has been little progress since the 2011 truce.
For more than a decade, Cambodia has blocked access to the Preah Vihear temple ruins from Thailand's territory. According to the Bangkok Post, Thailand has made numerous attempts to work with Cambodia to revive tourism around the temple complex.
For example, one governor province in Ubon Ratchathani petitioned Cambodia to allow tourists to enter Preah Vihear temple through the Si Sa Ket gateway. The plea was flatly denied on the grounds that only Prime Minister Hun Sen has the authority to make such a decision.
Cambodia and Thailand have agreed to discontinue armed responses against one other after being under military administration for 12 years.
Nonetheless, citing security concerns, the Thai army has never published the real number of deployed officers on the frontlines.
According to the source, the servicemen are from the Ranger Forces Regiment 2307, the Border Patrol Police Division 22, and the 12th Infantry Regiment.
According to Col Boonserm Boonbamrung, commander of Suranaree Task Force's 1st special unit, both Thai and Cambodian soldiers are still deployed in the areas surrounding the Preah Vihear temple under the "5+5 Policy."
According to the policy, there shall be five Thai officers and five Cambodian officers stationed at the border coordination point to help communicate and coordinate their movements and avoid misunderstandings.
"If one side fires, the other must not fire back in defence." "They must first determine whether the gunfire was accidental or caused by other factors," Col Boonserm added. Many believed that by putting their armed personnel adjacent to each other, they would spark a conflict.
According to a source, many of the soldiers speak Cambodian, and many Cambodian officers speak Thai. Aside from patrolling their respective borders, Thai and Cambodian soldiers in the area have spent their time together engaging in sports such as volleyball, rattan ball, and petanque. Many mingle over dinner, and their superiors keep in touch as well, according to Col Boonsom.
Cambodian military authorities, according to Lt Gen Sawarat Saengphon, Commander of the 2nd Army Region, have advised him that both adjacent nations may have to suffer the situation as long as the territorial claim is unresolved.
Many residents from Cambodia and Thailand had repeatedly encroached on the disputed region. Lt Gen Sawarat stated that authorities attempted to negotiate and have them removed from the area.
"To maintain peace, [soldiers] must be stationed in the same locations." There will be no incursion and no troop advances. "We must stick to the spots that were assigned to us in 2011," he remarked. Since the 2011 skirmishes, Cambodian military have been stationed at Phu Ma Khua, west of Preah Vihear temple.
Meanwhile, Thai forces withdrew and maintained a 50-meter gap from the nearest military position. However, in 2011, both sides' task forces retreated from the ancient remains of Prasat Ta Krabey and Prasat Ta Muen temples.
They are occupying half of the areas till the territorial conflict is resolved.
Border security troops from Thailand, Cambodia, and Laos recently held a sports event at Ubon Ratchathani Rajabhat University to strengthen military ties between the three nations.
Each country fielded 60 athletes. Lt Gen Chea Sopheak, deputy chief of Cambodia's 4th military region, and Lt Gen Thol Suvan, deputy chief of Cambodia's 3rd military region, the taskforces in charge of the Preah Vihear temple area, attended the ceremony.
Some assume the two generals will be promoted to take command of the region, given the existing incumbents are nearing retirement.
According to a source, Cambodia would reorganise its military in the Preah Vihear temple area, a new method backed by Lt Gen Hun Manet, the son of Cambodian Prime Minister Hun Sen.
According to the source, one promising solution to the border problem between Thailand and Cambodia is to allow tourists access to the Preah Vihear temple on Si Sa Ket's ground and to allow Cambodian tourists to enter Pha Mor E-Daeng in Khao Phra Viharn National Park.
"If Cambodia allows access to the temple from Thailand's side, tourists will benefit and more people will visit." "Thailand and Cambodia should work together to promote tourism," said the insider.
Lt Gen Hun Manet is likely to resolve the land dispute surrounding Preah Vihear temple, which could lead to a permanent military pullout and sustainable tourism in the future.
The Preah Vihear temple was dedicated to the Hindu God Shiva and was built on a cliff in the 9th century. It was completed in the 11th century.
In 2008, the complex was designated as a Unesco World Heritage complex.
Pha Mor E-Daeng, located on the Thai side of Khao Phra Viharn National Park, was previously an entrance to the ancient ruins, but it has been closed since 2008.
According to the ICJ, Cambodia and Thailand, as World Heritage Convention parties, must collaborate to safeguard it as a world heritage site. It advised them to work together to resolve the matter.