Buddhist Monk Wins 6 Million Baht Jackpot in Thailand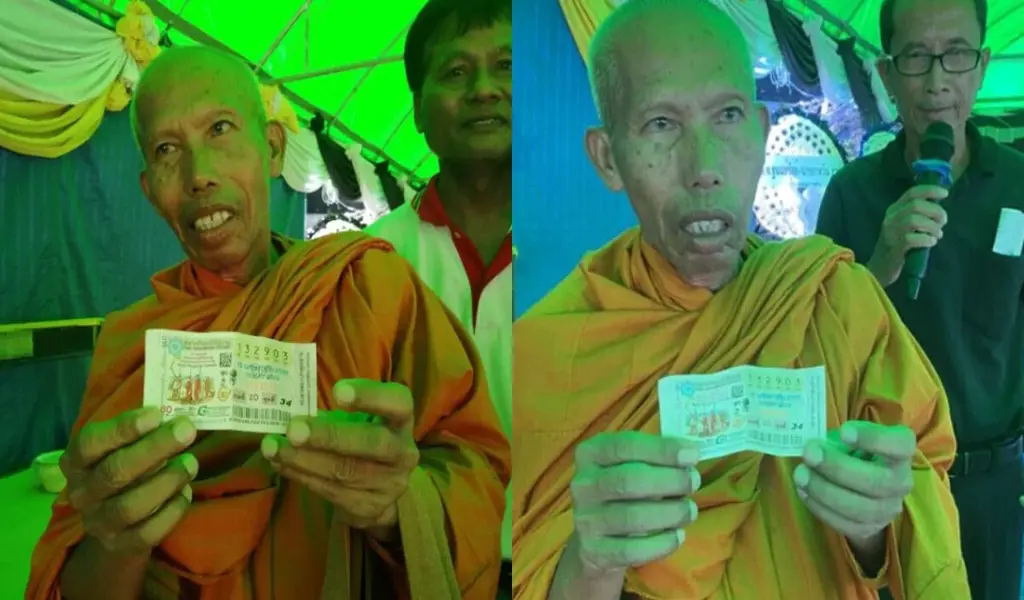 (CTN News) – In yesterday's national lottery draw in Thailand, a Buddhist monk took home the jackpot of 6 million baht. He plans to use the funds to fix up his temple in Nakhon Ratchasima.
Buddhist Monk Wins 6 Million Baht Lottery Jackpot
A 63-year-old monk named Phra Ajahn Praphas from the Wat Nong Bua temple in the Ban Pho subdistrict of Korat's Mueang district won the lottery's first prize of 6 million baht with ticket number 132903.
The monk revealed to the media that he had just prayed in front of the Buddha statue in the temple's assembly hall for the blessing of financial resources to repair the old, damaged temple.
Phra Praphas, three days ago, bought a lottery ticket from a vendor who rode up to his temple on a motorbike. He claimed he randomly chose 132903 and gave no explanation for his decision.
Monk Attributes Win to Merit as a Monk
The monk is confident that his ordination as a monk has earned him the grand prize. He claims to be alone in the temple all day, sweeping the floor and feeding the strays. He claimed he is never a nuisance or an interruption.
After the victory on Sunday, lottery tickets with numbers associated with the Move Forward Party quickly sold out across Thailand.
Popularity peaked at the party's official number, 31. Yesterday, the number 731 miraculously appeared, and all winners with tickets ending in those three digits received 4,000 Thai Baht.
As "Pita fever" swept the country after MFP leader Pita Limjaroenrat declared his willingness to form a coalition and lead the country towards a better future after the unexpected victory of the opposition parties on Sunday, tickets with the number 30 on them also sold out.
Thai Man's Drunken Adventure After Winning Lottery
A Thai guy who won $4,000 in the lottery last month celebrated by getting drunk, climbing a tree, and sleeping in a nest of communication cables.
The next day, they thought the man was dead and phoned the police. He was discovered to be alive, albeit inebriated.