Hawaii's Kilauea Volcano Erupts For The Third Time In A Row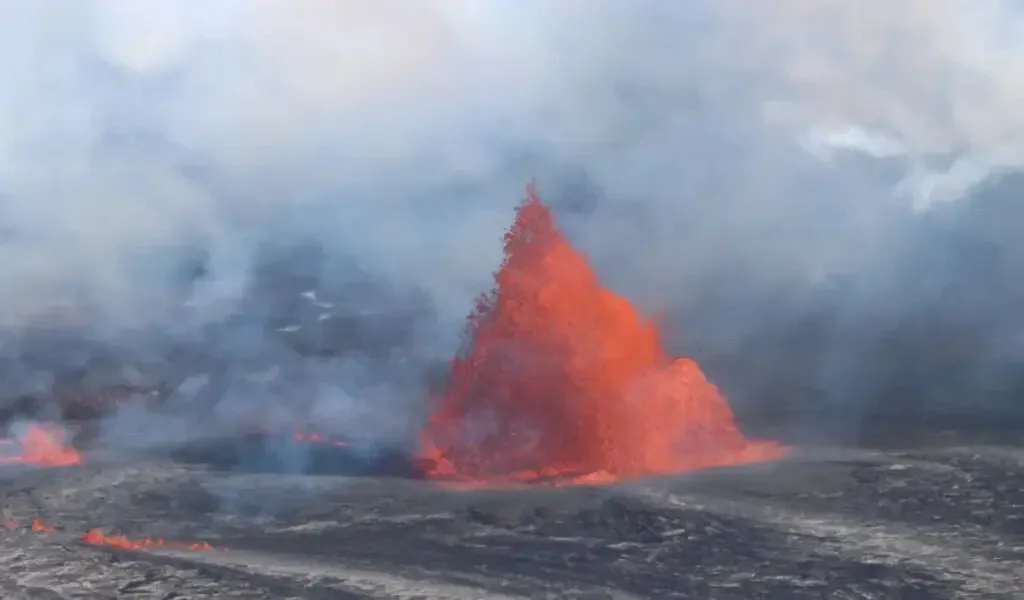 (CTN News) – After a two-month pause, one of the world's most active volcanoes has erupted again in the Hawaiian island of Oahu, spewing lava fountains that reach heights of more than 24 meters (79 feet).
At the summit of Kilauea, the Hawaii Volcano Observatory reported that the eruption of the volcano was observed Sunday afternoon.
During the early hours of Monday morning, the United States Geological Survey (USGS) broadcast a livestream from the caldera's rim that showed fountains of lava erupting from fissures in the crater.
There is no threat of lava erupting from the volcano, according to a post on social media by the Hawaii Emergency Management Agency.
In spite of this, eruptions emit volcanic particles and gases that may cause breathing problems for people who are exposed to them.
As reported by the USGS, a period of strong earthquake activity and rapid uplift of the summit preceded the eruption.
While the agency evaluates the eruption, it has changed Kilauea's aviation colour code from orange to red as well as changing its volcano alert from a watch to a warning as it evaluates the eruption.
It is the third time this year that the volcano has erupted, following eruptions in January and June this year.
On the Big Island of Hawaii,
Kilauea is found in a closed area of Hawaii Volcanoes National Park, far from the population centres. Although Kilauea is much smaller than its neighbour Mauna Loa, it has been playing an increasingly active role in recent years.
In the period from 1983 to 2019, it erupted almost continuously, making it one of the six active volcanoes on the Hawaiian islands.
It is estimated that hundreds of homes and businesses in the state of Hawaii have been destroyed as a result of a string of earthquakes and a major eruption at Kilauea in 2019.
Several weeks ago, the volcano erupted for several weeks starting in June, displaying fountains of red lava without posing a threat to any communities or structures in the vicinity.
It was not uncommon for crowds of people to flock to Hawaii Volcanoes National Park on the Big Island, where the lava could be viewed safely.
SEE ALSO:
[VIDEO]: Air China Flight Safely Lands At Singapore's Changi Airport After Fire And Smoke Incident