During Storm Hillary, Alaska Airlines Boeing 737 Suffers Extreme Damage On Landing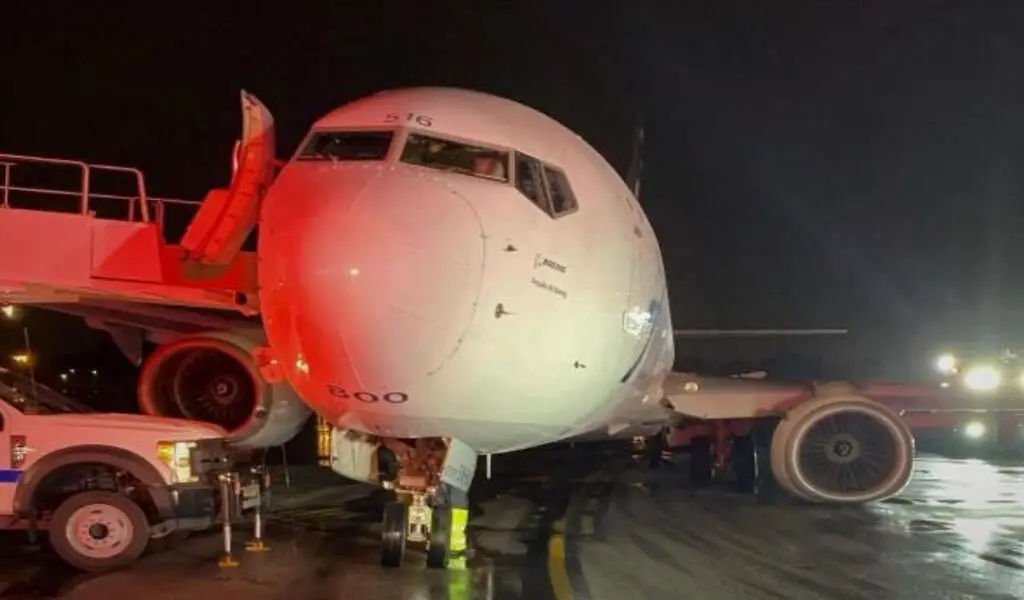 (CTN News) – A Boeing 737 operated by Alaska Airlines experienced such a rough landing during Storm Hillary that the left-hand landing gear punctured the wing, causing sparks to fly as the left-hand engine dragged along the runway during the landing at the John Wayne Airport in Santa Ana, California on Sunday night.
A dramatic video taken by a Alaska Airlines passenger on board the plane shortly after the plane touched down shows sparks flying from the left-hand wing of the aircraft.
It was a very hard landing that caused passengers to scream out immediately, even as the plane continued down the runway as it came to rest.
A few moments after the aircraft had come to a complete halt, it became clear that an extensive amount of damage had occurred and the passengers had to be evacuated from the aircraft via the airstairs due to the fact that the 14-year-old Boeing 737NG was disabled and could not taxi to the gate.
Alaska Airlines flight AS1288, which originated from Seattle, landed in Santa Ana at around 11:14 pm on Sunday night.
It appears that the aircraft landed so hard that the landing gear on the left-hand side of the aircraft was punched through the wing during the initial touchdown.
When the aircraft was accelerating Alaska Airlines, it was the left-hand engine that dragged along the runway until the aircraft eventually came to a stop as the aircraft accelerated.
The aircraft remains grounded at Santa Ana, and the return flight to Seattle had to be canceled due to the grounding of the aircraft.
Thankfully, none of the 106 passengers and six crew members onboard the aircraft were injured during the incident.
Currently, it has not been possible to determine the cause of the accident, and it will be necessary for investigators to investigate whether or not the weather conditions in the area had anything to do with the accident.
As part of the investigation, Alaska Airlines investigators will also look into whether a technical issue may have contributed to the landing gear puncturing the wing as well.
SEE ALSO:
Fukushima Nuclear Plant To Begin Release Of Treated Radioactive Water On August 24th