Central Mall in Chiang Rai to Host the 'Colorful Doi Tung' Festival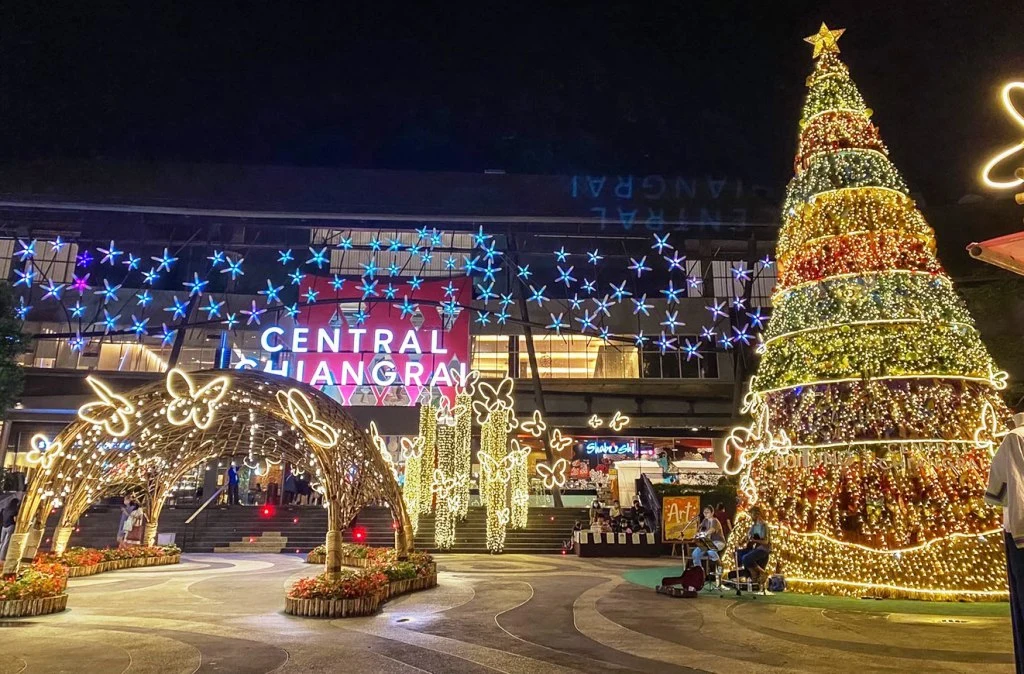 Central Mall in Chiang Rai, is joining hands with the Mae Fah Luang Foundation to bring the 'Colorful Doi Tung' festival (held annually at Doi Tung) to Central all in Chiang Rai. The festival area will be decorated with trees and flowers from the top of Doi Tung mountain, creating a vibrant atmosphere to welcome the Thai winter.
The main highlight is the first and only Christmas tree in Thailand designed and created by Doi Tung, which presents local identity and community contributions and reflects the values and beliefs of Central Pattana that have the community at heart.
As Central Pattana celebrates its 40th anniversary, it also wants to express gratitude towards the Thai people for giving it the chance to serve Thai society for many years.
"A sustainable way of growing with the Thai people and Thai society is to recognize the value of local culture," comments Dr. Nattakit Tangpoonsinthana, Executive Vice President of Marketing for Central Pattana plc. "Central Pattana has always been committed to this principle.
That's why we have designed our shopping centers in different provinces to highlight their local charms and atmosphere in combination with contemporary design values. For example, in Chiang Rai, we used Kasalong (Tree Jasmine) flowers in the design of the façade to create a modern Center of Life that is familiar to the community, paying attention to both the cultural context and being environmentally-friendly."
'Mok Panwa Christmas Tree'
"The festival is very special this year as Central Pattana has been side-by-side with the Thai people for more than 40 years. We thank Doi Tung for the special 'Mok Panwa Christmas Tree' design which allows us to help support and generate additional income for villagers and ethnic tribespeople on the Doi Tung mountain. The Christmas tree decorations are crafted purely by hand using natural materials. The craft ornaments truly come from the heart of our fellow Lanna people."
M.L. Dispanadda Diskul, Chief Executive Officer of the Mae Fah Luang Foundation under Royal Patronage, shared about the inspiration behind the name of the 'Mok Panwa Christmas Tree'.
"The Mok Panwa Christmas Tree is named after a 1,000 wah (2,000 meters) length of fabric hand-woven by the villagers and indigenous people in the Doi Tung mountain area who gave up their free time and joined hands to weave the cloth. The word 'Mok' (mist) comes from the beautiful phenomenon of mist in Chiang Rai province which occurs every year in winter from November to January. Therefore, we have chosen a name that reflects the origin of this specially-designed Christmas tree and used materials easy-to-find locally, communicating a message about simple lifestyles and connection with nature."
Chiang Rai's culture and ethnicity
"Materials used in the Christmas tree include bamboo, pine, woven butterflies, dyed silk, cotton, mulberry paper, and vetiver. The vibrant colors reflect Chiang Rai's culture of ethnic costumes such as the traditional costumes of the Akha, Lahu, Thai Yai, Tai Lue, Lua, and Yunnan Chinese. These are presented and coordinated within each layer to represent the diversity that coexists harmoniously."
Visitors are welcome to view the first and only 'Mok Panwa Christmas Tree' in Thailand from now onwards. Also upcoming is the CHIANG RAI DANCING FLOWERS 2021 event from 25 Dec 2021 to 2 Jan 2022, which takes place at Kasalong Square, Central Chiangrai, under the concept of 'The Harmony & Melody: music, flowers, and culture'. The event is held annually to create a vibrant atmosphere and welcome tourists who come to experience the cool breezes of the north during the New Year festival.
The event will help raise awareness of northern plant species and various techniques will be incorporated to make the event compelling. This year, the event will see a combination of Lanna legends, patterns, and installations that reflect the identity of Chiang Rai.
Thai Yai Long Drum Dance
At the event, products made by local ethnic groups will be available, including handicrafts of traditional ethnic tribe culture and 'Eco-Items' in Doi Tung style. There will also be workshop activities such as ceramic crockery pattern painting, sewing notebooks made from mulberry paper, clay pottery, weaving, miniature garden arrangements, and more.
Visitors can enjoy performances by Doi Tung ethnic groups, traditional folk games, stilt walking, Tai Yai Ram Nok Ram Toh Dance, Lahu reed mouth organ, Saba Doi, and Thai Yai Long Drum Dance as well as local foods from the mountains to the lowlands.
Experience the beauty of the first and only 'Mok Panwa Christmas Tree' of northern Thailand from now on, only at Central Chiangrai, as part of the 'Forwarding Happiness 2022' campaign to boost the economy and tourism in all regions of the country while promoting local identity and passing on positive energy. The campaign will also continue at Central shopping centers nationwide from 12 November 2021 to 6 January 2022.
Other Chiang Rai News: