3 Children Killed, 2 Wounded In Ellis County Home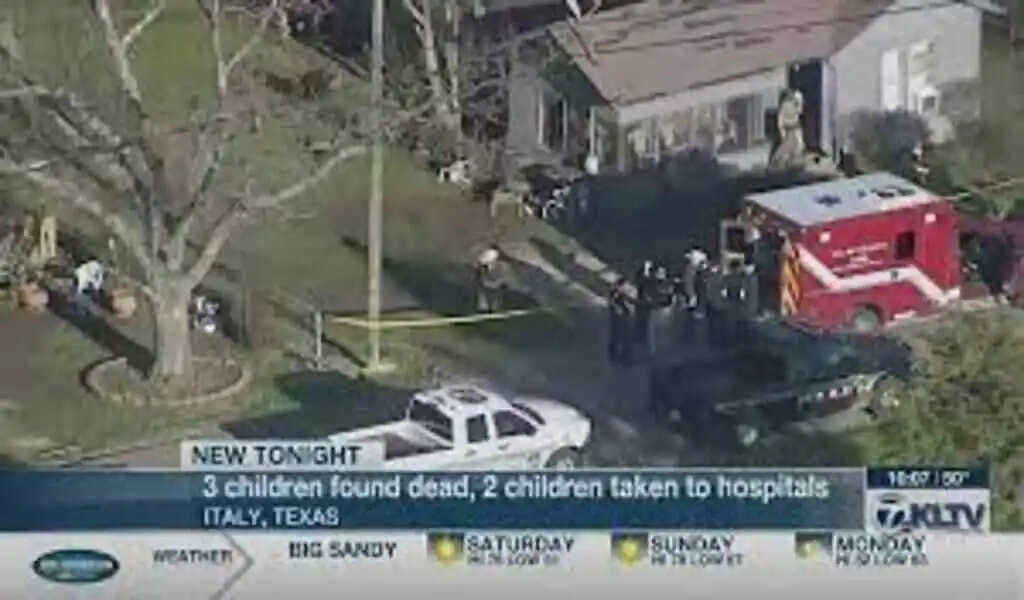 (CTN News) – In the Ellis County city of Italy, three children were killed and two more were wounded on Friday afternoon.
Sheriff's officials said a suspect was in custody and there was no danger to the community.
About 4 p.m., police responded to a home near Stafford Elementary School on South Harris Street.
At a Friday night news conference, Ellis County sheriff's deputy Jerry Cozby said three victims were dead inside the house. The conditions of two more people weren't available.
Cozby said all of the victims were Children. The names and ages of the victims weren't released, and the manner of their deaths wasn't disclosed.
There's no word on who the suspect is or whether they're related.
'Like losing a member of your family'
People in the quiet little town south of Dallas, where everyone knows each other, were reeling after the horrific incident.
A series of slayings has shattered the community, residents said. An Italian high school shooting in 2018 left a 15-year-old girl wounded. Residents said there was a homicide about three weeks ago.
Dax Shelton, a senior at Italy High School, said it's tragic that this happens to Children .
About 50 people gathered Friday night near Stafford Elementary.
They lit candles and sang "Amazing Grace." They prayed for the family, the Children, and each other. Each other implored the other to check on the other.
Who would want to commit such a thing?
According to Tye Thomas, who has lived in Italy for 12 years, four of the Children went to Stafford Elementary. He's a part-time substitute teacher at the elementary school and met the kids earlier that day.
It's really sad because those kids were really good," he said.
He hasn't been subbing for classes much because college takes up most of his time. He was glad he got there Friday.
When Jamelia Anderson couldn't place candles near the home where the Children were killed, she turned back after walking next to police tape.
"They were quiet, innocent kids," Anderson, who's lived in Italy her whole life, said.
They were picked up from Stafford and taken to McDonald's – a fun time.
Residents near the school Friday either attended there or had kids there.
"It's like losing a part of your family," said Quentin Little, a resident of Italy for 38 years whose daughter went to Stafford.
In the midst of this senseless tragedy, Italians come together to pray.
In tragedy, people come together and yeah, it happens everywhere, but it's heartfelt from a small town.
It's what makes Italy, say residents near Stafford. It's a great place for sports fans to cheer on the Italy Gladiators.
They love everybody around here," said Shelton, who plays football and basketball at the high school.
SEE ALSO:
Severe Storms Threaten Tornadoes And Flooding Across The South, Barreling Toward The Northeast