UN Accuses Myanmar's Junta of Waging War on Civilians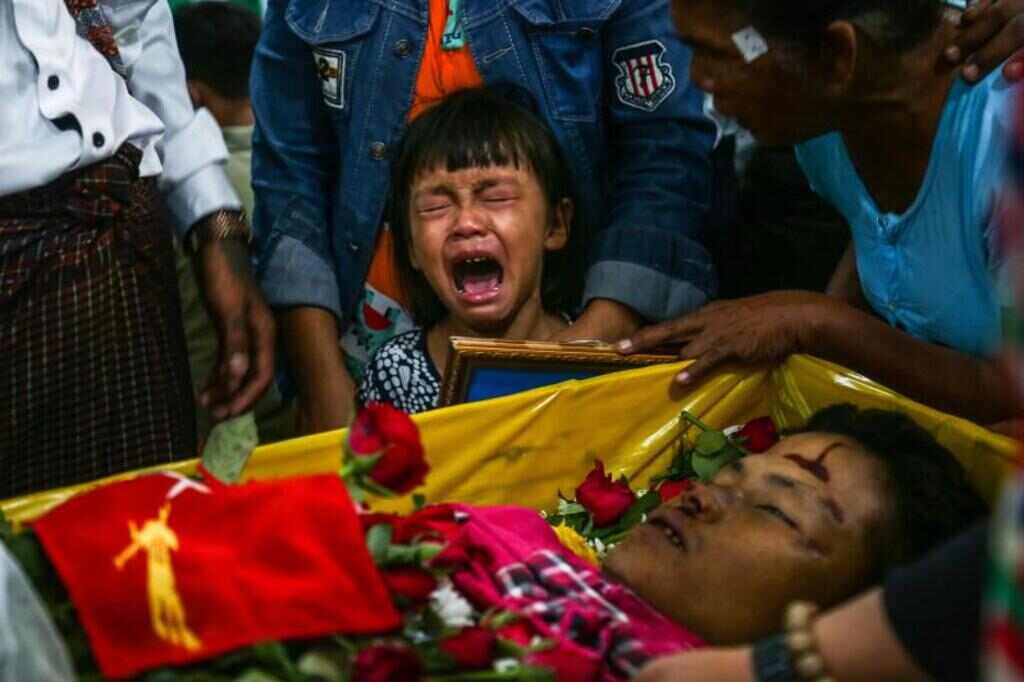 The United Nations warned on Friday that Myanmar's military rulers now consider civilians as their adversaries and are waging war on the country's own people, eroding the basic ability to survive.
Two years on from the Feb 1, 2021, coup that deposed Aung San Suu Kyi's civilian administration, the situation is a "festering tragedy", said UN human rights chief Volker Turk, adding that the military was working with "total impunity".
The UN Human Rights Office stated in a report investigating the first two years since the takeover that at least 2,940 persons had been verified as dead, with roughly 30 percent dying in captivity.
The true death toll, however, is likely to be substantially higher.
According to James Rodehaver, head of the UN Human Rights Office's Myanmar mission, the armed forces are now battling on roughly 13 different fronts.
"The military is stretched increasingly thin," he said at a press conference in Geneva, so he has depended on air power and artillery to clear the way for ground forces, with more than 300 airstrikes in the previous year.
The report detailed the use of lethal air raids on schools and hospitals.
According to the research, armed confrontations have touched over 80% of the country's 330 townships.
"There has never been a moment and a situation in Myanmar where a crisis has spread this far and broad across the country," Rodehaver added. "In the past, battles in ethnic states were more isolated. It has now reached the Bamar heartland."
Myanmar Junta Confiscates Food and Medicine
According to UN statistics, approximately 39,000 houses have been burned or destroyed in military operations across the country since February 2022, a "more than 1,000-fold increase compared to 2021," according to the UN rights office.
According to the report, the military and its associates arrested 17,572 people in the first two years after the coup.
According to Rodehaver, the junta is employing a "four cuts" tactic in an attempt to cut off its rivals' food, communications, capacity to recruit, and access to money or a livelihood. "What they're doing today is treating the people of Burma as their opponent and foe," he stated.
"You have a military fighting its own people.
"They have truly created a crisis that has resulted in a loss, a retreat in every human right, including the fundamental ability to survive and have an economic future."
Turk claimed that Myanmar's generals, emboldened by "constant and full impunity," had launched a "scorched earth" campaign to eliminate opponents.
"There are reasonable grounds to assume that the military and its linked militias are still accountable for the vast majority of violations, some of which may amount to crimes against humanity and war crimes," he said.
According to the report, two years of violence had a "tremendous toll" on the population, undermining state institutions and hollowing out the economy. According to UN estimates, over one million people have been newly displaced since February 2021.
Meanwhile, about half of the population lives in poverty, and 17.6 million require humanitarian aid. "By constant use of violence, including killing, arbitrarily arresting, torturing, forcibly vanishing, prosecuting, and punishing anti-coup opponents," the study concluded.
Notwithstanding the ongoing upheaval, the military has stated that elections will be held this year.
"It is impossible to imagine how such a procedure could represent a free and fair expression appropriately reflecting the popular democratic will," concluded the UN report.
Myanmar Military Beheaded Teens
Meanwhile, RFA has reported that two teens discovered butchered last week were two of the most heinous victims of an escalating number of violent episodes described by the UN's special envoy as "associated with patterns of cruelty" by forces affiliated with the military junta.
The adolescents were People's Defense Force fighters who were attempting to plant a mine while withdrawing from a confrontation with junta forces in the northern Sagaing region, according to the leader of a PDF Force force. They were apprehended near Nyaung Pin Kan village on February 25 and executed the next day in Myinmu township, according to the PDF leader.
"We discovered their bodies on the 27th," he explained. "The scene suggested that the military soldiers decapitated them alive."
La Min Sein, 15, also known as Pho Sein, and Pho Ke, 17, were the victims. RFA obtained photographs of the heads, as well as other bloodstained body parts. The two teenagers had no gunshot wounds, according to the PDF commander.
He claimed he went to question nearby people about the incident, but there was no one present due to a military operation.
In a separate incident, another PDF leader informed RFA that two of his fighters were found beheaded during a skirmish with military personnel on February 27.
Due to a lack of ammunition, his soldiers were forced to withdraw from the battle at Kan Taw village. When they returned the next morning, he said, they discovered the bodies of the two warriors, with their heads still hanging from a fence post and a bamboo house.
The two different beheadings occurred in the same general location.
Creating "fear and terror"
According to local villagers, mass executions thought to be carried out by the military have grown considerably in 14 townships in Sagaing since martial law was established in February.
According to Tom Andrews, the United Nations special rapporteur for Myanmar, the junta's pattern of brutality has included "using extreme violence to engender fear and dread, particularly in places where opposition to the junta is particularly strong."
"It is necessary to document this and other atrocities," he stated. "Those who commit war crimes and crimes against humanity must be aware that they will face consequences."
Earlier last week, junta troops demolished an entire village in the Sagaing district, killing three people and destroying nearly all of the village's 700 dwellings.
In another Sagaing event, 16 victims were discovered in Nyaung Yin hamlet in Myinmu municipality. Early on March 1, military forces seized 17 residents from the adjacent Tar Taing village.
According to residents, a military force of about 100 soldiers participated in the attack on Tar Taing village.
"The Mu River separates Tar Taing village and Nyaung Yin village in Myinmu," said a villager who declined to be identified for security reasons. "The Tar Taing villagers did not flee because they believed the military forces would not pursue them."
Victims were dressed in longyi and other civilian attire.
Seven men's remains were discovered in Nyaung Yin. Six men and three women were discovered dead in another area. According to the resident, they all appeared to have been shot from behind.
The victims ranged in age from 30 to 50 years. According to the resident, it was unsure whether the final missing person was still alive.
According to local villagers, military personnel allegedly maimed and killed a local defence force leader during the March 1 attack on Tar Taing.
When contacted by RFA, Aye Hlaing, the Junta spokesman for the Sagaing region, stated that he was unaware of the incidents.
On March 1, a combat broke out between military personnel in Sagaing and PDF forces near Tar Taing hamlet, according to a Telegram account controlled by pro-military bloggers. According to the narrative, another battle broke out in Nyaung Yin village on March 2, and 15 PDF members were captured.
According to locals, those arrested and killed were innocent people.
According to video footage and images of the victims that have circulated on social media, the victims' bodies were dressed in civilian clothes such as normal longyi (sarong) and shirts, and some of the victims had been shot in the head.
According to statistics issued by the Help Society for Political Prisoners on March 1, there have been 3,073 deaths as a result of junta forces' arrests and killings since the 2021 military coup d'etat.