The Amazing Green River in Utah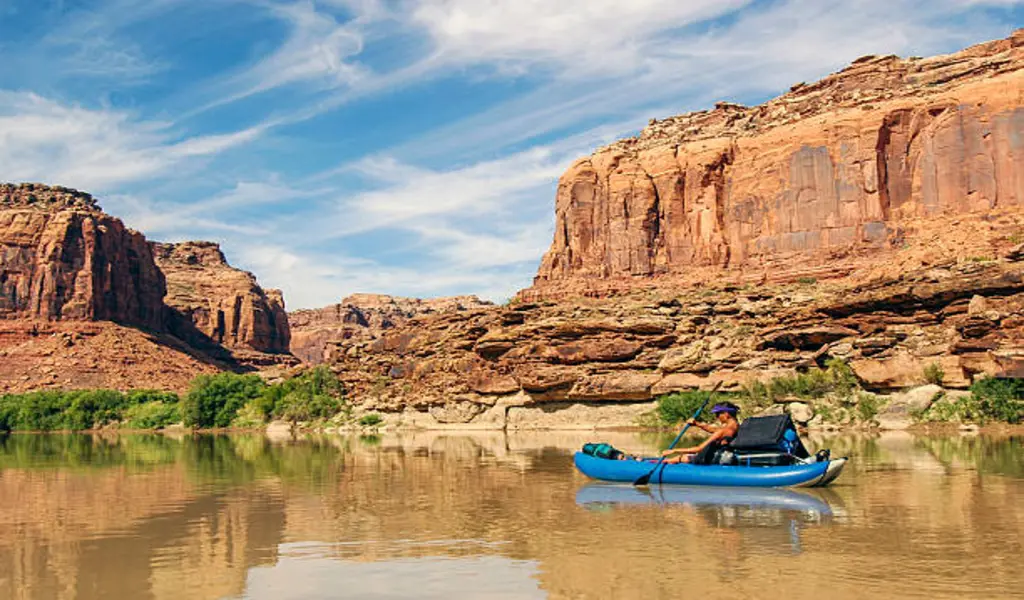 Green River is the epitome, nay, the nucleus of Utah's best landscapes for families and adventurers alike.
The enormous Green River winds its way 730 miles from its source in Wyoming's Wind River Range through a stunning and varied terrain of mountains, canyons, and desert before flowing east to Colorado and returning via Utah.
The Green River, Utah's main waterway, flows from its highest point at Flaming Gorge Reservoir to its lowest point in the Uinta Basin, a distance of around 3,000 feet.
The river travels through Utah for more than 450 miles before ending at the Colorado River's confluence.
Get on the water to explore this spectacular river's diversity, whether you have a few hours or a few weeks to spare.
The Green River is ideal for exploring on a leisurely float or a whitewater adventure alike, thanks to uninterrupted stretches of quite flatwater in some places and miles of heart-pounding rapids in others.
Explore Exhilarating Whitewater of the Green River
The multiple whitewater sections on the Green River achieve the ideal balance between adventure, discovery, and scenery.
These sections are perfect for whitewater rafting or kayaking on one- or multi-day excursions, with rapids ranging from class I to class IV during high water.
Generally speaking, the most convenient method to explore these sections is through commercially guided trips.
Split Mountain Gorge: This 9-mile segment flows through Split Mountain Gorge in Dinosaur National Monument and is roughly three hours east of Salt Lake City.
It is a fantastic excursion for families and first-time rafters. This stretch of the river transports rafters through distinctive geological formations, historic petroglyphs, and the old habitat of dinosaurs while mixing up peaceful flatwater with exciting rapids up to class III.
Desolation Canyon: A trip through Desolation Canyon brings you to some of the most desolate regions of the continental United States and is regarded as one of Utah's top multi-day rafting trips.
A wilderness of soaring, multicoloured cliffs, cottonwood trees on sandy beaches, ancient petroglyphs, and hideouts for Western outlaws can be found along the 84-mile route that starts at Sand Wash Put-In.
For most commercial trips, this picturesque stretch includes more than 60 class II to III rapids over five to six days (private trips with a valid boating permit are possible as well).
Gray Canyon: The Green River rafting trip in Gray Canyon is a fantastic way to see Desolation Canyon's breathtaking scenery and isolation without spending many days there.
This stretch of river, which comprises the last 12 miles of Desolation Canyon before the take-out at Swasey's Landing, offers a variety of exciting class I to II rapids in a beautiful natural setting.
A trip down Gray Canyon, whether on a guided raft excursion or privately, is ideal for novices and families.
Lodore Canyon: The rafting experience in this section is defined by towering canyon walls that rise to 800 feet above the water, thrilling whitewater, and exceptional animal viewing.
Trips in Lodore Canyon with most commercial outfitters last three to five days. They wind through Dinosaur National Monument from the put-in at the majestic Gates of Lodore in northwest Colorado towards Vernal, Utah.
Explore Green River Utah, Calm Waters
These slow-moving sections of the Green River flow 120 miles through canyon country.
The flatwater parts of the Green River travel through Labyrinth and Stillwater Canyons from the town of Green River to the confluence with the Colorado River in Canyonlands National Park.
This part of the river is perfect for floating by kayak, raft, canoe, or stand-up paddleboard and offers paddlers the chance to explore the canyons for a day or even up to several weeks.
Stillwater Canyon: This flatwater section of Green River takes paddlers through the incredible landscapes of Canyonlands National Park.
It takes roughly four to five days to travel the 52 miles from the put-in at Mineral Bottom to the take-out at Spanish Bottom, where the Green River ends and the Colorado River begins.
This amazing river section offers adventurers access to some of the most remote areas of the park, including the Doll House and the Maze, as well as plenty of opportunities to discover ancient rock art.
Labyrinth Canyon: The greatest way to experience the variety of the Green River is to take a trip down Labyrinth Canyon.
Typically, paddlers begin this 65-mile stretch at Green River State Park in Green River or at the Crystal Geyser boat launch south of town.
You arrive at the take-out at Mineral Bottom, just north of the Canyonlands National Park boundary, after four to five days of floating through vast desert canyons and sheer sandstone cliffs.
A slightly shorter journey that nonetheless showcases most of the canyon's most beautiful scenery can be had by starting from the Ruby Ranch put-in.
Which is the Best Marriott Hotel Near Green River?
If you want to stay at the most convenient location in Utah, look no further than TownePlace Suites.
This Marriot hotel is classy, close to the Green River, and has excellent guest reviews. Moreover, this hotel is a super modern, spacious, and comfortable place to stay on your trip to Utah.
Also, Springhill Suites is another best Marriott hotel near Green River. This hotel is situated near Vernal-area oil and gas companies and just a short distance away from all popular sights and attractions.
Position yourself in one of these hotels, and you will be in the best position to see all the main Utah attractions.
Things to Do in Green River
Tour the Flaming Gorge National Recreation Area
Fishing, boating, camping, hiking, and horseback riding are all excellent options for outdoor activities in the picturesque gorge.
There are numerous outdoor adventure guides and outfitters who can either accompany you on your chosen trip or offer you equipment and transportation.
On a picturesque tour, Wyoming Highway 530 and US Highway 191 can be used to circle the reservoir and provide access to the wildlife and splendor of Flaming Gorge.
See the Animals at Seedskadee National Wildlife Refuge
The Seedskadee National Wildlife Refuge protects the dry shrub prairie and wet river ecosystems, which are home to a wide variety of wildlife, including sage grouse, Western meadowlarks, moose, badgers, pronghorn, and golden eagles.
Additionally, a variety of migrating waterfowl, such as lanky shorebirds, ducks, and Trumpeter swans, make appearances throughout the year.
Related CTN News:
What Tools Do DJs Need To Succeed
Detailed Guide to Car Shipping Services in 2022
How Can I Get Quick Cash for My Junk Car?