8 Police Officers Jailed for Corruption, 6 More Arrested for Extortion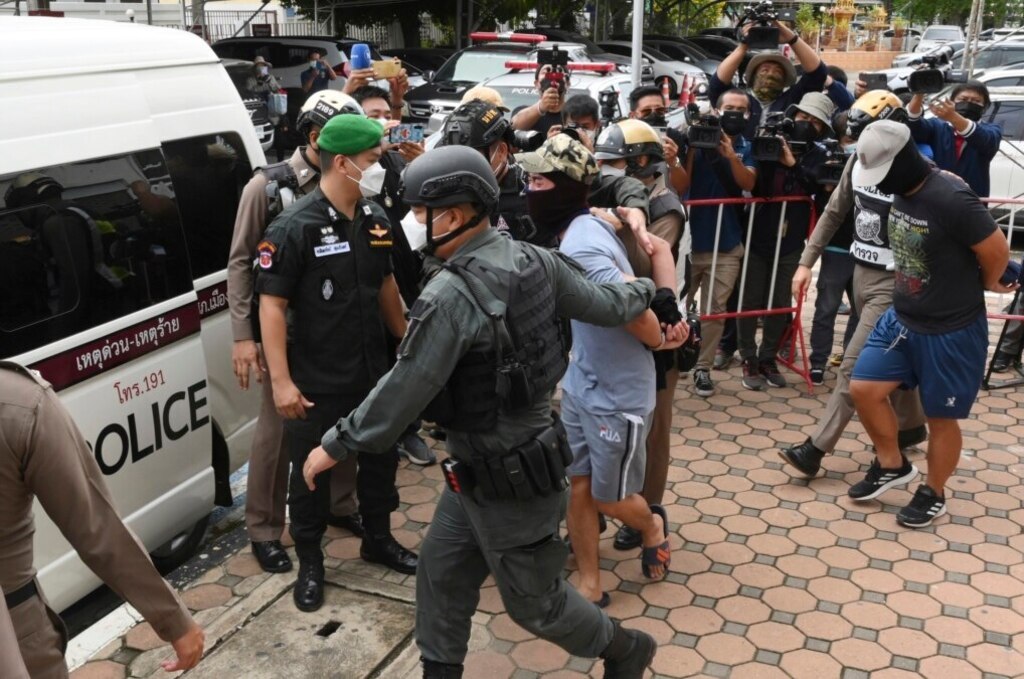 Eight police officers have been sentenced to lengthy prison terms, with the majority also facing significant fines, for allegedly abusing their authority and accepting kickbacks in connection with a police housing project in Thailand.
Police Lt Gen Theerayut Kittiwat, Police Maj Gen Satja Khachahiran, Police Maj Gen Saman Sudjai, Police Col Patthamek Suntranuyutkit, Police Col Jirawut Janpeng, Police Maj Sitthipaiboon Khumnin, Police Maj Khomkrib Nudalai, and Police Snr Sgt Maj Sayan Obchoei were sentenced.
The National Counter Corruption Commission accused them of abusing their power as state officials to assist PCC Development and Construction in winning the bid to build the housing project and carrying it out.
Except for Pol Maj Khomkrib and Pol Snr Sgt Maj Sayan, all sat on the committee reviewing bids for the Royal Thai Police project to construct 163 five-story flats worth 3.7 billion baht.
According to the Central Criminal Court for Corruption and Misconduct Case, Pol Maj Khomkrib, as a project inspector, received bribes from the company worth 60,000 baht, while Pol Snr Sgt Maj Sayan, as project supervisor, received 91 million baht.
The court initially sentenced the six bid-screening officers to life in prison and fined them 390,000 baht each. Because they cooperated, their sentences were reduced to 33 years and four months in prison and a fine of 260,000 baht each.
Pol Maj Khomkrib was sentenced to three years and four months in prison, while Pol Snr Sgt Maj Sayan was sentenced to twelve years and eight months.
Police officers charged with extortion
Meanwhile, six police officers from Huai Khwang station in Bangkok were charged yesterday with taking bribes in connection with the alleged extortion of a Taiwanese actress and her friends, according to Kosolwat Inthujanyong, a deputy spokesman for the Attorney-General's Office. (OAG).
The former officers were indicted yesterday after prosecutors received a report on the case from the Anti-Corruption Division (ACD).
They are Pol Snr Sgt Maj Krisada Khammana, Pol Sgt Chalermchai Siriwangso, Pol Sgt Wacharanont Khaoyong, and Pol Sgt Nanthawat Suwann.
The OAG agreed with the recommendation to file bribery and abuse of power charges. The warrant also ordered the seizure of 27,000 baht in bribe money, which would be turned over to the government as a national asset.
If the suspects had been found guilty, they would have received life sentences and fines ranging from 100,000 to 400,000 baht, according to Mr Kosolwat.
The bribery charge came after a Singaporean man told reporters that he paid 27,000 baht to officers at a checkpoint on Jan 3 to keep the group, which included Taiwanese actress Charlene An, from being arrested.
Later in January, An posted details of the alleged extortion on the Thai Facebook page "Ni Hao Taiwan, Chan Ma Laew" (Hello Taiwan, I'm Here), eliciting widespread condemnation and legal action from a variety of agencies, including message parlour tycoon turned whistleblower Chuvit Kamolvisit, and leading to the charges against the six officers.
17 people implicated in Thai police entrance exam cheating
In other news, seventeen people have been arrested for alleged involvement in entrance examination cheating for non-commissioned officer enrollment in the police academy.
The national police chief, Pol Gen Damrongsak Kittipraphat, told reporters at a press conference today (Wednesday), that two of the 17 suspects are potential election candidates for two political parties.
He insisted that the police did not persecute the two politicians and that there is sufficient evidence to back up the charges against them.
According to the police chief, the gang sold entrance exam questions and answers to applicants for academy seats.
All 17 suspects have been charged with criminal association and having unauthorized access to official documents that may cause harm to others. They were all released on bail.
Adisak Sombatkham, a potential Move Forward Party candidate, announced his withdrawal from the election to focus on defending himself against the charges.
He has stated, however, that he will assist in the party's campaign.
A total of 1,160 people applied for the exam, and 967 of them passed the written test and will take oral exams from May 8th to 12th. The others were caught cheating.
According to Pol Maj-Gen Yanpong Soma, deputy commissioner of the Police Education Bureau, approximately 500 applicants have been caught cheating in the entrance exam in the last five years, and all of them have been blacklisted for life.
He stated that the venues for written examinations will be reduced in the future to make effective supervision easier.