Thailand Prepares for 1.8 Million Tourists Over Chinese Lunar Holiday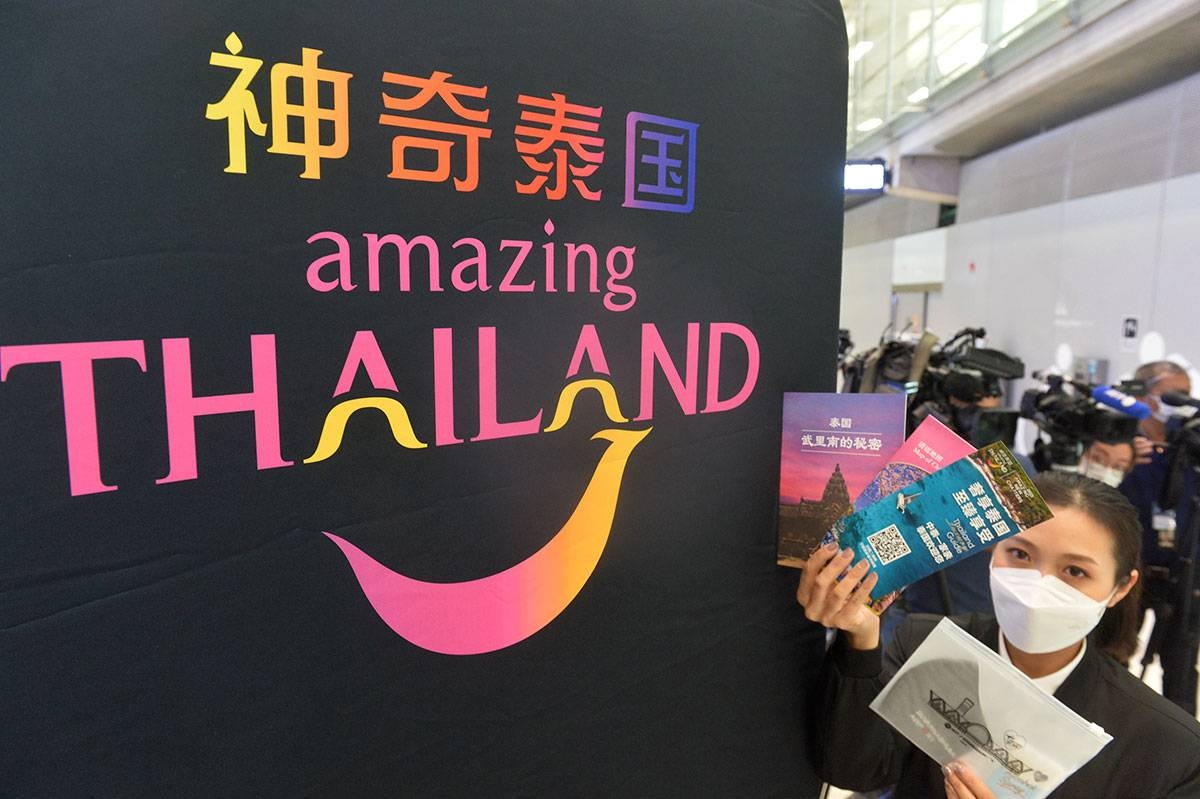 Thailand is the most-searched travel destination in the world ahead of the Chinese Lunar New Year, with Suvarnabhumi Airport expecting over 1.8 million incoming Chinese tourists from January 16 to 28.
Anucha Burapachaisri, a government spokesman, said Thailand's Prime Minister Prayut Chan-o-cha was pleased to see Kingdom ranked first in a survey conducted by the travel marketing platform Sojern.
According to the platform, Thailand moved up another spot after finishing second last year. This time, searches involving the kingdom accounted for 26.7% of all travel-related queries about the region.
According to Sojern, Southeast Asia and the Asia Pacific will be popular among international and Chinese tourists in 2023. Some speculate that tourism may be the only industry in the region to fully recover in 2023.
Sojern also reported that tourists from Singapore, the United States, Thailand, Taiwan, and Japan are most interested in flights to cities in the Asia Pacific region during the Chinese New Year.
Meanwhile, Suvarnabhumi Airport director Kittipong Kittikachorn stated that the airport expects over 1.8 million passengers to arrive between January 16 and 28, or an average of 139,938 passengers per day.
Mr. Kittipong estimates that 1.3 million will be international tourists, with 454,996 domestic visitors.
According to Mr. Kittipong, this represents an increase of 10,965 arriving and departing flights, or approximately 843 flights per day, with 7,635 international and 3,330 domestic flights.
Suvarnabhumi Airport

Employs

Interpreters

Suvarnabhumi Airport has improved its facilities by adding more check-in counters, making baggage drop-off available four hours before departure, and increasing staff at immigration desks.

The airport has also provided interpreters to meet airlines' requests during the Chinese New Year week.

Mr. Kittipong said that Suvarnabhumi Airport has worked with its shop and restaurants to provide Chinese signs for Chinese visitors.

It has also created eight-language information videos introducing airport-to-city transportation options such as the Airport Rail Link, public buses, and airport limousines.

Although international travel may return to pre-pandemic levels later, analysts predict that companies, industries, and countries that rely on Chinese tourists will benefit in 2023.

According to Steve Saxon, at McKinsey's Shenzhen office, China averaged approximately 12 million outbound travelers per month in 2019, but those numbers fell 95% during the Covid years. 

He forecasts the figure will rise to around 6 million per month by the summer, owing to the pent-up wanderlust of young, wealthy Chinese.

As soon as China announced last month that it would no longer subject inbound arrivals to covid quarantine beginning January 8, including residents returning from overseas trips, searches for international flights and accommodations on Trip.com reached a three-year high.
Revenge Spending by the Chinese

According to the Chinese travel site, bookings for overseas travel during the Lunar New Year holiday, January 21 to 27 this year, have increased by 540% from a year ago. The average spending per booking increased by 32%.
"The rapid accumulation of… [money] bank deposits over 2022 suggests that households in China have accumulated significant savings," said Alex Loo, a macro strategist at TD Securities, adding that frequent lockdowns have likely resulted in restraints on household spending.
According to him, Chinese consumers may engage in "revenge spending," similar to when many developed markets reopened early last year.
That's good news for many economies that have been hit hard by the pandemic.
They estimate that Hong Kong, the world's most visited city, with just under 56 million visitors in 2019, the majority of whom are from mainland China, will see a 7.6% increase in GDP as exports and tourism income rise. Thailand's Gross domestic product (GDP) could increase by 2.9%, while Singapore's GDP would increase by 1.2%.
Hong Kong has been especially hard hit by the closure of its border with the mainland. Tourism and real estate, two of the city's pillar industries, have been particularly hard hit. The financial center anticipates a 3.2% drop in GDP in 2022.
Starting Sunday, the city government announced that up to 60,000 travelers would be allowed to cross the border each way.
Despite the record Covid outbreak that has swept through China recently, several Southeast Asian countries reliant on tourism have relaxed entry rules for Chinese tourists. Thailand, Indonesia, Singapore, and the Philippines are among them.
New Zealand has also waived inbound testing requirements for Chinese tourists, who were the country's second-largest source of tourist revenue before the pandemic.
Other governments, however, are more cautious. So far, nearly a dozen countries have mandated testing, including the United States, Germany, France, Canada, Japan, Australia, and South Korea.