Bathroom Flooring Trends: Laminate in 2023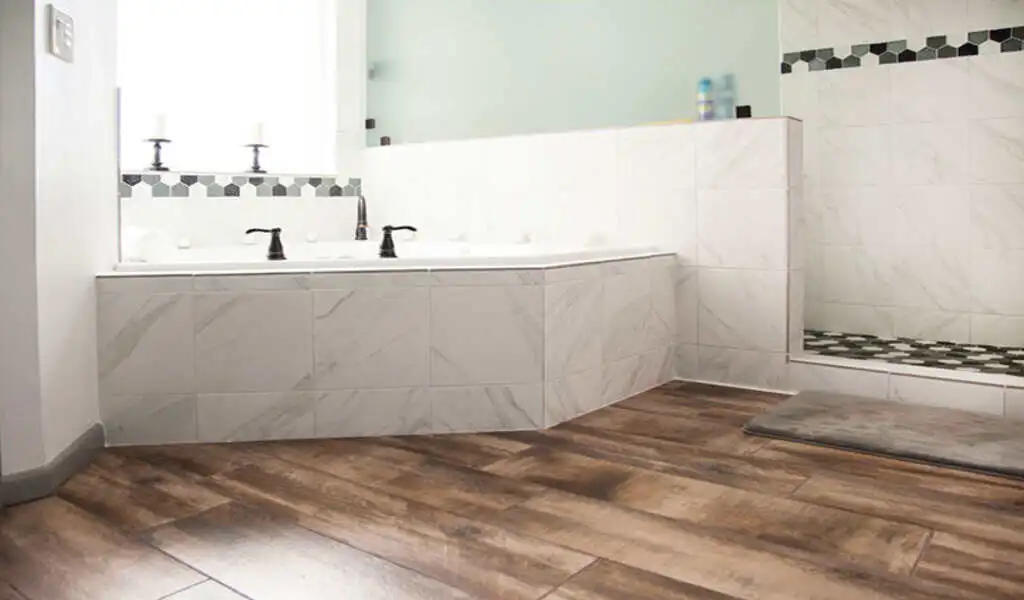 Bathroom Flooring: Laminate flooring is one of the top choices for bathrooms. It's one of the best materials to imitate the appearance of wood and stone, without the maintenance of real wood flooring. The installation process is so easy you can do it yourself!
The perfect choice for those who love DIY. Laminate of the best vinyl flooring can look gorgeous in your bathroom, especially when it complements your bathroom interior and décor. But if you're wondering how to style your bathroom with laminate flooring, then keep reading.
Wood Laminate Bathroom Flooring
The most traditional of floors. Give your bathroom the ultimate makeover with wood laminate flooring, it'll surely leave your guests confused with its realistic appearance of knots and grains! Wide planks of real wood can make your bathroom look bigger while bringing a natural feel to your space. Pair this flooring with white walls and grey tiling to really enhance the colours of the floor.
High-gloss Laminate Flooring
If you want to give your bathroom floor some shine, then choose high-gloss laminate flooring. It comes in many different patterns from tile to marble. It's a classy option if you have an all-white bathroom as the light will bounce off it in all the right ways. Decorate high-gloss laminate flooring with golden accents such as your showerheads and taps. This will add a modern and stylish feel to your space while creating the spa of your dreams.
White Laminate Flooring
Give your bathroom a fresh and clean feel with white laminate flooring. Match this laminate floor with an all-black shower, to add a contemporary feel to your space. Pair with matt black taps and showerheads to tie the interior altogether. White is a great colour for adding pops of colour to any room of your home. So if you're daring enough to add bright colour to your bathroom, add orange and blue towels for a funky and modern look.
Stone Laminate Flooring
Stone laminate flooring is one of the best options if you're looking to add a natural touch. We recommend a dark grey for the ultimate spa-like experience. Place a free-standing tub and a porcelain white sink to make your space look authentic and modern. Finish off your bathroom with black towels and matt black bathroom accents. To add a pop of colour, incorporate whites and creams in your bathmats for a stylish look.
Do you love these bathroom ideas? Let us know in the comments below.
People Also Check: