Global Outrage Grows Over Hamas's Unprovoked Attack on Israel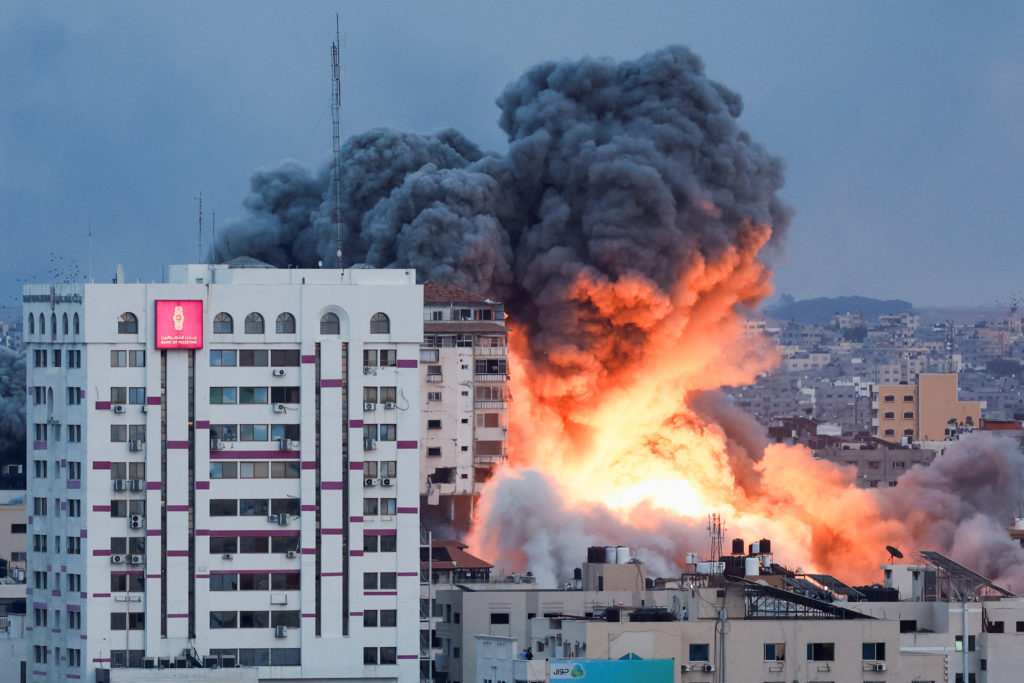 Global outrage has grown over Hamas's unprovoked attack on Israel, with Western capitals condemning the strike by Hamas, which Washington and Brussels consider a terrorist organisation, while Israel's opponents, including Iran and Hezbollah, praised it.
Prime Minister Benjamin Netanyahu's administration pledged to put Hamas hideouts "to rubble" and urged Palestinians to escape as destructive air attacks continued.
"We are embarking on a long and difficult war that was forced on us by a murderous Hamas attack," Netanyahu said on X, formerly Twitter.
"The first stage is ending at this time with the destruction of the vast majority of enemy forces that have infiltrated our territory," he added, vowing no "respite" until triumph.
On Saturday, US President Joe Biden expressed "rock solid and unwavering" support for its key regional ally Israel, warning "against any other party hostile to Israel seeking advantage in this situation."
Hezbollah Joins Hamas
However, Lebanon's Iran-backed Hezbollah movement entered the conflict from the north early Sunday. It claimed to have shot "large numbers of artillery shells and guided missiles" against contested border sites "in solidarity" with Hamas.
"The Islamic resistance (Hezbollah)… attacked three positions of the Zionist enemy in the occupied Lebanese Shebaa farms… with large numbers of artillery shells and guided missiles," the group claimed in a statement.
After firing artillery on Lebanon in response to a shot from the area, Israel's army massed tanks in the northern region.
Hamas has dubbed its major offensive "Operation Al-Aqsa Flood" and has called on "resistance fighters in the West Bank" as well as "Arab and Islamic nations" to join the war.
Its attack came half a century after the commencement of the Arab-Israeli war in 1973, surprising Israel during a Jewish holiday and triggering severe recriminations within the country over what was largely perceived as a massive intelligence failure.
Hamas leader Ismail Haniyeh predicted "victory" on Saturday and vowed to continue "the battle to liberate our land and our prisoners languishing in occupation prisons."
Hamas claimed to have fired 5,000 rockets on Saturday, while Israel confirmed 3,000 inbound projectiles. Several of them smashed into buildings as far away as Tel Aviv, evading the Iron Dome missile defence system.
Under the cover of the rocket bombardment, Hamas fighters pushed over the militarised Gaza border fence and entered Israel.
Israel army to enter Gaza
In response, Israel sent forces to the beleaguered south, called up reservists, and launched Operation "Swords of Iron," with some analysts fearing a ground invasion of Gaza. Several Gaza residential towers have been reduced to rubble in what Israel claims were strikes aimed at Hamas installations and which came after warnings for residents inside to escape.
Following Hamas's takeover of Gaza in 2007, Israel imposed a crushing blockade on the impoverished enclave of 2.3 million inhabitants on the Mediterranean coast.
Since then, Israel and Hamas have fought many conflicts, with the most recent large-scale armed clash in May killing 34 Palestinians and one Israeli.
The Hamas attack comes after months of growing bloodshed, largely in the occupied West Bank, as well as tensions along Gaza's border and at Jerusalem's contested holy sites.
According to Israeli and Palestinian officials, the fighting had killed at least 247 Palestinians, 32 Israelis, and two foreigners so far this year, including combatants and civilians.
Since Saturday, violence has flared up again in the West Bank, killing at least seven Palestinians in clashes, according to the Ramallah health ministry.
Tens of thousands of Israeli soldiers have been deployed to fight militants in southern desert regions near the coastal enclave, rescue Israeli hostages, and then evacuate the entire territory within 24 hours, according to the Israeli army.
"We'll reach every community until we kill every terrorist in Israel," military spokesperson Daniel Hagari promised a day after hundreds of Hamas fighters crossed into Israel through vehicles, boats, and even motorised paragliders.
"Our mission for the next 24 hours is to evacuate all residents" from Gaza Strip communities, he told journalists amid fighting that has killed hundreds on both sides.
Thai Citizens Killed in Hamas strikes on Israel
Two Thais are now known to have killed in Saturday's Hamas strikes on Israel, the prime minister announced after arriving in Hong Kong on Sunday afternoon.
Prime Minister Srettha Thavisin said he had received word from Thai ambassador to Tel Aviv Pannabha Chandraramya that another Thai national had died in the conflict, bringing the total to two.
The ambassador stated that Hamas militants had kidnapped persons of various nationalities and that clashes were still taking place along the Gaza Strip's border. She claimed that Israel had only reoccupied two districts, neither of which had Thai jobs.
Foreign Minister Parnpree Bahiddha-Nukara stated that eight Thais were hurt and 11 Thais were apprehended.
According to the ministry, five of the eight injured Thais were admitted to hospitals and three more were awaiting rescue.
Earlier on Sunday, Mr Srettha stated that a Thai worker was murdered and roughly 11 others were seized during the Hamas attacks, and that a total sky lockdown was causing evacuations to be delayed.
Prior to his upcoming foreign trip, Mr Srettha stated at Wing 6 in Don Muang that there was an unsubstantiated report that one Thai was slain and about 11 others were imprisoned in Israel. He had not been notified of the precise number of injured Thais present.
The prime minister stated that he would utilise all diplomatic efforts possible to liberate the Thai victims. "They are innocent and have nothing to do with any conflict," he went on to say.
According to Mr Srettha, there is yet to be a definitive report on the whereabouts of the impacted Thais, and residents in Israel have been ordered to remain at home during ongoing lockdown measures.
The air force was preparing transport aircraft to evacuate Thai citizens from Israel, where "the situation remains concerning," he said.
He advised Thailand's ambassador in Israel to maintain the aircraft near Israel on standby for rapid evacuation when possible. However, he stated that the Israeli skies remained entirely blocked.
According to the prime minister, one flight could transport 423 people. There were approximately 25,000 Thai labourers in Israel, with approximately 5,000 of them in restricted locations.
Mr Srettha withdrew Deputy Foreign Minister Jakkapong Sangmanee from his travel delegation and directed him to stay in the nation to monitor operations relating to the situation in Israel.
World Condemnation Over Hamas strikes on Israel
THE UNITED STATES
"There is never an excuse for terrorism." "We stand in solidarity with the Israeli government and people, and we express our condolences for the Israeli lives lost in these attacks," US Secretary of State Antony Blinken said in a statement posted by the State Department.
Lloyd Austin, the U.S. Defence Secretary, said: "Over the coming days the Department of Defence will work to ensure that Israel has what it needs to defend itself and protect civilians from indiscriminate violence and terrorism."
THE UNITED NATIONS
"This is a dangerous precipice," warned UN Middle East peace envoy Tor Wennesland, "and I appeal to all to pull back from the brink."
"This attack is having a horrific impact on Israeli civilians," said UN High Commissioner for Human Rights Volker Tuerk. Civilians must never be the object of an attack."
MAHMOUD ABBAS, PALESTINIAN PRESIDENT
The Palestinian people have the right to defend themselves against the "terror of settlers and occupation troops," Abbas said, according to the official news agency WAFA.
IRAN
According to the semi-official ISNA news site, an adviser to Iran's Supreme Leader Ali Khamenei praised Palestinian fighters on Saturday. "We will stand by Palestinian fighters until Palestine and Jerusalem are liberated," Yahya Rahim Safavi was quoted as saying.
Iran's state media broadcast footage of parliament members rising from their seats and chanting "Death to Israel."
According to ISNA, Iran's foreign ministry spokeswoman Nasser Kanaani said, "In this operation, the element of surprise and other combined methods were used, which show the Palestinian people's confidence in the face of the occupiers."
CHINA
The Chinese foreign ministry encouraged all parties involved to "remain calm, exercise restraint, and end hostilities immediately in order to protect civilians and avoid further deterioration of the situation."
"The fundamental way out of the conflict lies in implementing the two-state solution and establishing an independent State of Palestine," declared the ministry of international affairs.
OLAF SCHOLZ, GERMAN CHANCELLOR
"Terrifying news from #Israel has reached us today." The rocket fire from Gaza, as well as the growing bloodshed, have taken our breath away. "Germany condemns Hamas's attacks and stands with Israel," Scholz tweeted on social media.
EMMANUEL MACRON, PRESIDENT OF FRANCE
Macron strongly condemned the terrorist attacks.
"I express my full solidarity with the victims, and their families and those close to them," he went on to say.
ARABIAN REPUBLIC
The foreign ministry demanded a "immediate halt to violence."
FOREIGN MINISTRY OF EGYPT
Egypt warned of "grave consequences" and urged "maximum restraint and avoid exposing civilians to additional danger."
MOROCCO
Morocco, which is establishing full diplomatic relations with Israel via the so-called "Abraham Accords," expressed "deep concern" and condemned attacks on people "wherever they are."
The Islamist PJD party in Morocco, which had been the largest in parliament until elections in 2021, praised the Hamas attack as "heroic" and "a natural and legitimate reaction to daily violations."
JOSEP BORRELL, CHIEF OF EU FOREIGN POLICY
"Using civilians as hostages is a clear violation of all applicable laws." "I will do everything in my power to contribute to their freedom," Borrell stated.
He also stated that he was going to Muscat, Oman, to speak with Arab peers. "Even at this tragic moment, we recall the importance of working towards a lasting and sustainable peace through reinvigorated efforts in the Middle East Peace Process," he went on to say.
JUSTIN TRUDEAU, PRIME MINISTER OF CANADA
"Canada condemns the current terrorist attacks against Israel wholeheartedly." These violent activities are simply reprehensible. We stand behind Israel and firmly support its right to self-defense. Our thoughts are with everyone who has been affected by this. Civilian life must be safeguarded," he stated on X, formerly known as Twitter.
JAMES CLEVERLY, BRITISH FOREIGN MINISTER
"The United Kingdom categorically condemns Hamas's atrocities against Israeli civilians." "The United Kingdom will always support Israel's right to self-defense," Cleverly stated.
THE EUROPEAN UNION
"I unequivocally condemn the Hamas terrorist attack against Israel," EU Commission leader Ursula von der Leyen stated. It is the most heinous type of terrorism."
The foreign ministry blamed Israel alone for the continuous escalation of violence with the Palestinian people and urged both sides to exercise calm.
MIKHAIL BOGDANOV, RUSSIAN DEPUTY FOREIGN MINISTER
Bogdanov said Russia is in contact with Israel, the Palestinians, and Arab countries in response to the worsening of the Israeli-Palestinian conflict.
VOLODYMYR ZELENSKIY, PRESIDENT OF UKRAINE
Zelenskiy decried the "terror attack" on Israel and stated that Israel's right to defend itself "cannot be questioned."
HEZBOLLAH
Hezbollah, an arch-foe of Israel, stated it was in "direct contact with the leadership of the Palestinian resistance" and hailed the actions as a "decisive response to Israel's continued occupation and a message to those seeking normalisation with Israel."
ANDRZEJ DUDA, PRESIDENT OF POLAND
"I am astounded by Hamas's brutal attacks on Israel today." Our vehement resistance stems from rocket strikes and the incarceration of civilians as hostages. "Poland strongly condemns all acts of violence," Duda declared on Saturday.
PETR PAVEL, PRESIDENT OF THE CZECH REPUBLIC
"The attack conducted from the Gaza Strip is a deplorable act of terrorism against the State of Israel and the civilian population," Pavel said in a written statement.
"The rocket attacks and the infiltration of Hamas commandos into Israel will block any efforts for a peaceful solution to the Palestinian-Israeli conflict for a long time."
THE OFFICE OF THE ITALIAN PRIME MINISTER
"A meeting chaired by Prime Minister Giorgia Meloni was held today on the dramatic situation unfolding in Israel, which has been the target of a military and terrorist attack," a statement from the government stated on Saturday.
"The government is closely monitoring the situation's development… The security of the country's Jewish community is receiving special concern."
FUMIO KISHIDA, JAPAN'S PRIME MINISTER
"From Gaza, Hamas and other Palestinian militants launched an attack on Israel yesterday." Japan strongly condemns the assaults, which have caused significant injury to innocent victims. "I express my heartfelt sympathies to the bereaved families and condolences to the injured," Kishida said on X, formerly known as Twitter.
"According to reports, the militants kidnapped a number of persons. Japan strongly condemns such atrocities and calls for their immediate abolition. Japan is also profoundly concerned about a number of deaths in Gaza. All parties involved should take extreme caution."
THE AFRICAN UNION
"Denial of the fundamental rights of the Palestinian people, particularly that of an independent and sovereign State, is the main cause of the permanent Israeli-Palestinian tension," stated Moussa Faki Mahamat, Chairperson of the African Union Commission.
"The Chairperson urgently appeals to both parties to put an end to military hostilities and to return, without conditions, to the negotiating table."
KUWAIT
Kuwait expressed "grave concern" about developments between Israel and the Palestinians, accusing Israel for "blatant attacks."
ARAB EMIRATES UNITED
"The UAE calls for maximum restraint and an immediate ceasefire to avoid serious repercussions," the foreign ministry said, according to the official news agency.
INDONESIA
"Indonesia is very concerned about the increasing escalation of the conflict between Palestine and Israel," the world's largest Muslim-majority country's foreign ministry stated on X.
"Indonesia requests that all acts of violence cease immediately in order to avoid further human casualties." The source of the dispute, namely Israel's occupation of Palestinian areas, must be handled in accordance with UN resolutions."
KENYA
"We condemn those who planned, funded, and carried out this heinous attack." While Israel has the right to reply, a peaceful resolution to this tragic incident is strongly encouraged," said Korir Sing'oei, principal secretary at Kenya's foreign ministry, on X.
"The outbreak of renewed violence in Israel-Palestine is regrettable," Ugandan President Yoweri Museveni remarked. Why aren't both parties implementing the two-state solution? The practise of belligerents attacking civilians and noncombatants is particularly condemnable."