Why 90's Kids are Hyping 8 Ball Jackets in Streetwear?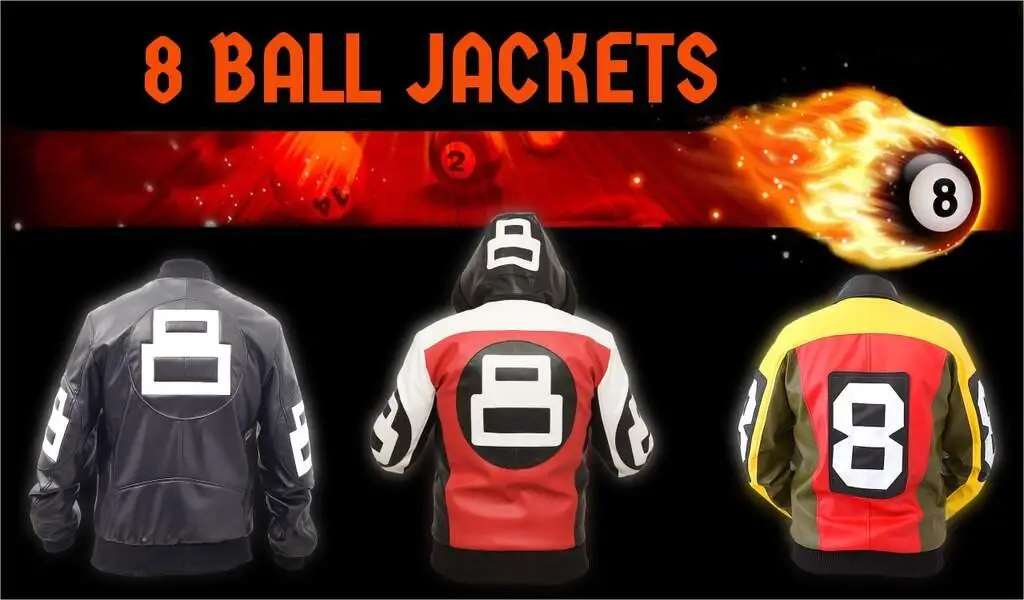 The classic 8-ball jackets style of the '90s is again blooming in street fashion lately. Designer Micheal Hoban from San Francisco introduced these leather jackets back in 1990. The concept was based on his inspiration from the 8-ball, a special ball used in cue sports.
In no time, the bright color-blocking and bold mono-chrome decals on the back and sleeves became a popular trend. Apart from the stars of hip-hop music, the unique fashion trend attracted the masses including the common youngsters as well. Want to know more? Keep reading to enjoy a summarized guide about the 8 Ball trend along with some options to carry the look.
HISTORY of 8 Ball Jackets:
The 8-ball jacket fame made them as expensive as around 800$. To grab the profits, many other designers came forward to introduce cheaper versions or copies with somewhat similar looks. However, many of those got sued by Hoban who wanted to enjoy the solo credits of his creation. To your surprise, the popularity and value of those jackets even attracted crime and muggers. Yes, New York City reported many stories involving the owners being robbed off on the streets.
Just like the simultaneous association of 8-ball with winning and misfortune, the jackets also won some disdain. After the downfall of the initial trend, it resurfaced quite many times including it being stigmatized onscreen as an 'un-cool part of wardrobe'. However, later years reintroduced those unique jackets many times as a 'retro throwback trend', both in celebrities and in street fashion. Hence, those ball jackets had a good lot of followers including both lovers and haters.
Some Popular 8-Ball Jacket Options:
Want to enjoy the unique and funky retro trend? Let us have a look at some of the famous jackets, now available for you.
1. 8 Ball Hooded Leather Jacket: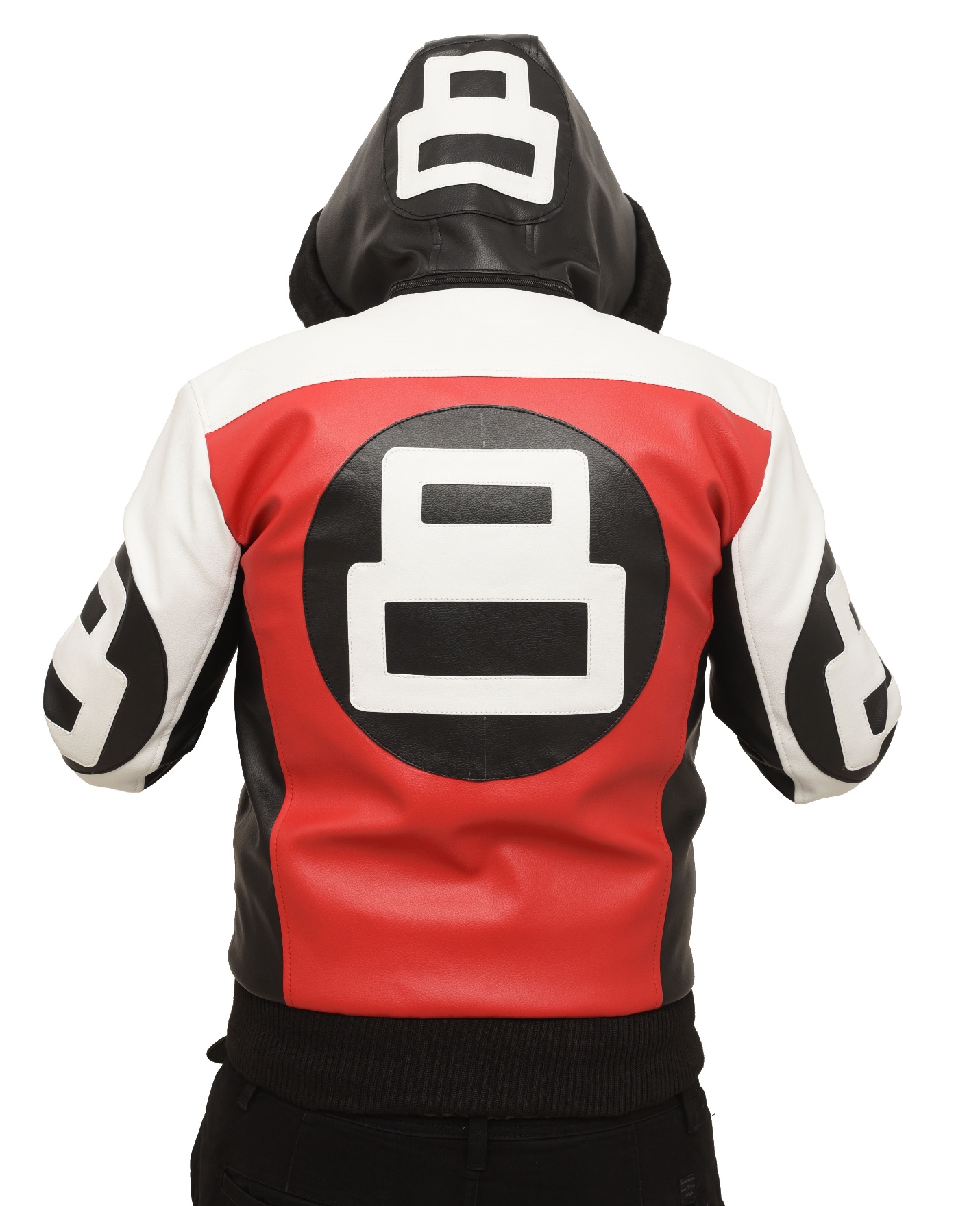 This particular jacket carries an interesting story. Back in November 2014, a Bronx bouncer slapped a woman who degraded him for roaming in the jacket. A subway incident got popular getting millions of clicks to see the video. However, the assault charges were dropped later, after a cell phone video proved him being provoked to be furious.
It is made up of real leather and lined with viscose. The typical red, black and white combination and bold 8-ball printed logos to make it look one of its kind. The detachable black hoodie collar with mono-chrome rib-knitted cuff sleeves and YKK zipper closure gives it a stylish look. This 8 Ball Hooded Leather Jacket is a nice option for 8-ball fans to add some funk to their casual wardrobe.
2. The Vintage Seinfeld 8 Ball Jacket:
Seinfeld is an American sitcom series first aired back in 1989, completing 9 seasons up till 1998. P.Warburton playing David Puddy was nicknamed as the 8 ball jacket man when found reviving the trend in the 9th season. The 8-ball fans can now grab this bomber jacket to enhance their casual wardrobe.
It is made up of red, yellow and green faux leather patches, stitched together prominently with viscose lining. The bold combination comes with black shirt-style collars and a YKK zipper closure. This Vintage Seinfeld 8 Ball Jacket is an absolute choice to feel cosy while enjoying some vintage funk in your street attire.
3. 8 Ball David Puddy Purple Jacket: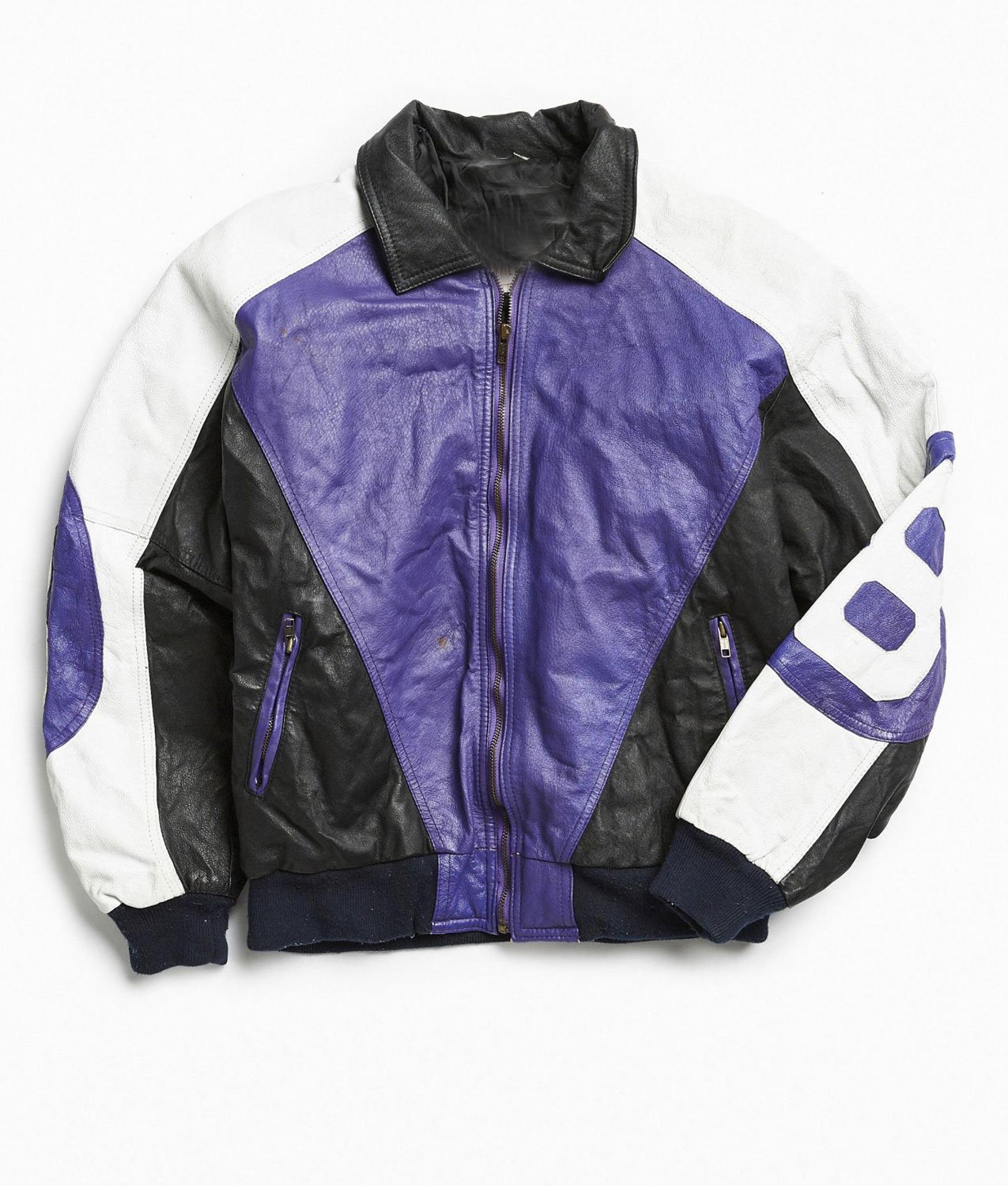 Not everyone likes to carry a jacket in bold colors like the previous one. So, if you are looking to carry 8 ball styles in darker shades, here is a nice option for you. The famous 8 Ball David Puddy Purple Jacket is now available in a darker shade to carry a somewhat sober look.
The combination of black and purple is made up of faux leather and lined with viscose. It comes in loose-fitting with a black shirt-style collar and arms with typical '8 logos'. Other features include a YKK zipper closure with rib-knitted cuffs and waist-line.
4. 8 Ball Pink Leather Hooded Jacket:
Back in the beginning of the trend, the jackets were majorly made in bold colors or monochromes. However, it evolved with time introducing a range of shades and combinations. The 8-ball fans can also enjoy the trend in their favorite color. Yes, it is now available in the pleasant combination of pink and white.
The jacket is made up of light pink PU leather with white on the arms and pockets. It has viscose lining and YKK zipper closure with rib-knitted cuffs and waist-line. Besides the color, the detachable hoodie lined with warm soft fur is another attractive feature. This 8 Ball Pink Leather Hooded Jacket is an equally nice choice for both ladies and gents in streetwear retro style.
5. Woman's 8 Ball Pool Leather Jacket: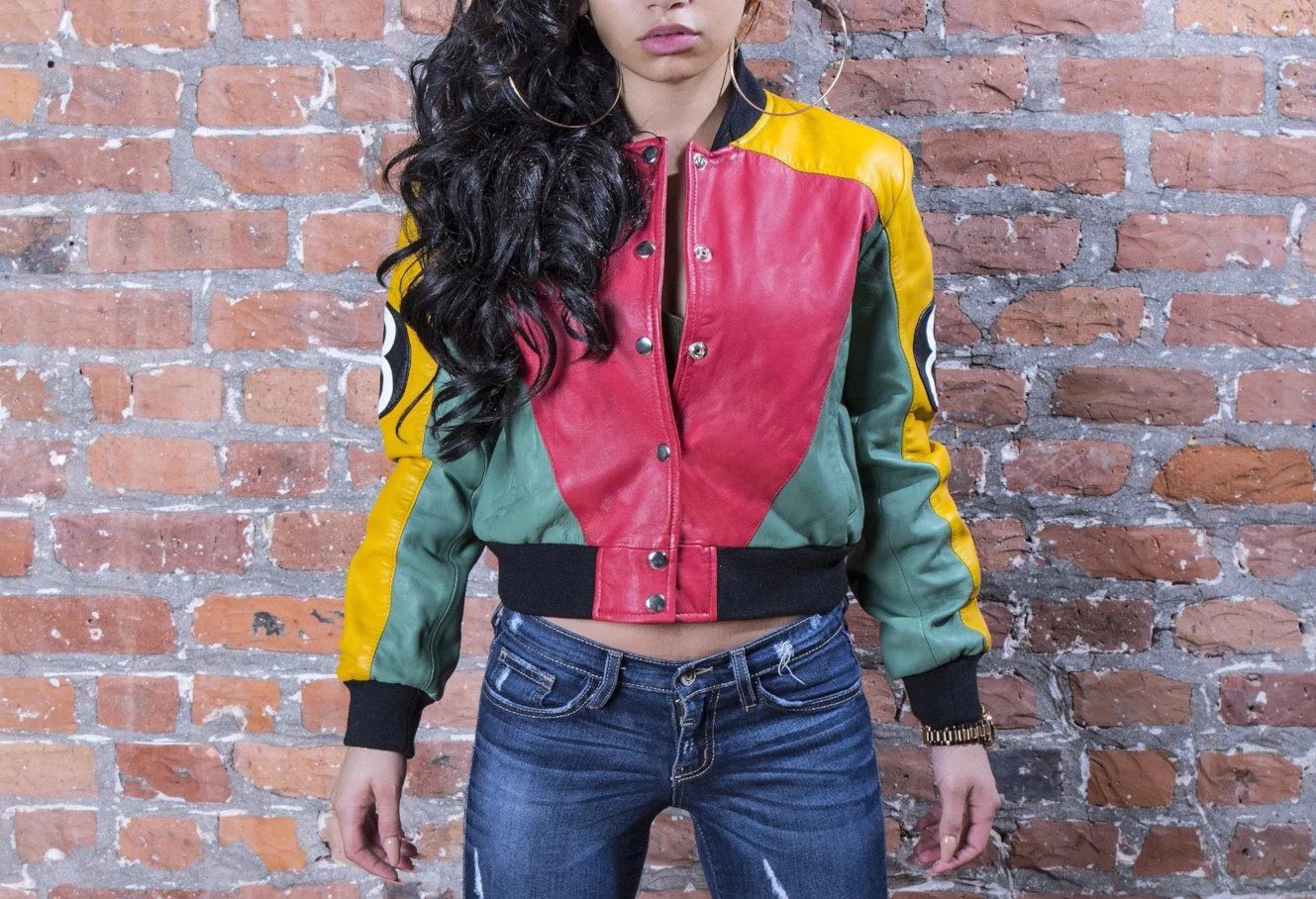 Why should boys have all the fun? Well, certainly not. The Woman's 8 Ball Pool Leather Jacket is now available for ladies to flaunt that retro look.
The jacket is made up of faux leather in a girly color combination of pink, yellow and green. It comes in sleek fit snap-tab buttoned closure along with black rib-knitted collars, cuffs and waist-line. All in all, this short jacket is a total game-changer to enhance your street attire.
Summary:
8 Ball jackets are a popular trend belonging back to 1990, introduced by M.Hogan. The bright color blocking and typical 8-ball logos attracted the masses, making them as costly as around 800$. With time, the trend not only lost its charm but also got categorized as a not so sober or somewhat disliked style.
However, these jackets were never totally forgotten over all these years. In spite, kept resurfacing several times in both show-business and common street fashion. In short, the journey of the 8-ball jacket trend kept on riding the waves of love and hate.
People Also Read:
Why Do Teddy Bears Still Make a Special Gift?
Tips to keep in Mind when Shopping for Shorts for men
Delta 8 Disposable Vape Pen Device Wholesale 2022
McCarty reflects on Stanley Cup success with the Red Wings