Former President Donald Trump Set To Surrender at Notorious Georgia Jail Amidst Federal Investigation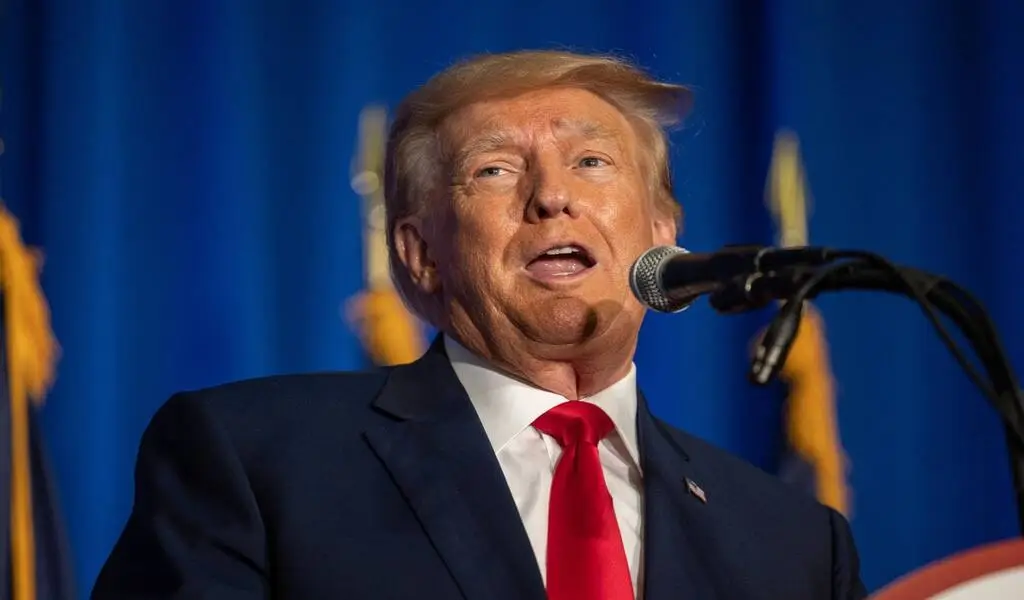 (CTN News) – Former President Donald Trump is anticipated to present himself on Thursday at a detention center located in the most populous county of Georgia.
This facility, notorious for its overcrowding and reputation for incidents of violence and neglect, has garnered the attention of federal investigators due to its concerning conditions.
Upon his arrival, Trump will be processed at Fulton County Jail in Atlanta, a colloquially known institution referred to as the Rice Street jail.
This step will be taken subsequent to his formal booking on charges related to an alleged unlawful plot to overturn the outcome of the 2020 election in Georgia.
It's worth noting that not all individuals facing criminal charges undergo the same procedure.
While Trump is expected to undergo this process before indictment, others have languished within the facility for extended periods, spanning months or even years, prior to being formally accused.
Outlined below is an overview of the detention center, as well as a glimpse into the potential experiences that Trump could encounter when he submits himself to this process.
What Might Trump's Booking Process Entail?
Upon defendants' arrival at the facility, the typical protocol involves passing through a security checkpoint before proceeding to the lobby for formal booking procedures.
Once inside, they are directed to a spacious, open area equipped with designated sections for fingerprinting, taking mugshots, and conducting medical assessments.
Attorney Michael Harper, who visited the jail a few years back and has been involved in litigation concerning inmate fatalities at the facility, described this process.
It's worth noting that this room often accommodates multiple defendants undergoing booking simultaneously, alongside the presence of jail personnel and security personnel.
However, given the special security considerations surrounding Trump, this may differ on this occasion.
Harper explained, "It's a vast and bustling space."
The detention center operates around the clock, admitting individuals 24 hours a day and housing defendants confronting an array of charges spanning from misdemeanors to violent offenses.
Sheriff Patrick Labat of Fulton County mentioned earlier this month that Trump would be treated comparably to other defendants.
Nevertheless, considering the former president's ongoing 24-hour protection by the Secret Service, certain provisions may be made to address security requirements.
In his previous appearances within state and federal courts, such as those in New York, Miami, and Washington, Trump was not subjected to handcuffing during custody and was exempt from posing for a new mugshot, as authorities opted to use existing photographs of him.
However, his booking process in Atlanta could potentially diverge in this regard. Sheriff Labat remarked during an August press conference, "Unless I receive contrary instructions, we will adhere to our standard procedures.
Irrespective of your status, we will be prepared with a mugshot."
In line with your request, this response has been provided in the English language.
Where Is The Jail Located And Trump Be Visible To The Public?
Situated a short distance from downtown Atlanta on the western side of the city, the jail stands adjacent to a newly established expansive park within a region marked by a blend of warehouses and residential expansion.
The Fulton County Sheriff's Office declared in a recent press release that a "hard lockdown" will be enforced in the vicinity surrounding the jail during Trump's surrender. This suggests that the general public will likely be unable to approach the area closely.
At present, there is no set court appearance scheduled for Trump on Thursday.
Diverging from procedures in other jurisdictions, initial court appearances, referred to as arraignments, in Fulton County are typically scheduled subsequent to the completion of the booking process by the defendant.
What Are The Issues With The Jail?
Originating in 1989, the Fulton County Jail encountered a situation this year where its population exceeded 3,200 individuals—significantly surpassing its intended capacity of approximately 2,700.
Devin Franklin, a public defender with over a decade of experience in Fulton County, revealed that his clients frequently alleged that guards facilitated attacks by opening cell doors, a practice known colloquially as "popping the doors."
Franklin recounted an incident involving a 17-year-old who claimed to have been coerced into fighting others for food while detained at the jail.
The facility is marred by recurring stabbings and substandard medical care, as indicated by attorneys. In the last month alone, three inmates were found unresponsive in their cells and subsequently passed away—two of them within a medical unit.
Earlier this year, the U.S. Department of Justice initiated a civil rights inquiry into the jail's conditions.
The investigation was prompted by instances of violence, unsanitary conditions, and the death of Lashawn Thompson in the previous year, whose body was discovered covered in insects.
Sheriff Labat has emphasized the necessity for county funding to construct a new jail.
Franklin highlighted the plight of numerous low-level offenders who remain incarcerated for extended periods due to an inability to afford bail, and the district attorney's office's comparatively slow pace in pursuing grand jury indictments.
"Too many individuals are in custody unnecessarily, particularly when their safety cannot be ensured," Franklin remarked.
What Has Trump Said About Jail?
In a fundraising email circulated on Tuesday, Trump referred to the jail as a "humanitarian crisis" and characterized it as a "violent jail." He asserted that inmates had fashioned makeshift weapons from the deteriorating walls of the facility.
The sheriff's office reported in March that a "shakedown" operation yielded more than 200 homemade knives.
Labat, in a statement at the time, conveyed, "Inmates are literally crafting shanks from the crumbling walls of the dilapidated facility."