Thai Vocational Students Returning from Israel Due to Safety Concerns
(CTN News) – On Monday, the last of the 71 Thai vocational students receiving agriculture training in Israel as part of a bilateral Thai-Israeli collaboration programme will be transported home.
Vice Minister of Education Siripong Angkasakulkiat said on Sunday that 78 Thai vocational students have travelled to Israel to study agriculture at the Arava International Centre for Agricultural Training (AICAT).
Seven students had already returned to Thailand, he claimed; he told the others that, although their training site is far from the fighting zone, there is still the potential of spillover violence and asked them to do the same.
He added that the students had accepted to be returned, and that the Israeli Ministry of Education would strive to facilitate their return to the country if they wished to complete their education there once conditions improved.
Suttipong Juljarern, permanent secretary of the Thai Ministry of the Interior, has stated that provincial authorities have been instructed to contact the families of Thai nationals who are still employed in Israel and encourage them to return home.
There are approximately 30,000 Thai nationals working in Israel, the vast majority of them are engaged in agriculture. Only about nine thousand have volunteered to return home; the remainder are still hesitant to leave Israel, largely out of anxiety that they can't afford to pay off their debts if they give up their high-paying positions here.
Thailand's Foreign Minister announced on Thursday that the death toll among Thai workers in Israel had risen to 33, from 31 on Wednesday.
Dr. Parnpree Bahiddha-nukara reported that 18 Thais were hurt in the combat, and that the number of hostages known to be held by Hamas fighters has decreased from 19 to 18. He also said that 24 of the alleged victims had their identities verified by Israeli officials.
The foreign minister reported that the government has continuing to repatriate Thai citizens who have applied for repatriation, and that negotiating teams have been sent out to try to secure the release of further Thai hostages with the help of some countries serving as coordinators.
The Foreign Ministry reported that 547 Thai citizens would return from Israel by plane on Thursday.
There were a total of 134 passengers on flight SL7005 from Lion Air, which landed at Don Mueang Airport at 2:50 p.m., and 268 passengers on El Al flight LY085 which landed at Suvarnabhumi Airport at 10:20 a.m.
Seven more Thai nationals had their remains returned to Thailand from Israel on El Al aircraft LY083, which was due to land at Suvarnabhumi airport at 10:35am.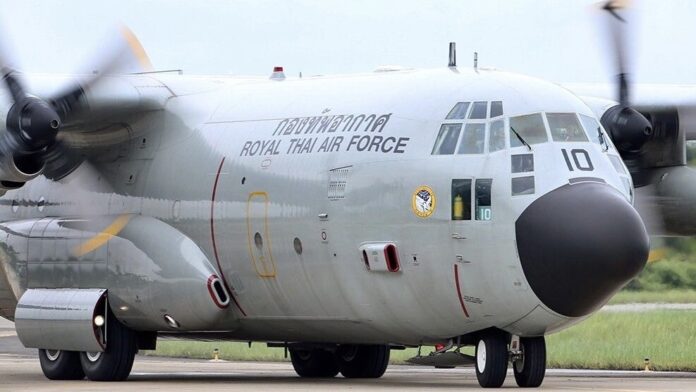 The permanent secretary of labour, Pairoj Chotikasathien, reported that 27 planes had brought back 4,531 Thais from Israel.
Also reported by Prime Minister Srettha Thavisin were two more Thai injuries and the continuation of discussions with Hamas militants to secure the release of hostages.
Mr. Srettha addressed the House of Representatives on Thursday to address concerns regarding the welfare of Thai workers since the outbreak of hostilities between Israel and Hamas on October 7.
He stated that over 4,000 Thais were still waiting to be evacuated while over half of the 8,000 who had registered for repatriation had already been returned home.
In addition, the prime minister acknowledged difficulties over the past four or five days as Israeli firms gave higher compensation to Thai workers as an inducement for them to remain in the war-torn country.
To address this challenge, he explained, the government is working on ways to assist repatriated workers while also reaching out to countries eager to import Thai labour at competitive pay.
According to him, the minister of labour has proposed that workers who are still in debt from brokerage fees have bank loans of around 150,000 baht each.
Workers who are having financial difficulties can expect to receive loans from the government through the Bank for Agriculture and Agricultural Cooperatives (BAAC), with a payback period of 30 years and interest of 0.1% per year.
"The government is doing its best to bring the workers home as soon as possible," the prime minister stated. We don't want them to be so concerned with making a profit that they put their own safety at danger.
"What the government will have to do is to lift the standard of life of all Thai people to a higher level."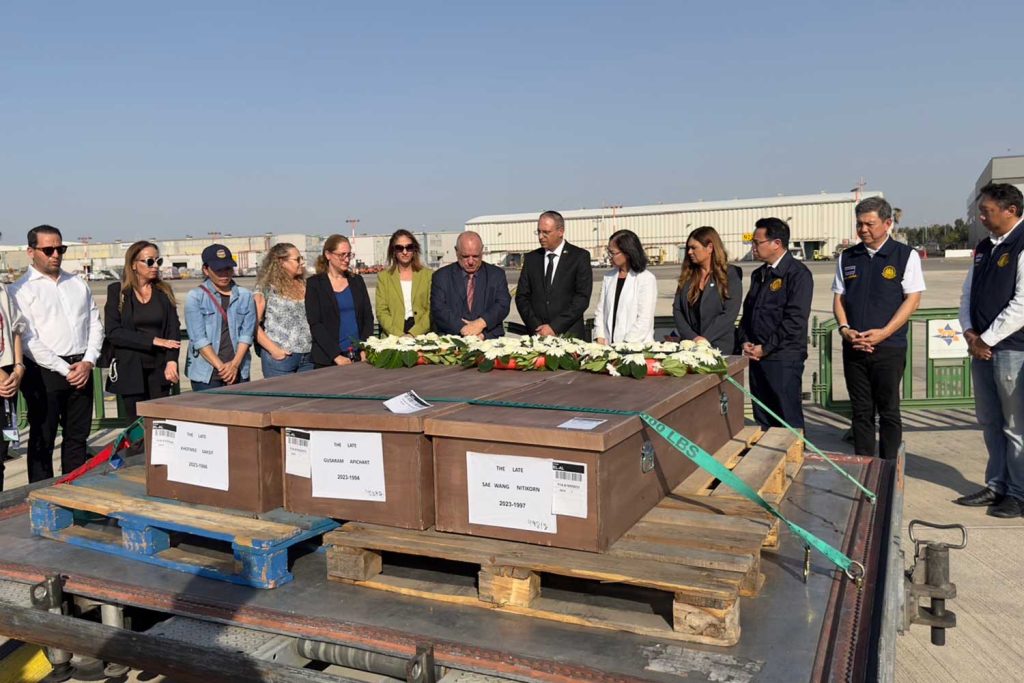 Thailand's Dead Repatriated
On Thursday morning, the El Al flight that brought the bodies of seven additional Thai labourers killed in Israel landed at Suvarnabhumi airport. At 10:35 a.m., El Al Flight LY083 landed, and at a nearby cargo facility, Thai and Israeli authorities attended a ceremony to receive the dead.
Deputy Foreign Minister Jakkapong Sangmanee, Israeli Ambassador to Thailand Orna Sagiv, Deputy Permanent Secretary of the Ministry of Labour Wannarat Srisuksai, and Secretary to the Minister of Labour Phiphat Ratchakitprakan, Aree Krainara, all attended and laid wreaths.
Israel officials have confirmed the identity of seven remains. They are those of Teerapong Klangsuwan, Pirun Thanonphim, and Saksit Kotemee from Udon Thani; Sakda Surakhai from Nong Khai; Apichart Kusaram from Khon Kaen; Srithat Kawao from Kamphaeng Phet; and Nitikorn Sae Wang from Chiang Rai.
There were no mourners waiting for the bodies at the airport since a funeral home was delivering them.
Wednesday afternoon local time saw a ceremony at Tel Aviv's Ben Gurion airport to send the remains on their way.
Attendees included the Thai ambassador to Israel, Pannabha Chandraramya; the deputy director-general of the Consular Affairs Department, Naruchai Ninnart; an inspector from the Social Security Office, Sakdinart Sonthisakyothin; and the Thai labour attache, Kitthana Srisuriya.
Eliyahu Revivo, chairman of the committee on foreign labour relations in the Israeli parliament, and Michael Ronen, director-general of the Department of Asia and the Pacific, were among the Israeli officials there.
The number of Thai workers confirmed dead in Israel rose from 31 to 33 on Thursday, the Ministry of Foreign Affairs reported. Israeli authorities have confirmed the identities of 24 of the bodies. So far, 15 of the accounted-for people have returned home on two separate flights