Opening of Floating Beach Club in Phuket Blocked Over Environmental Issues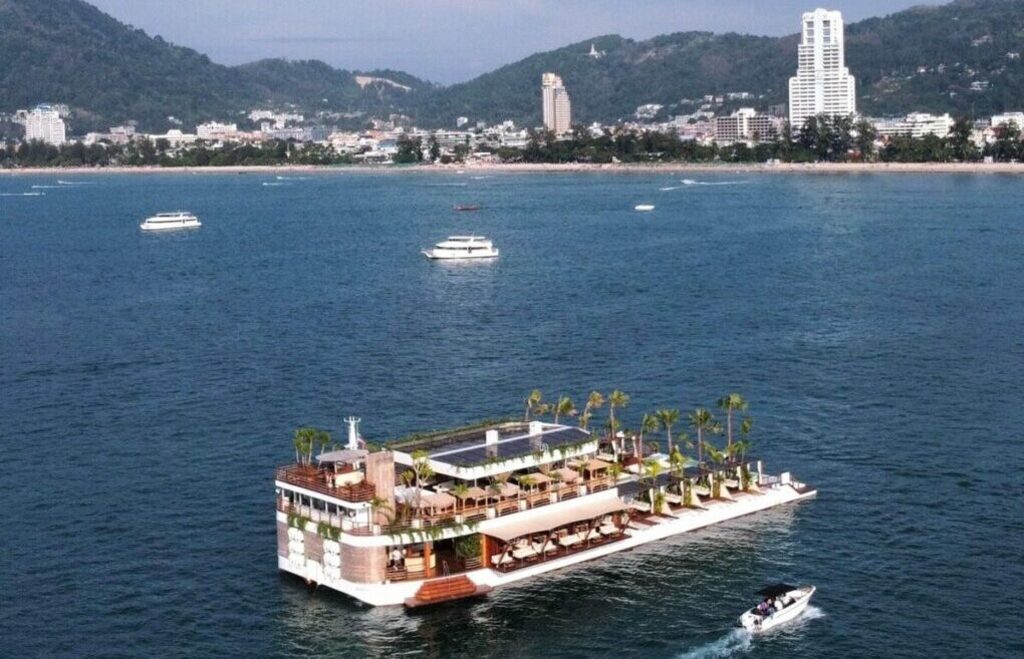 Authorities in Phuket, Thailand have informed the operators of an opulent floating beach club that they will not be allowed to open until additional safety and environmental standards are reached.
Phuket governor Narong Woonciew told the Bangkok Post on Wednesday that he heard of Yona Beach Club's plans to open this month through social media, after an earlier attempt was rejected by authorities in late January.
"This issue has gotten a lot of attention because there are mixed feelings about the opening of this modified boat to provide services to tourists in the sea off Patong," he explained.
Many related laws had to be considered when running a sea-based company, according to the governor. Thailand Marine Enforcement Command Region 3 and representatives from other organizations have met to discuss the situation.
The boat was lawfully registered, according to representatives from the Phuket marine office. However, the governor claims that it was subsequently modified and outfitted to provide food and other services that were not intended for the boat.
Mr Narong also voiced concern about the effect of a floating party boat that can accommodate up to 500 people on marine resources. He also expressed concern about safety in the case of high winds or waves.
Running services on the boat also necessitated the acquisition of several operating licenses, he noted.
Capt Krit Khluebmat, deputy director of Marine Enforcement Command Region 3, conducted an earlier inspection of the boat while it was moored off Cape Yamu on the island's southeast coast. His team met with boat representatives and briefed them on the legal requirements that their operation would have to fulfill.
Yona had some of the characteristics of a cruise ship, but the business strategy was different, he explained. When cruise ships dock, they create revenue for local residents, according to him. However, the majority of Yona's income from serving partygoers would be retained by the company's owners.
According to Suchart Rattanaruengsri, director of the Marine and Coastal Resources Office 9, an inspection showed that the waste treatment system on the boat and the water filtration system in the swimming pool satisfied general standards. However, he stated that the decorative materials were flammable and that there was no fire exit.
"If the boat opens, there is a good chance it will harm marine resources," he continued. "There will be trash and waste issues."
"The operation of this service venue is subject to numerous laws." If it is permitted to operate, other operators will follow. Clear measures are required to avoid negative effects on marine and coastal resources."
Yona allegedly sold advance tickets to tourists despite the fact that it was still awaiting official approval to open.
Yona Beach Club is allegedly owned by a French businessman who has operated a boating company in Phuket for the past ten years. He has invested in the company with Thai associates.
Yona Beach Ltd, located in Phuket, registered the modified boat as a passenger craft in Trang. In June of last year, it sailed from Trang to Phuket.
The floating club features Mediterranean and Japanese restaurants, as well as a 20-metre swimming pool with individual cabanas, sea beds, sunset terrace cabanas, and other amenities. There is no overnight lodging available.
The club was supposed to be located on Patong Beach during the peak season and at Royal Phuket Marina during the low season.

Plankton Bloom at Patong Beach in Phuket
Meanwhile, the head of the Phuket Fisheries Office Mr, Sitthipol Muangsong has reported that a plankton bloom is responsible for the change in the water color at Patong beach in Phuket.  He said the plankton bloom, is a natural occurrence that occurs every year.
The Phuket Fisheries Office explained that the darkened sea water along Patong Beach in Phuket was caused by a plankton bloom, and officials do not expect the phenomenon to have an effect on tourism.
Photos of murky black water flowing from the beach began circulating on social media, prompting the statement. The seawater from the Pak Bang canal's mouth to a length of beach in the Patong region turned black, prompting tourists to avoid swimming in it.
The Phuket Fisheries Office's Sitthipol Muangsong took members of the press on an inspection of Patong Beach. He recognized the event as a plankton bloom, a natural occurrence that occurs every year. Because of this occurrence, seawater turns brown, crimson, green, or murky black.
Sitthipol explained that the colour correlates to high plankton concentrations in the water.
He went on to say that the bloom usually happens in the summer due to changes in tidal or wind patterns and lasts only a brief time. He also stated that the Phuket Fisheries Office will request that the Phuket Marine Biological Center gather samples of sea water from the beach for testing.
The samples will be analyzed to ascertain the water quality, giving residents and visitors peace of mind.