Chinese Tourism in Thailand Hindered By High Flight Prices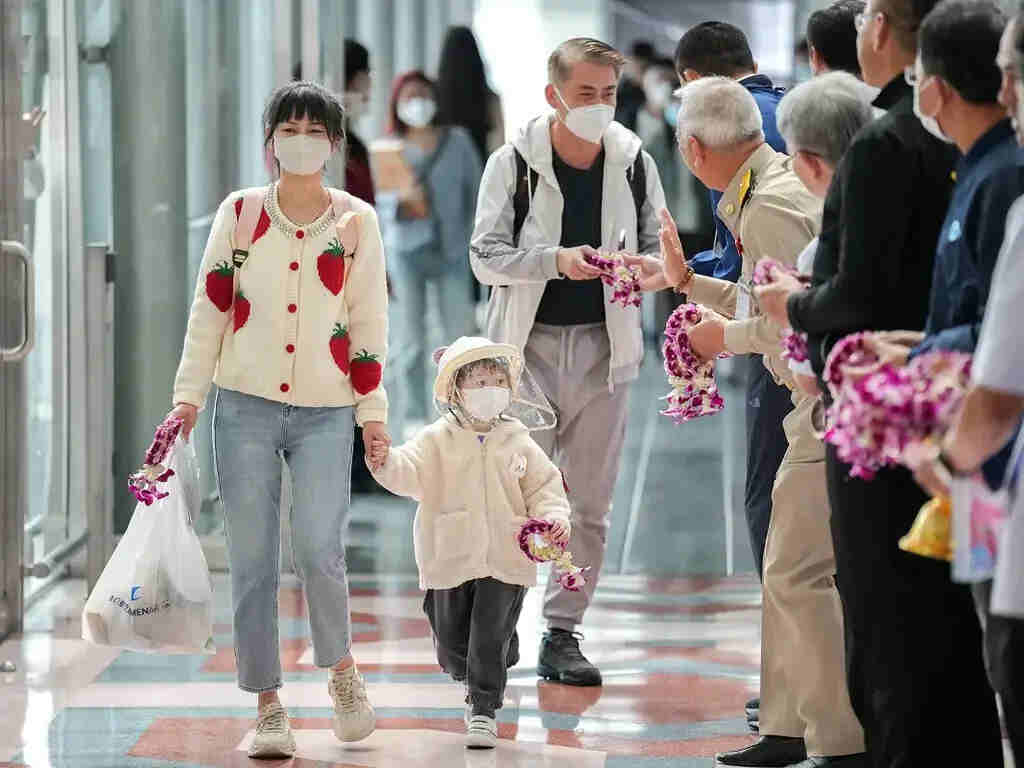 Tour operators in Thailand and China say the high price of flights is preventing Chinese tourists from visiting the Kingdom as bother countries struggle to recover after the covid-19 pandemic.
According to the Tourist Administration of Thailand, the average rate for flights between important Chinese and Thai cities is still 1.5 times more than it was before the pandemic, while airfares have increased 200% for secondary destinations, making it impossible for low-cost trips to resume (TAT).
According to TAT Governor Yuthasak Supasorn, costs for March and April in every Chinese city are remain higher than they were prior to the pandemic, even if average airfares have reduced from last year.
He claimed that flights to important mainland cities cost 1.5 times as much, with prices ranging from 17,000 to 24,500 Baht for Shanghai, 20,000 to 24,000 Baht for Chengdu, and 14,000 to 15,000 Baht for Guangzhou.
According to Mr. Yuthasak, ticket costs for secondary cities without direct flights have risen for the months of March and April because the reopening only started this year and the passenger flow was still meagre during the first two months.
More than 10 airlines operated flights to Bangkok, Phuket, and Chiang Mai in February, with a total of 17,308 seats coming from eastern China's provinces of Shanghai, Jiangsu, Zhejiang, and Hebei.
Shanghai obtained the highest capacity of those, 10,000 seats.
According to research by Dragon Trail, the average amount spent by Chinese tourists grew as their longer, 5–10 day stays became more appealing due to rising travel costs.
Chinese travel agencies optimistic
Mr. Yuthasak attended a roadshow last week in China that was organized by the Tourist Authority of Thailand. Instead of using tour groups, they favour travelling independently and looking for new experiences with a small group of close friends or family.
According to Dragon Trail data, the average amount spent per person increased to 60,000–150,000 baht every trip from 50,000–54,000 baht on average before the pandemic.
Because of the high operational costs, Mr. Yuthasak stated that it will be challenging for tour operators to provide inexpensive excursions. Low-cost tours could not be well-liked as Chinese tourists' preferences have changed from mass tours to individual excursions or tailored tours, he warned.
According to Mr. Yuthasak, the market structure for post-pandemic tourism in China will favour individual journeys over bulk tour groups, which have yet to resume operations.
Last week, the TAT staged roadshows in Shanghai, Chengdu, and Guangzhou. By connecting 61 Thai tourism providers with 302 Chinese travel agencies, the agency hopes to earn at least 900 million baht.

China-Thailand tourism
Meanwhile, Chinese government officials predicted that the number of Chinese tourists to Thailand may reach 500–700 million in 2023, a recovery to about 64% of the pre–epidemic level in 2019 due to China's optimized epidemic response and pent-up demand for international travel on Wednesday. This can be expected to lead to closer cooperation in tourism between China and Thailand.
The Tourism Authority of Thailand and China Tourism Group (CTG) Travel Services Co signed a contract on Wednesday in Beijing, and Thailand's Minister of Tourism and Sports Phiphat Ratchakitprakarn said he anticipated more Chinese visitors to Thailand.
The minister noted that the signing of a letter of intent with CTG Travel Services will play a key role in promoting the development of China-Thailand tourism. He compared tourism to a bridge that connects the people of the two nations and an important mechanism for boosting the further development of bilateral relations.
Lei Haisu, chairman of CTG Travel Service Co., stated that his organization will collaborate with Thai tourism authorities to promote China-Thailand tourism so that more Chinese tourists can fully enjoy the natural scenery and travel experience of Thailand. China has started orderly reopening of outbound group business.
Chinese the largest number of foreign visitors
Thailand has long been one of China's most popular tourist destinations, making China the largest supplier of foreign visitors and a key economic partner for the Southeast Asian nation.
In 2019, 12 percent of Thailand's GDP came from international visitor revenue. According to media sources, over 11 million or 27% of the 39.8 million foreign tourists who visited Thailand that year were Chinese. For the last three years, this number has drastically decreased.
The COVID outbreak has had a significant impact on international travel, but as the virus's ability to spread has been considerably improved, there are prospects for countries like Thailand and China to resume international travel, the Thai minister stated.
When a first group of Chinese tourists arrived at Suvarnabhumi Airport on January 9, Thai Deputy Prime Minister and Public Health Minister Anutin Charnvirakul and other top officials greeted them warmly, demonstrating the value the Thai government places on Chinese visitors.
It is possible that outward travel could be further liberated and provide the global tourism rebound new impetus with China's restart of trial outbound group trips to a total of 20 countries, including Thailand, commencing on February 6.
According to information obtained by the Global Times, the Thai government is stepping up efforts to attract more Chinese tourists by streamlining visa procedures and increasing flying capacity.
According to the minister, several Thai departments and the ministry of tourism and sports are collaborating closely to provide services connected to visas.
At the event on Wednesday, Yuthasak Supasorn, governor of the Thai Tourist Authority, told the Global Times that the average number of daily visa applications the Thai Embassy in China receives is 8,000, which is still a small number when compared to the 20,000 received prior to the epidemic.
The Thai government has improved the visa application process from paper to electronic in order to make it simpler for visitors from other countries.
The governor declared, "The Chinese market is very important to us and we will deliver a wonderful experience for Chinese tourists. One of our responsibilities is to make the visa application process simpler.
Resuming air capacity, which remains a barrier to a recovery in tourism, is among the other initiatives the Thai government is working on to facilitate foreign travel.
"It is necessary to gradually resume flights… We anticipate that 80% of flights will restart this year "added he.
The number of international visitors expected this year, according to the Thailand Tourism Authority's previous projection, will be 20 million. They predict that an extra 5-7 million people can be added once Chinese tourists to Thailand resume.