Chinese Couple Arrested in Thailand Over US$288,600 Million Fraud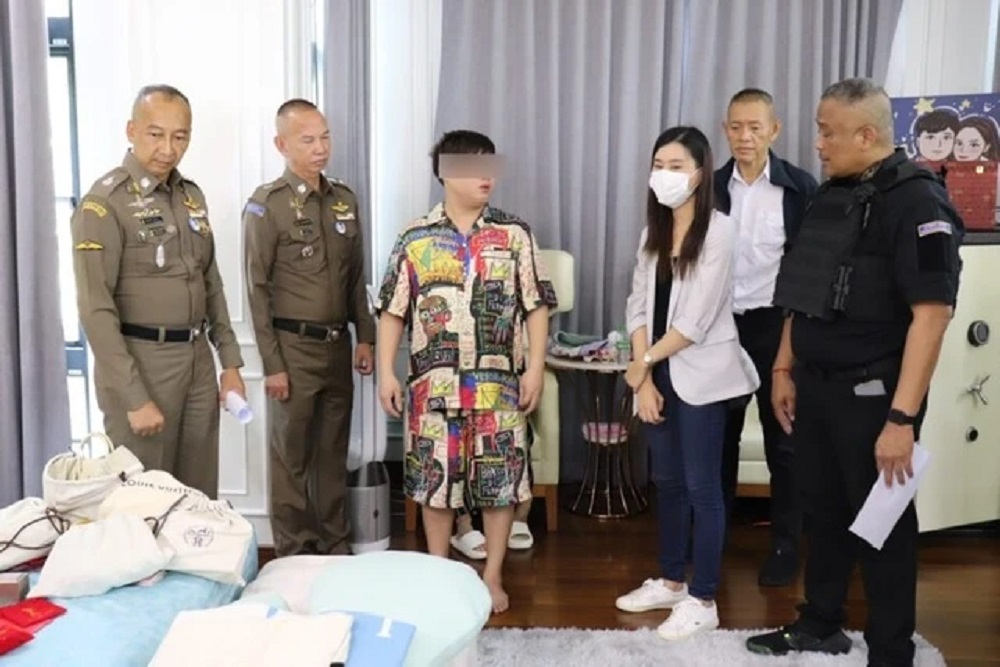 Thailand's Cyber Crime Investigation Bureau (CCIB) have arrested Chinese couple living in a US$1.9 million dollar home in Bangkok for alleged transnational fraud with losses estimated at 10 billion baht (US$288,600 Million).
Mr. Shaoxian Su, 31, and his girlfriend Ms. Keyi Ye, 25, were arrested at their home in the Prawet district's Palazzo Srinakarin housing estate in Bangkok on suspicion of public fraud and money laundering.
Police from the CCIB seized 1.5 million baht in cash, the house's title deeds, ownership certificates for four condo complexes in the Sukhumvit region valued a total of 128 million baht, and 14 Bearbrick dolls.
According to a CCIB representative, victims accused the couple of approaching them via social media with bogus online accounts and tempting them to "invest in digital currencies and assets."
Victims in Bangkok and Prachuap Khiri Khan reported losing approximately 35 million baht to police. Around 20,000 similar complaints were filed in other countries, including the United States and the United Kingdom, and are thought to be related to the suspects' network. The total damage is projected to be 10 billion baht.

Korean Drug Suspect Detained in Chonburi Thailand
A South Korean man wanted in Korea for narcotics offences was nabbed in this tourist province's Sattahip district on Wednesday, authorities said. According to Pol Lt Col Pakphumpipat Sajjaphan, commissioner of the Immigration Bureau (IB), immigration authorities seized the man, identified only as Mr. Kim, 26, at a luxury housing development in tambon Na Jomtien.
According to the IB head, between June of last year and March of this year, South Korean drug suppression police conducted crackdowns on illicit narcotics in entertainment venues in Seoul's Gangnam and Itaewon districts, arresting 70 people, including sellers and users. Various types of drugs were seized, as well as 17 million baht in cash.
South Korean authorities discovered that Mr Kim, one of the dealers they were after, had escaped to Thailand. According to Pol Lt col Pakphumpipat, drug enforcement authorities in Seoul obtained an Interpol Red Notice for his arrest and requested Thailand's assistance in finding him.
Mr Kim was discovered by immigration officers to have entered Thailand on a tourist visa on July 13, last year, and was residing in a luxury housing development in tambon Na Jomtien. Investigators followed him there and handed him over to the Na Jomtien police station for legal proceedings.
The inquiry revealed that Mr Kim used the Telegram app to interact with his customers and delivered drugs to entertainment venues, according to Pol Lt Gen Pakphumpipat. According to him, the suspect had also imported illegal substances from Thailand to South Korea.

Cyber crime in Thailand
Like any other country, Thailand is not immune to cybercrime. Cybercriminals in Thailand engage in various types of illegal activities online, including hacking, fraud, identity theft, and the distribution of malware. These criminals exploit vulnerabilities in computer systems and networks to gain unauthorized access, steal sensitive information, or carry out financial scams.
Here are some examples of cybercrimes reported in Thailand:
1. Phishing Attacks: Cybercriminals send deceptive emails or messages impersonating legitimate organizations to trick recipients into revealing sensitive information such as passwords, credit card details, or personal data.
2. Online Scams: Thailand has seen an increase in online scams targeting unsuspecting individuals. These scams often involve fraudulent online marketplaces, fake job offers, or investment schemes designed to defraud victims.
3. Ransomware Attacks: Criminals use ransomware to encrypt victims' files and demand a ransom for their release. If the ransom is not paid, the files may be permanently lost or made public.
4. Data Breaches: Cybercriminals target businesses, government institutions, or other organizations to gain unauthorized access to their databases and steal sensitive information, such as customer data or intellectual property.
5. Distributed Denial of Service (DDoS) Attacks: Cybercriminals launch DDoS attacks to overwhelm a website or online service, making it inaccessible to legitimate users.
6. Online Child Exploitation: Unfortunately, Thailand, like other countries, faces issues related to the online exploitation of children, including the production and distribution of child pornography.
Thai authorities are actively working to combat cybercrime. The Thai Computer Emergency Response Team (ThaiCERT) and the Royal Thai Police's Cybercrime Investigation Bureau are responsible for investigating and prosecuting cybercriminals. Additionally, Thailand has implemented laws and regulations to address cybercrime, such as the Computer Crimes Act and the Personal Data Protection Act.
To protect yourself from cybercrime in Thailand or anywhere else, it is crucial to practice good cybersecurity hygiene. This includes using strong, unique passwords, regularly updating software and operating systems, being cautious of suspicious emails or messages, and using reputable security software.