Boris Johnson Abruptly Resigns from UK Parliament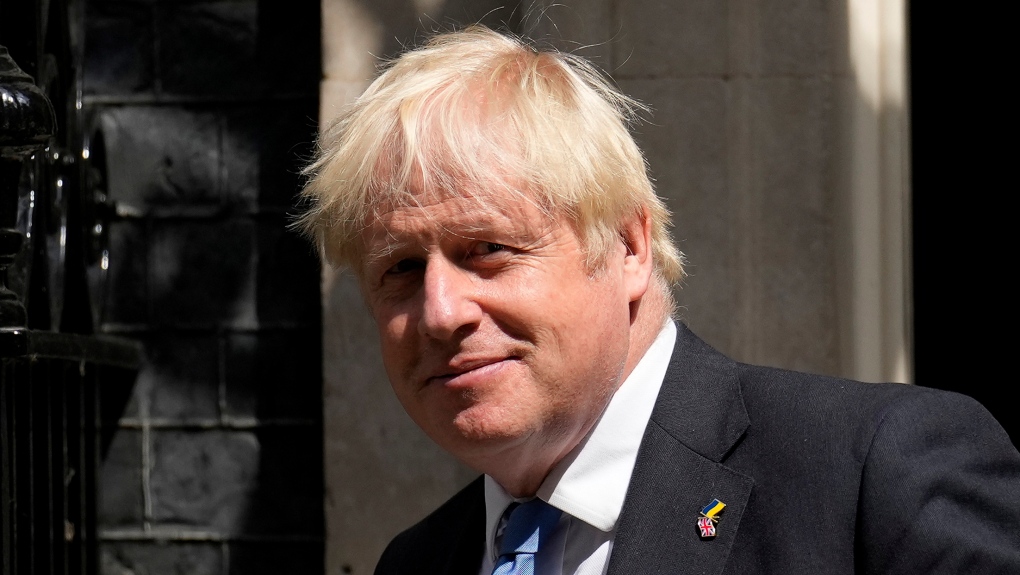 Former British Prime Minister Boris Johnson abruptly resigned as a member of parliament on Friday in an angry protest against legislators probing his behaviour, exposing severe splits inside the ruling Conservative Party ahead of next year's general election.
A legislative inquiry was probing into whether Johnson deceived the House of Commons about lockdown-breaking parties in Downing Street during the COVID-19 pandemic.
After receiving a confidential letter from the committee, Johnson accused the MPs investigating him of acting like a "kangaroo court" and attempting to derail his political career.
Johnson accused the committee of staging a "political hit job" in a statement, saying, "I am being forced out by a tiny handful of people, with no evidence to back up their assertions."
The main disciplinary body for legislators, Parliament's privileges committee, had the authority to recommend Johnson's suspension from parliament. If the ban lasts more than 10 days, people in his district may have asked that he run for re-election to continue serving as their representative.

Political Witch Hunt
Boris Johnson hinted at a comeback to politics by stating that he was leaving parliament "for the time being."
However, his decision to resign may mark the end of his 22-year political career, in which he ascended from parliament to mayor of London and then developed a profile that helped Brexit win the 2016 European Union referendum.
Johnson, whose reign was cut short in part due to outrage in his own party and throughout the country about COVID rule-breaking lockdown parties at his Downing Street office and apartment, said the committee had not discovered "a shred of evidence" against him.
"I am not alone in believing that a witch hunt is underway to exact vengeance for Brexit and, eventually, to reverse the 2016 referendum result," he stated. "My removal is a necessary first step, and I believe there has been a concerted effort to accomplish it."
The committee is chaired by a senior Labour Party politician, however the majority of members are Conservatives.
The committee said it will reconvene on Monday to wrap up its investigation and will release its report soon. According to a committee spokesperson, Johnson's resignation statement "impugned the integrity" of parliament.

Rishi Sunak Defends Boris Johnson
His departure will result in a by-election in his west London electorate. It is the second resignation in a day for Prime Minister Rishi Sunak, following the resignation of a Johnson ally, Nadine Dorries.
"The British public are sick to their back teeth of this never-ending Tory soap opera played out at their expense," said Angela Rayner, deputy leader of the Labour Party.
Johnson took office nearly four years ago, pledging to achieve Brexit and save the country from the acrimonious bickering that ensued after the 2016 referendum. He dismissed concerns raised by some Conservatives that his narcissism, inability to deal with minutiae, and propensity for deception made him unsuitable.
Some Conservatives warmly supported the former journalist, while others, despite doubts, supported him because he was able to reach to portions of the population who had previously rejected the Conservatives.
This was seen in the December 2019 election. However, his administration's confrontational and frequently chaotic way to government, as well as the scandals, depleted the goodwill of many of his legislators. Polls reveal that he is no longer popular with the general people.
Johnson used his resignation statement on Friday to launch an attack on Sunak's premiership, which he blames in part for the collapse of his government. The two, who worked closely together during the pandemic, have been feuding since Sunak resigned as finance minister in protest of Johnson's leadership last summer.
"When I left office last year, the government was only a few points in the lead in the polls." "That gap has now widened dramatically," he said.
"Our party urgently needs to regain its sense of momentum and belief in what this country is capable of."