A Train Accident in Bangladesh Lost 17 Lives and injured over 100
(CTN News) – At least seventeen people have been killed and over one hundred have been injured in a tragic train accident that occurred in the eastern city of Bhairab, Bangladesh; authorities fear that the death toll may rise.
A freight train and a passenger train travelling in the opposite direction collided during the incident, which caused the derailment of two passenger carriages.
A government administrator in Bhairab, Sadiqur Rahman, confirmed the tragic outcome, stating that more than one hundred people were injured and seventeen carcasses have been recovered.
In addition, he voiced concern that the number of fatalities might rise as rescuers continue to extricate remains from beneath the overturned coaches. In light of the calamity, a rescue train furnished with cranes is en route to the location of the accident to aid in the restoration endeavours.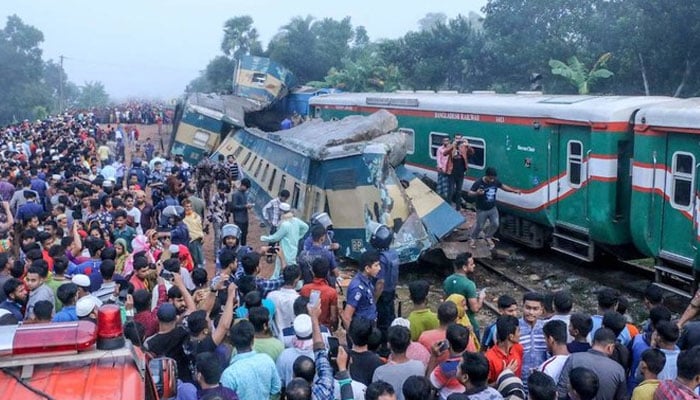 Numerous locals in tears and volunteers raced to the scene to assist those who had been affected by the tragedy while searching for their loved ones. The collision, as stated by Rahman, occurred because both trains entered the same track.
The private Channel 24 captured video footage of a substantial gathering of individuals at the location, with some displaying signs of distress as they awaited information regarding their family members.
Volunteer Nazmul Haque of the Red Crescent stated that a minimum of two individuals had been rescued from the overturned carriages. A multitude of response teams, comprising the police, fire service, and the elite Rapid Action Battalion security force, are proactively engaged in the endeavours to address the emergency.
To ascertain the cause of the collision, the Bangladeshi government has launched two investigations in the wake of the incident. Additionally, blood donation appeals have been issued to assist the injured.
Unfortunately, train accidents are prevalent in Bangladesh and are frequently ascribed to elements including inadequate signalling, negligence, antiquated railway infrastructure, and ageing tracks.
Related CTN News:
India Sends 38.5 Tonnes of Aid to Gaza Strip from Sinai Amid Ongoing Conflict