Can I Download Amazon Prime Movies to My Computer? [Solved]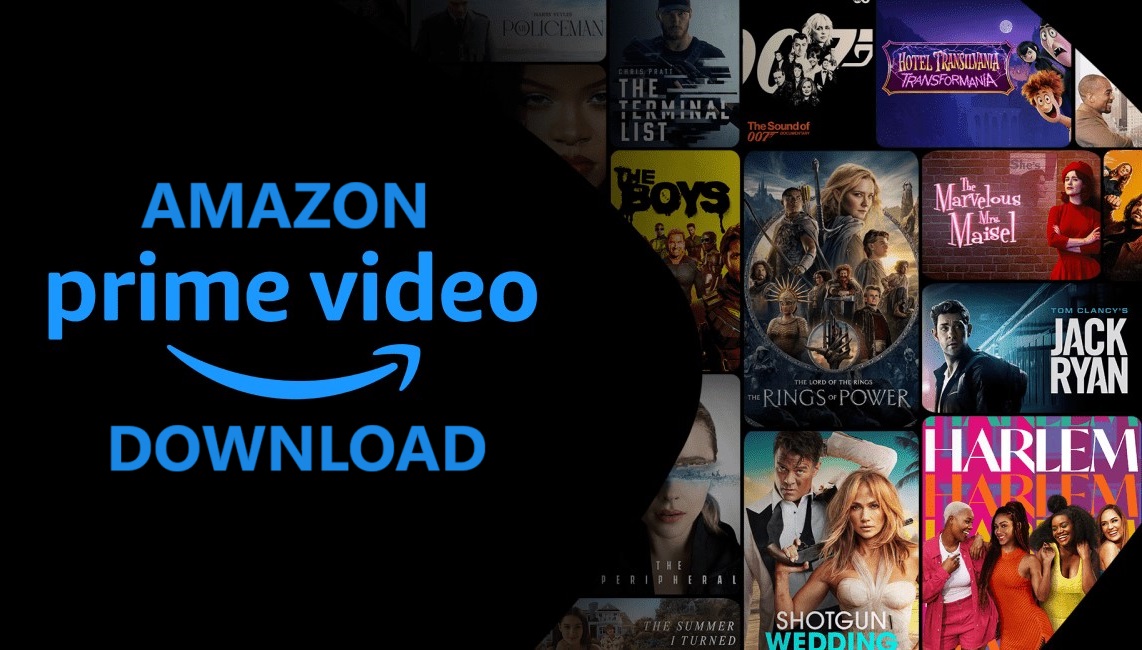 Amazon Prime offers hit series and movies like Jujutsu Kaisen, Lawmen: Bass Reeves, and Oppenheimer. To watch offline, not only can you download the Prime movies to computer through the official Prime Video app, but also download them through third-party software to bypass Amazon's official download limits.
Download Amazon Prime Movies to your Computer via the Official App
Downloading Amazon Prime movies in the official app is the most direct way if you have been a Prime Video subscriber or purchased/rented videos on it. All the videos you download within the app are available for only 30 days, and they will expire after being played in 48 hours. This post provides you with the method to download from a Windows computer, you can also download Amazon Prime videos to Mac if you want.
Install and launch the Prime Video app, and sign in to your Prime Video account.
Browse through or search for the Amazon Prime title you want to download.
Click the title to open it. Hit the Download button to download it on Amazon Prime.
Download Limits of Prime Video App
The official downloading method, though straightforward in operation, bears a lot of restrictions and limits:
Not all video content is available for download due to copyright issues.
Downloaded Amazon Videos are valid for 30 days (48 hours after being played).
A maximum of 15-25 video downloads for one Amazon account.
Downloaded videos can only be watched in the Amazon Prime app.
With so many drawbacks, you may want to search for better methods. Well, in the following part, this post provides you with a third-party tool: MovPilot Netflix Video Downloader, which enables you to bypass all the limits. Let's continue.
Download Amazon Prime Movies to Computer without App
MovPilot Amazon Prime Video Downloader revolutionizes the limitations imposed by the official Amazon Prime app. Unlike the official app, MovPilot helps you to download any Amazon Prime video to your computer for offline playback. Notably, all downloads are preserved permanently on your computer, offering lifetime access for future viewing.
With no restrictions on the number of downloads, you can save as much content as desired. Besides, MovPilot provides multiple output formats and codecs for extensive compatibility. After you download Amazon Prime videos to your computer, you can play them with any local player.
Step 1. Launch MovPilot and log in to your Prime Video account. After that, search for your desired Amazon Prime Video in the search bar.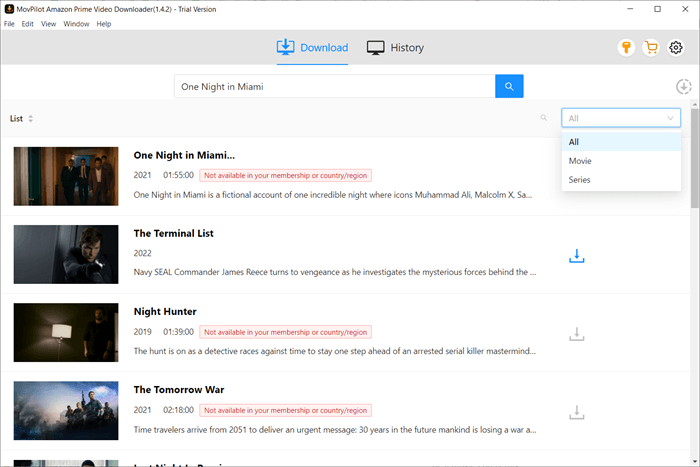 Step 2. Click the down arrow icon next to each video, and select the episodes you want to download. Then click the Download button.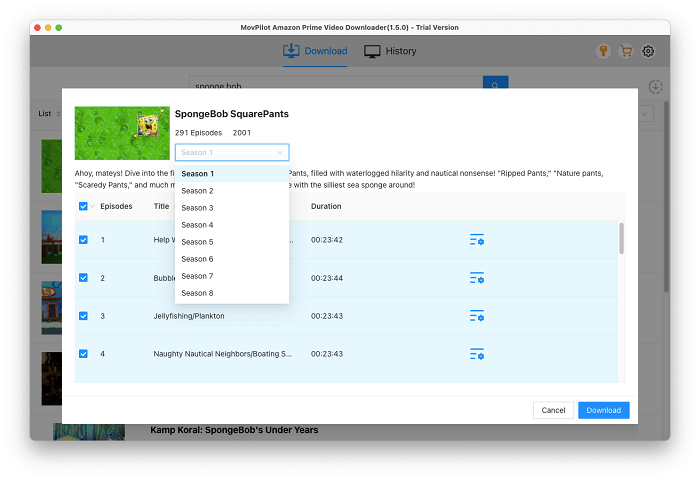 Step 3. After saving Amazon Prime videos on your computer, you can enjoy them across devices and keep the content forever. Now, check your downloaded Prime videos in "History".
Conclusion
With the content before, you've learned how to download movies from Amazon Prime to your computer through the official app and MovPilot Amazon Prime Video Downloader.
The official app comes with some limitations, such as a 30-day expiration for downloaded videos, restrictions on available content, and a download quantity limit. However, MovPilot overcomes all of these, enabling you to download any Amazon Prime content, preserve it indefinitely, and transfer it across devices without any restrictions. Now, don't wait and give it a try!