92,000 School Children in Thailand at Risk of Exposure to Narcotics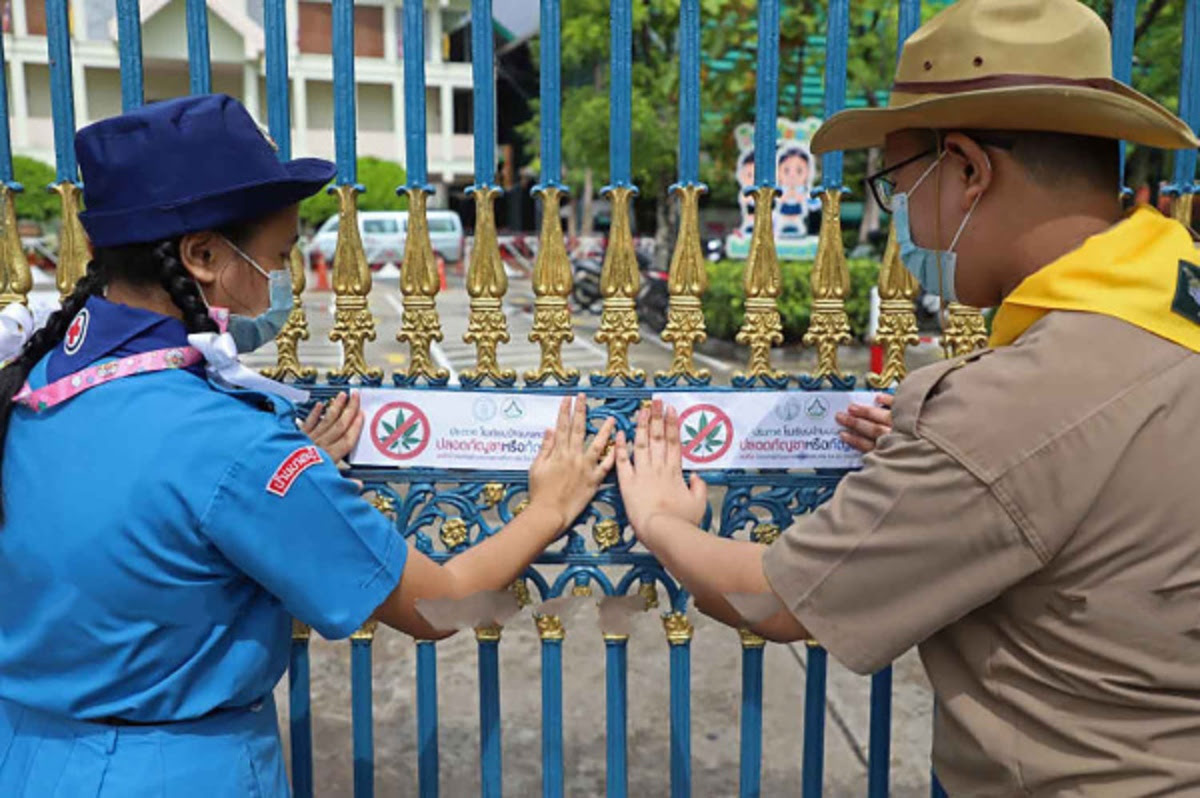 Thailand's Mahidol University's National Institute for Child and Family Development (NICFD), reports that more than 92,000 primary school-aged children are at risk of being exposed to narcotics, particularly those who grow up in disadvantaged families with drug-using parents.
According to the NICFD's director-general, Dr. Adisak Plitapolkarnpim, the research of 1,309 families living in Bangkok slums with at least one kid under the age of six years found that 6%, or 83 families, have parents or guardians with a history of drug addiction.
According to the survey findings, at least 154,800 disadvantaged families with no children or children of primary school age may have parents or guardians who have a history of drug addiction. It is anticipated that such families might have 92,880 children in this age group.
The institute identified "poor families" for this study as those who had received a 600-baht-per-month subsidy since their children were born.
According to the poll, parents from low-income households are at least 2.4 times more likely to be exposed to narcotics and risk drug addiction than those who do not meet the requirements, and 60% of them rear their children violently.
While obtaining such information on the subsidy is beneficial in determining how to rehabilitate the parents, Dr. Adisak pointed out a difficulty in the form of siloed databases, which means that data regarding drug addiction and child support subsidies are frequently not linked.
The database holding information on who got subsidies contains 2.58 million persons and shows that at least 16.32 billion baht was spent this year.
Dr. Adisak advised that the next government prioritise investments in elementary school-aged children, such as psychological training to assist them control their temptation to experiment with drugs like cannabis and Yaba, in light of these concerns.
Adults, according to Panadda Thanasettakorn, a NICFD instructor, are responsible for creating an appropriate atmosphere to nurture youngsters in a non-violent manner and strengthen their emotional ability to withstand the impulse to take narcotics.
Meanwhile, NICFD deputy director-general Dr. Apichat Jitcharoen mentioned another study the department is undertaking on the effects of cannabis on the foetus. He expressed concern that more pregnant women are increasingly consuming marijuana while having a child, particularly in disadvantaged neighbourhoods.

Drugs and Children in Thailand
Drug use among children in Thailand is a growing concern. While the Thai government has implemented various measures to combat drug use, including drug education programs in schools and law enforcement crackdowns on drug trafficking, the problem persists.
There are several reasons why children in Thailand may be vulnerable to drug use. Poverty, family dysfunction, peer pressure, and easy access to drugs are all factors that contribute to the problem. Children who are victims of abuse or neglect may turn to drugs as a coping mechanism, while those who are bored or lack direction may experiment with drugs out of curiosity.
The Thai government has implemented various measures to address the problem of drug use among children. For example, it has set up drug treatment centers and rehabilitation programs, and it has launched public awareness campaigns to educate parents and children about the dangers of drug use. Schools are required to include drug education in their curriculum, and teachers are trained to identify and intervene in cases of drug use among students.
Despite these efforts, however, drug use among children in Thailand remains a significant problem. It is important for the government and society as a whole to continue to work together to address this issue and provide the necessary support and resources to help children stay drug-free.

Cannabis in Thailand
In Thailand, cannabis is classified as a Category 5 narcotic, which means it is illegal to possess, sell, or use cannabis. This includes children and adults alike. Possession or use of cannabis can result in severe legal consequences, including imprisonment and fines.
However, in 2018, Thailand became the first Southeast Asian country to legalize medical cannabis, allowing patients with certain conditions to access medical marijuana. The law also permits the cultivation of cannabis by licensed producers and research institutions for medical purposes.
It's important to note that the medical use of cannabis in Thailand is highly regulated, and only patients with specific medical conditions can legally access it with a prescription from a licensed physician. Children are not excluded from this, but they must meet the criteria for medical cannabis use, which typically includes having a qualifying medical condition and obtaining a prescription from a licensed physician.
In summary, cannabis use, possession, and sale are illegal in Thailand, including for children. However, medical cannabis use is legal under strict regulations and requires a prescription from a licensed physician.