GM Recalls 668,187 Crossovers, Equinox And Terrain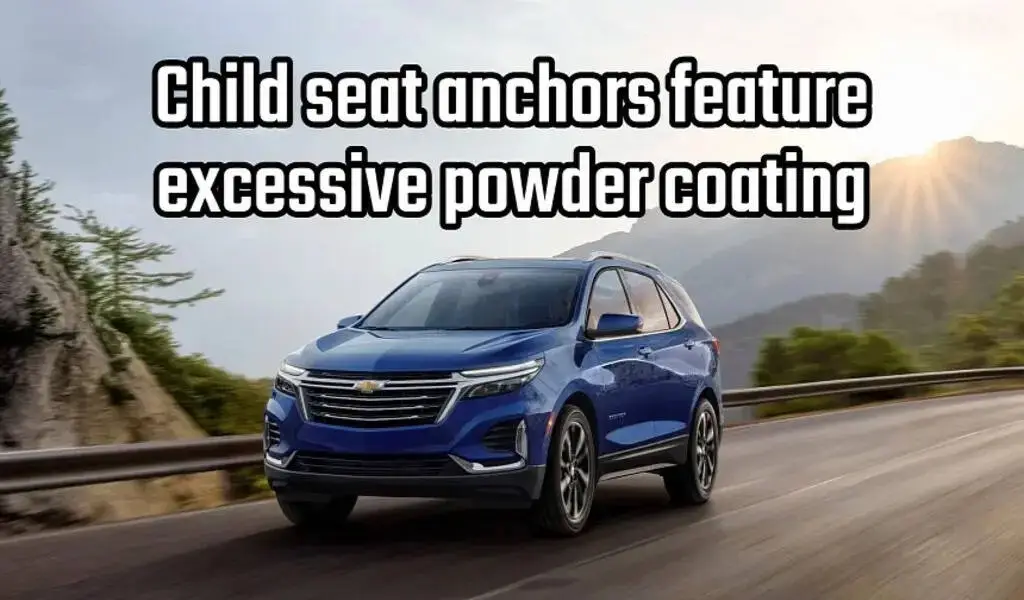 (CTN News) – As far back as March 2023, Transport Canada notified Detroit's largest automaker of a GMC Terrain that failed compliance testing for the 2022 model year.
In particular, the lower child seat anchorages were found to have diameters of 6.34 millimeters and 6.41 millimeters, exceeding the Canadian regulatory requirement of 6 millimeters by 0.1 millimeters. Consequently, the owner of the Terrain will not be able to install a child seat using the anchorage bars.
As soon as General Motors became aware of the issue, it began investigating. It was discovered that Amvian Mexico used, from time to time, a shoddy coating provider.
According to the attached report from NHTSA, said provider's process controls are described as insufficient by the agency.
GM conducted a survey of no fewer than 72 vehicles owned by GM employees on April 28th. Would you like to guess how many out of all of them had too much powder coating on their LATCH bars? This is a seriously worrying number, which should not be underestimated.
That is 77.78 percent of the population that was surveyed, which explains why GM estimates that approximately 80 percent of recalled vehicles are fitted with LATCH bars that are too powder coated.
It was determined that the automaker's production site in San Luis Potosi would have to be contained and reworked on April 5 as part of containment and rework efforts.
Curiously enough, General Motors isn't aware of any field complaints or warranty claims associated with this issue at the moment.
The Chevrolet Equinox, based on the 2020 to 2023 model year, is being called back for a total of 454,722 examples. The crossover's production dates range between June 2, 2022 and March 19, 2023.
There are also 213,465 units of the 2022 to 2023 model year GMC Terrain that are being recalled. Similar to the Chevrolet Equinox, which is a slightly more affordable vehicle, their build dates are around the same time.
General Motors has notified dealers of this blunder, and has recommended that the anchorage bars be removed and replaced.
The vehicle owners will be notified by first class mail no later than June 26, and it is further recommended that the rear child seats be installed using the vehicle's rear seatbelts.
With a recommended starting price of $26,600 but without destination freight charge, the compact-sized Equinox is currently listed by the build & price tool based on the D2XX platform. Its GMC-branded cousin costs slightly more, namely $29,000.
SEE ALSO:
Hyundai And Kia Settle TikTok Car Theft Challenge For $200 Million