China's Electric Car Manufacturer BYD in Tesla Rear View Mirror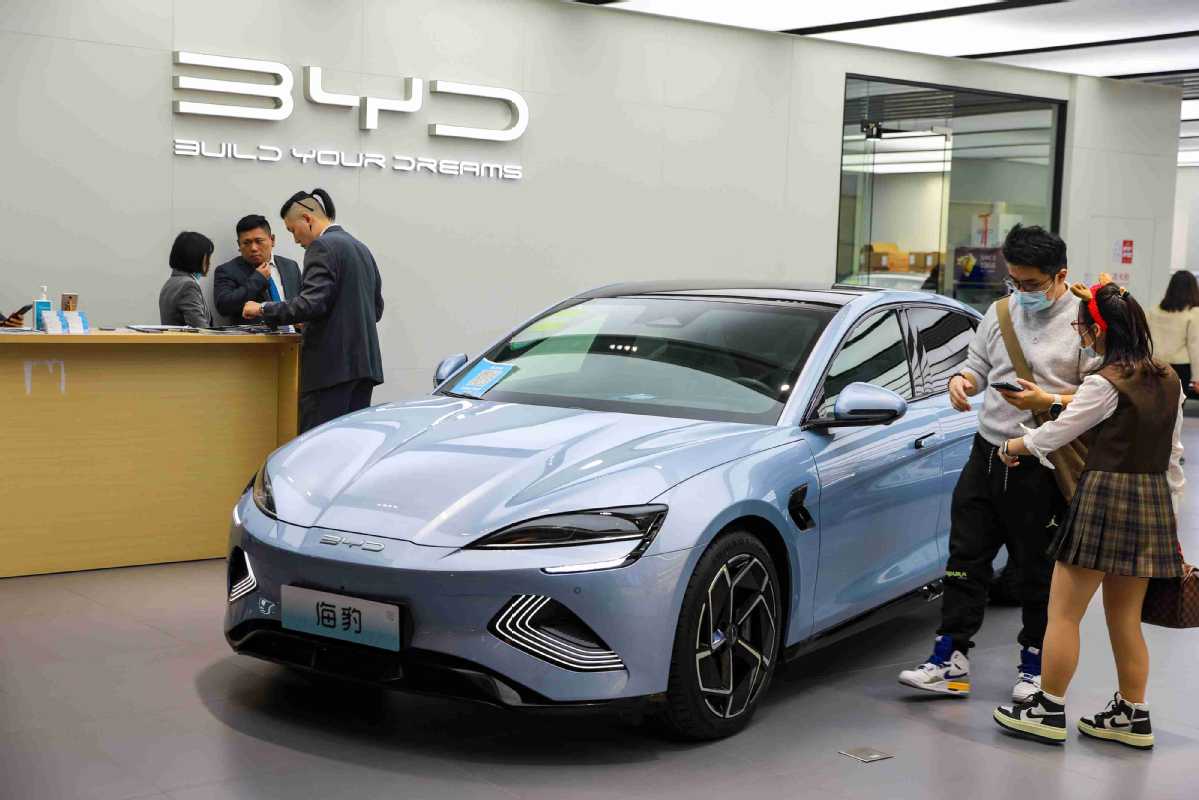 China's Electric car manufacturer Build Your Dreams (BYD) stock rose sharply this week after the company reported higher-than-expected profits for the current quarter. Quarterly production for BYD has surpassed Tesla, and BYD is currently only behind Tesla in global sales.
The fact that China has surpassed Japan as the world's largest exporter of automobiles this year is further proof of the industry's rapid development in China. Amidst a slow Chinese economy suffering from a severe property crisis and record unemployment, this is a welcome development.
While China's EV exports are on the rise, relations between Beijing and many of the countries it sells to are heating up. This is especially true of the United States and European Union. Another illustration of how difficult it will be for Western countries to wean themselves off Chinese goods as the globe transitions to new, cleaner technologies.
The fact that BYD began as a battery manufacturer gave it an early leg up on the competition among automakers that eventually branched out to produce electric vehicles.
Wang Chuanfu, the company's CEO, was born in Wuwei County, one of China's poorest counties, in 1966 to a family of farmers. Mr. Wang's older brother and sister took care of him after their parents died while he was a teenager.
He co-founded BYD in Shenzhen, China, in 1995 with his cousin after gaining degrees in engineering and the physical chemistry of metallurgy. The two became well-known as makers of rechargeable batteries, a key component of modern gadgets including cellphones, laptops, and more expensive Japanese imports.
In 2002, BYD went public on the stock market. And it quickly diversified by buying Qinchuan Automobile Company, a failing state-owned automaker.
Beijing officials were searching for a void in the market that China could fill even though electric vehicles were in their infancy at the time. It was in the early 2000s that the government began providing financial incentives for the development of renewable energy sources.
It couldn't have come at a better time for BYD. The company realised that the batteries it had been producing were essentially the EVs' engines.
Foreseeing that "the global automobile market was inevitably going electric," US billionaire investor Warren Buffett purchased a 10% investment in BYD Auto in 2008.
Indeed, he was correct. BYD is a major reason why China now produces the majority of the world's electric vehicles. With sales slowing, Beijing is eager to keep its dominance and, in June, it gave EVs $72.3 billion in tax incentives over four years.
According to the BBC, BYD's success stems from its founding product, batteries. As one of the most costly components of an EV, BYD may save a significant amount of money by producing them in-house. Many rivals, including Tesla, source their batteries from independent producers.
"The BYD Seal has a 15% advantage over Tesla's Chinese-made base Model 3 sedan," states the UBS research.
The BYD Seagull, their cheapest electric vehicle, costs $11,000. The Model 3 sedan, which Tesla just introduced, has a starting price in China of over $36,000.
Even beyond the EV industry, the Chinese firm appears to be successful; earlier this year, it surpassed Volkswagen as China's best-selling car brand.
In a 2011 TV appearance, Elon Musk joked about BYD and Chinese rivals. It was not long after the unveiling of the Model S prototype that Tesla became a publicly traded corporation.
Mr. Musk probably has some regrets about his answer today. According to recent data from the China Passenger Car Association, Tesla sold 74,073 Chinese-made EVs in September, down nearly 11% from the previous year.
Compared to BYD, which sold 286,903 automobiles in the same time period, this is a significant difference. Sales of electric vehicles and gasoline-electric hybrids increased by roughly 43% in that time period.
The irony is that Tesla is often cited as the reason electric vehicles have become so popular in China. Until Tesla came along, green incentives did not persuade consumers to purchase EVs.
According to Ivan Lam, an auto researcher at Counterpoint Research, it is still "one of the favourite EV brands in China," especially among younger purchasers.
China, the largest auto market in the world, relaxed laws to make it easier for foreign companies to wholly own production and sales operations in the nation so that they could bring in more electric vehicles. Before that time, foreign automakers such as Toyota and GM needed a local partner in China only to set up shop.
Mr. Musk hopes to greatly increase his presence in China by constructing gigantic battery warehouses that would serve as a sort of EV grid, supplying electricity to charging points.
However, as tensions between Washington and Beijing increase, he has also focused on India, which is positioning itself as a rival to China in the global marketplace. After meeting with Indian Prime Minister Narendra Modi in June, Mr. Musk declared that Tesla would launch in India "as soon as humanly possible."
Companies like Ford and GM that have built their fortunes on internal combustion vehicles are running out of room. As green incentives to tackle climate change grow, experts anticipate a seismic shift will occur by the year 2030.
European and British automakers have a hard time keeping up. However, European regulators' wariness of China could lead to restrictions that make that continent's market less attractive to China's competitive auto industry.
Because of what it calls a "flood" of cheaper Chinese EVs imported from China thanks to Beijing's subsidies, the European Commission is looking into whether or not to impose tariffs to protect EU producers. EU President Ursula von der Leyen said that the bloc remembered China's "unfair trade practises" and their impact on Europe's solar industry.
Europe is struggling with rising inflation and energy expenses, but BYD's affordable green cars are a hit for the time being.
At Europe's largest auto show in Munich in September, Chinese EVs were the talk of the town, proving that the home of Mercedes-Benz, BMW, and Volkswagen is failing to keep up with manufacturing of EVs for the worldwide market.
Affordability is in high demand around the globe. And that's a value proposition that works everywhere," Mr. Russo argues. And right now, he says, China is the only nation in the world that can provide it.