Essentials in Custom Paint by Numbers Painting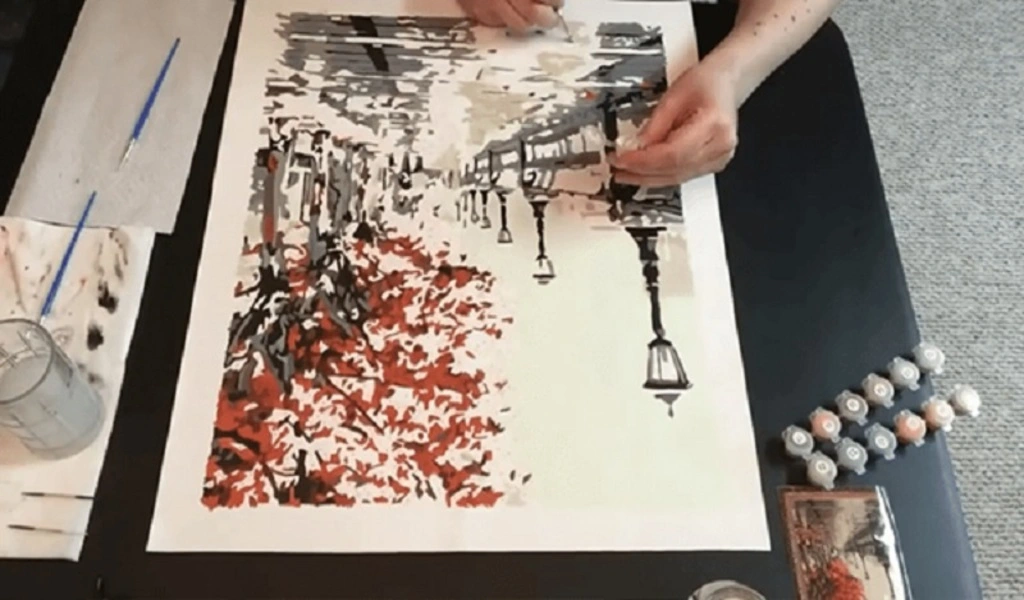 You need to understand what constitutes a decent kit whether you're making your personal canvas painting kit or looking for one already assembled online.
If you desire to get started right away and concentrate on producing your masterpiece, having all the necessary supplies and instruments is essential. Let's deep dive and take a look at the things that you really want to have in order to go ahead with paint by numbers like this one.

Canvas
Obviously, one of the most crucial components of any painting kit is the medium you paint on. And a canvas will obviously be included in a package for canvas painting. However, a canvas can take on several shapes.
The first thing is the blank canvas that you are presumably thinking about. This is already stretched over a wooden frame, so you may put it up as soon as you're done painting.
The canvas's frame might be the wood that holds it up. And last, there is canvas that has not yet been stretched. It comes in rolls and sheets and resembles paper but is really much thicker and often composed of cotton or linen.
Painting on canvas is a terrific idea, particularly if you're using acrylic as well as oil-based paints since they both easily cover the surface and don't tend to sink in.

Paintbrushes
Nobody likes to keep painting the same thing, thus the greatest brushes let you make a variety of patterns. Therefore, having many brushes in your painting set is essential if you want to make paintings of various forms and sizes.
To obtain various effects and to ensure that you don't paint too much outside the lines, you should strive to have a range of different brushes.
The following brushes are included in a decent canvas painting kit:
A flat and large brush that will enable you to swiftly fill up larger areas.A medium, round brush that works well for painting
curved forms and with greater fluidity. Additionally, the design of this brush is quite adaptable, making it fantastic for usage on a number of tasks.
You may paint very tiny forms and add intricate detail using a little, thin brush. With the help of this brush, you may add extra clarity by outlining certain areas of your design.

Paints
There are two kinds of paint to choose from when creating or purchasing a canvas painting kit: acrylic or oil. Acrylic paints are very simple to use and are perfect for amateur or casual artists. Due to the fact that they often need mixing and take more time to dry, oils might be more challenging to master.
Acrylic paint is a must-have if you're searching for a canvas painting-by-numbers kit since it dries quickly, so you won't have to worry about blurring your work as you work on various portions.
Water
A necessary tool to have on hand when painting for two reasons in particular.
In the beginning, water may help loosen up the paints, which is quite helpful if you've previously opened them in a prior painting session as well as they need to be a bit thinner. Second, clean your brush before using it to paint with a new color if you wish to use the same brush.
Nobody wants to start working on a green space and end up with a muddy mess because they neglected to wash the gray first! Additionally, acrylic paints simply dissolve in water; just a few swirl and you're done.
Surface for painting
When you have all the necessary equipment to begin painting, then you need the ideal setting in which to work on your most recent creative endeavor.
It's crucial that you have a large, level area to finish your painting on. Usually, a table or work surface—whatever your canvas can fit on—will work best for this. Frame You must include a frame with your painting supplies if you want to show your finished paintings.
We all should be pleased with our work, whether we are designing a canvas paint kit for children or adults. Just make sure the canvas fits in the frame so you can show it.
Paper towels
Make sure you have some paper towels on hand to wipe away any extra water after washing your brush with water.
Why, you inquire? You can't paint with a wet brush that is leaking because it will thin down your paint and make it much more difficult to manage when you apply that to your canvas.
The seven components we just covered are all equally crucial, so making sure you have all seven available will give you the greatest opportunity of producing fantastic work each and every moment you paint.
Using your canvas painting equipment for the first time
You can give a try at a paint by numbers kit if you're a true newbie at painting. It's a great method to learn how to paint and a certain way to experience painting's relaxing and stress-relieving benefits.
That's because you will be able to customize the image and receive all the guidance that you want with one of our kits.
Additionally, a paint by numbers kit includes all the equipment you need, eliminating the need for you to find the products described in this essay on your own.
Related CTN News:
Novachill Leads The Flower Fridge Market
Beautiful Mosaic Damascus Steel
What is the Best Way to Convert Length Units