Thailand's 5 Captivating Gems for Social Media Explorers
Thailand, a land of beauty and diversity, offers a treasure trove of captivating gems that are sure to delight social media explorers seeking to capture stunning moments for their followers. From breathtaking landscapes to ancient temples, vibrant markets to pristine beaches, this Southeast Asian nation has it all.
In this article, we will delve into the enchanting treasures of Thailand that are bound to leave any traveller in awe and generate a buzz of excitement on social media platforms like Snapchat. Discover the enchanting treasures of Thailand and immerse yourself in its vibrant culture, breathtaking landscapes, and serene beauty. Share your unforgettable experiences on Snapchat and generate traffic from Snapchat as you capture and showcase the captivating gems of this Southeast Asian paradise to your eager followers.
From bustling Bangkok to tranquil Pai, Thailand offers a plethora of Instagrammable moments that are sure to captivate and engage your audience, driving traffic from Snapchat and leaving them yearning for more. So, pack your camera and embark on a visual journey through Thailand's captivating wonders.

The Grandeur of Bangkok
Thailand's bustling capital, Bangkok, is a must-visit destination for social media explorers. The city boasts a plethora of iconic sights that are picture-perfect and bound to garner attention. From the opulent Grand Palace and its sacred Wat Phra Kaew (Temple of the Emerald Buddha) to the vibrant and bustling streets of Chinatown, there is no shortage of captivating moments to capture. The floating markets, such as Damnoen Saduak and Amphawa, offer unique photo opportunities, showcasing the lively local culture. Don't miss the awe-inspiring sunset views from the Wat Arun (Temple of Dawn) and the stunning skyline from the rooftop bars, providing a perfect backdrop for your Snapchat stories.

The Serenity of Chiang Mai
Nestled in the mountainous region of northern Thailand, Chiang Mai offers a serene escape for social media explorers looking to capture the charm of traditional Thai culture. The city is famous for its numerous temples, including the awe-inspiring Wat Phra That Doi Suthep, perched on a hill overlooking the city.
The vibrant night bazaars, such as the famous Sunday Walking Street, present a plethora of colourful sights and local handicrafts that are perfect for snapping and sharing. For a unique experience, visit the Elephant Nature Park, where you can interact with rescued elephants and showcase your compassion for these majestic creatures on your Snapchat feed.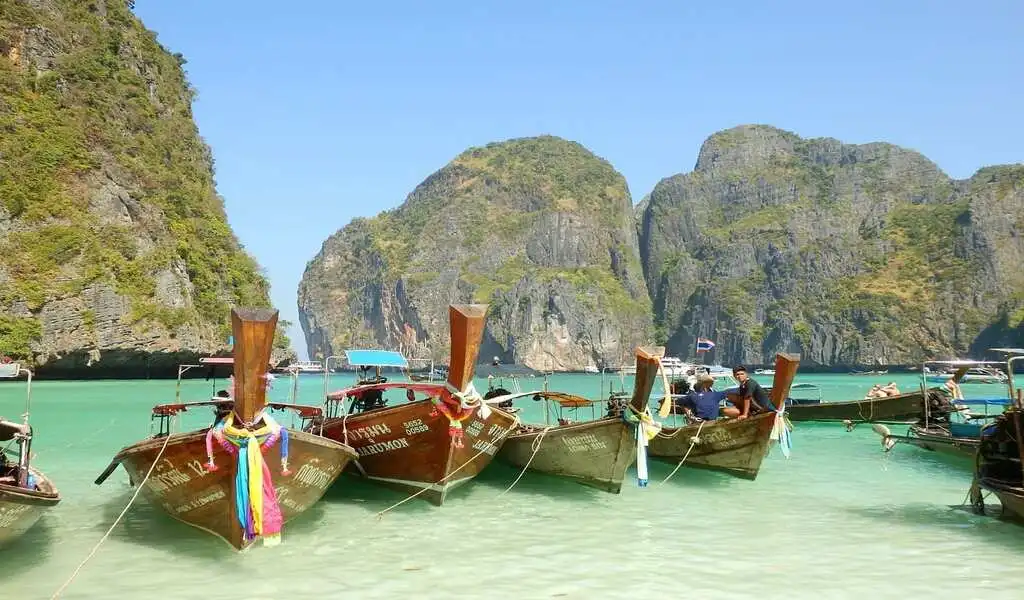 The Pristine Islands of Southern Thailand
Southern Thailand is renowned for its pristine islands and crystal-clear waters, offering an idyllic backdrop for social media enthusiasts seeking a slice of paradise. Koh Phi Phi, with its dramatic limestone cliffs and turquoise bays, is a popular destination that has gained fame through movies like "The Beach." Maya Bay, a stunning cove on Koh Phi Phi Leh, is a must-visit spot for its breathtaking beauty.
Other island gems, such as Koh Lanta, Koh Tao, and Koh Samui, offer picturesque beaches, vibrant marine life, and lush tropical landscapes that are sure to generate envy-inducing posts on your Snapchat stories.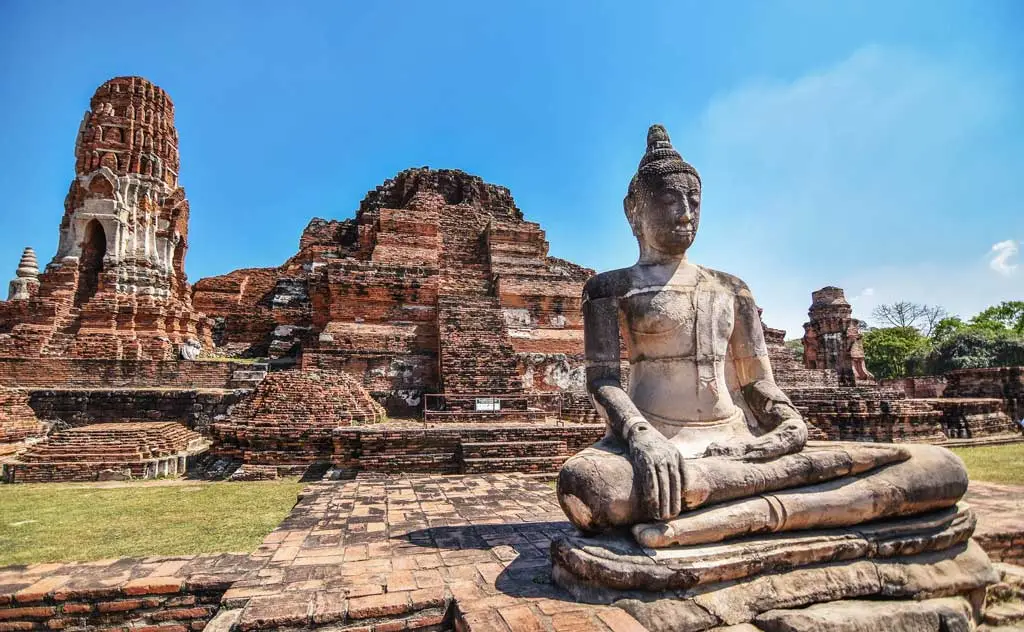 The Cultural Heritage of Ayutthaya
History buffs and social media explorers alike will find Ayutthaya, the ancient capital of Thailand, a fascinating destination to capture the remnants of its glorious past. The Ayutthaya Historical Park, a UNESCO World Heritage Site, is dotted with ruins and ancient temples, including Wat Mahathat, famous for the iconic Buddha head entwined in the roots of a tree.
Rent a bicycle to explore the sprawling site, and don't forget to capture the mesmerising sunset over the ruins, which paints a stunning tableau for your Snapchat followers.

The Tranquil Beauty of Pai
Tucked away in the mountains of northern Thailand, Pai is a hidden gem that offers a serene escape from the bustling city life. This small town has become increasingly popular among social media enthusiasts due to its picturesque landscapes, peaceful atmosphere, and bohemian vibe. Exploring Pai feels like stepping into a dreamy postcard, and your Snapchat followers will surely be captivated by the beauty you capture.
Start your Pai adventure by visiting the Pai Canyon, a natural wonderland with narrow ridges and breathtaking views. Walking along the edge of the canyon, you can snap incredible photos of the surrounding lush greenery and deep ravines. Don't forget to capture the magical sunset, as the golden hues paint the sky and create an ethereal backdrop for your snaps.
Another must-visit spot in Pai is the Pai Bamboo Bridge, a charming walkway that winds through rice fields and leads to a small village. This rustic wooden bridge offers a great photo opportunity, and you can showcase the authentic rural life of Thailand to your Snapchat followers.
For those seeking tranquillity and relaxation, the Pai Hot Springs are a perfect choice. These natural hot springs, surrounded by lush vegetation, provide a soothing retreat where you can soak in warm mineral-rich waters while documenting your serene experience on Snapchat. The beauty of Pai lies not only in its natural attractions but also in its vibrant street markets and quirky cafes.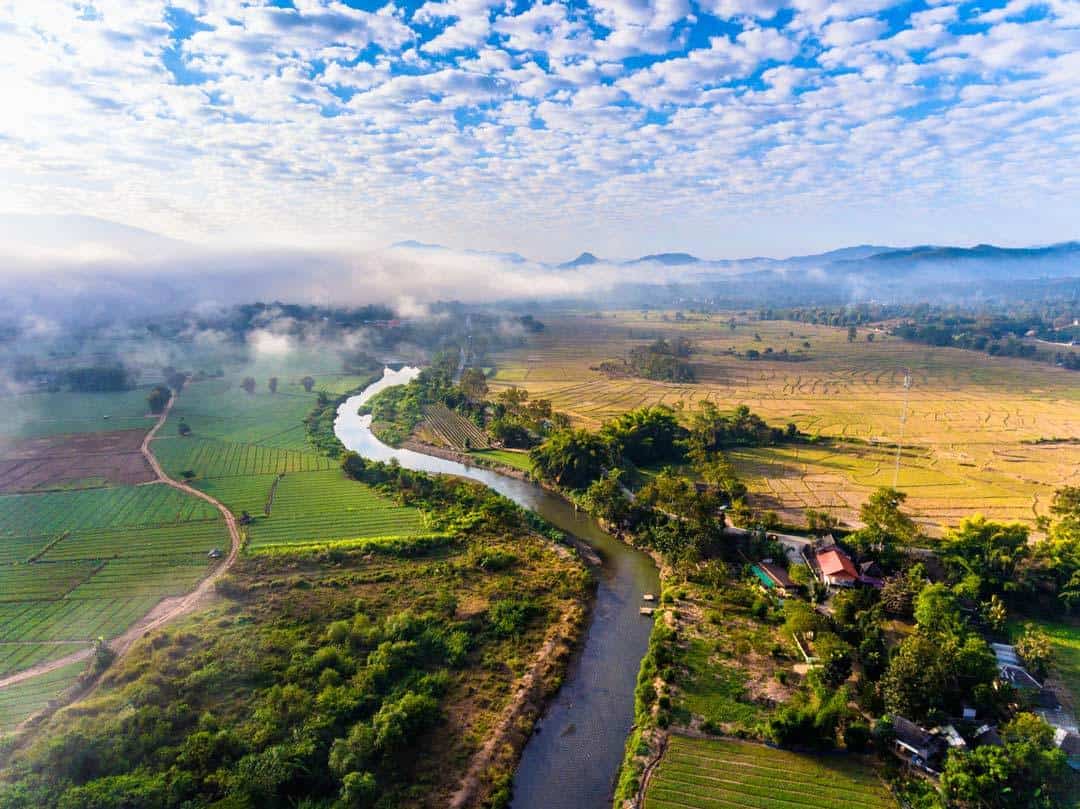 The Pai Night Market is a bustling hub of local crafts, delicious street food, and live music. Snap pictures of the colourful lanterns, mouthwatering dishes, and talented street performers to give your followers a taste of the lively atmosphere.
To truly immerse yourself in the local culture, consider visiting the Pai Walking Street, where you can browse through a wide range of handmade crafts, unique souvenirs, and traditional clothing. Engage with the friendly locals, strike up conversations, and document your interactions, as these authentic moments will resonate with your Snapchat audience.
For a truly unique experience, venture outside the town centre to explore Pai's surrounding natural wonders. Pam Bok Waterfall, with its cascading waters and verdant surroundings, offers a refreshing escape from the summer heat. Capture the playful moments as you swim in the crystal-clear pools or simply relax amidst the sounds of nature.
Conclusion
Thailand is a treasure trove of captivating gems that cater to the desires of social media explorers. From the vibrant streets of Bangkok to the tranquil beauty of Pai, each destination offers a unique experience waiting to be shared with your Snapchat followers. So pack your bags, charge your phone, and embark on an enchanting journey through Thailand's captivating wonders. Get ready to capture and share the magic, generating a buzz of excitement that will drive traffic from Snapchat to your travel adventures in the Land of Smiles.