QSFP28-100G-ZR4 Quick guide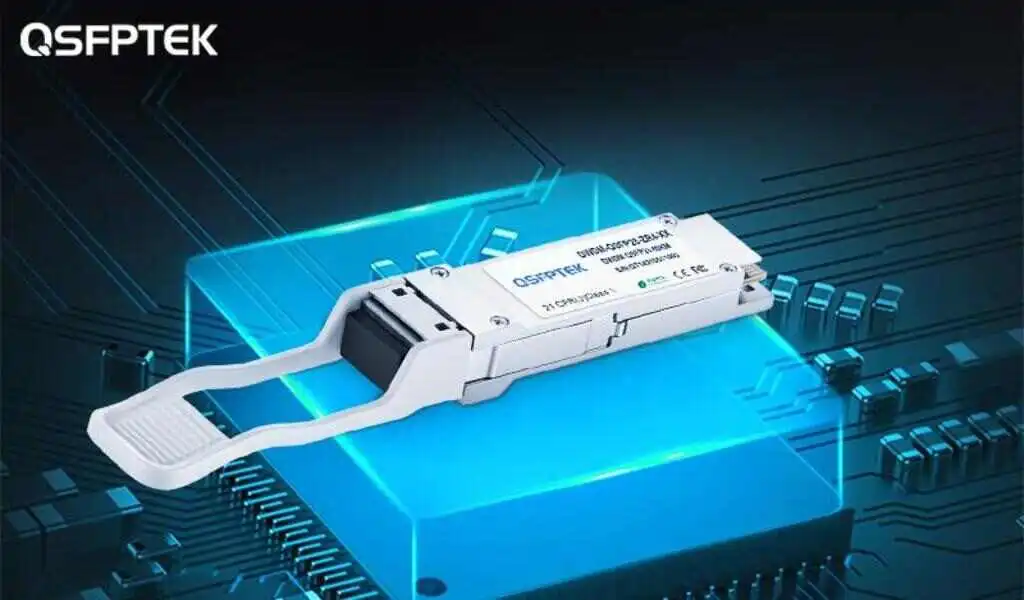 With the development of 100G Ethernet becoming a trend, the demand for 100G optical modules is increasing, and now the cost of 100G optical modules has become the focus of optimizing network construction costs. There are three solutions for 100G 80km DCI (Data Center Interconnect), namely 100G coherent, 100G PAM4 DWDM and 100G QSFP28 ZR4. This article will introduce the 100G QSFP28 ZR4 optical module in detail, and answer why QSFP28 ZR4 is the cost-effective choine for 100G long-haul application.
100G QSFP28 ZR4 introduction
The 100G ZR4 has a QSFP28 form factor, the smallest size in a 100G 80km optical module package solution, with an LC duplex interface capable of transmitting 4 channels 25G wavelengths including 1295.56nm, 1300.05nm, 1304.58nm and 1310.19nm. Besides, It is fully compliant with the QSFP28 MSA industry standard in SFF-8665/8636 and the IEEE 802.3 100GBASE-ZR4 specification. The 100G ZR4 transceiver also supports FEC (Forward Error Correction), which detects and corrects errors, improving the quality and performance of the long-haul transmission.
Form factor: QSFP28
Data format: 25.78125Gbps NRZ (CEI-28G-VSR)
Configuration: 4 lanes x 25G (electrical) => 4λ x 25G multiplexed to 1 fiber
Wavelength: 1295.56nm 1300.05nm, 1304.58nm, 1309.14nm (LAN-WDM)
Power consumption: 4.5W (35C), =5.5W (65C)
Support 60/65Km without FEC or 80km with KR-4 FEC for NRZ.
The working principle of 100G QSFP28 ZR4
On the transmitter side, the serial data (NRZ, non-return-to-zero) of the four channels is recovered by CDR and delivered to four laser drivers with center wavelengths of 1296nm, 1300nm, 1305nm, and 1309nm, respectively. Optical signals are multiplexed to single-mode fiber (SMF) via LC duplex connectors. At the RX side, the optical signals of the 4 channels are amplified by the SOA and then demultiplexed by the integrated optical demux. Each optical signal is received by a PIN detector and then clocked through a transimpedance amplifier and CDR to deliver the electrical signal to a CAUI-4 compliant output driver as shown in the following figure: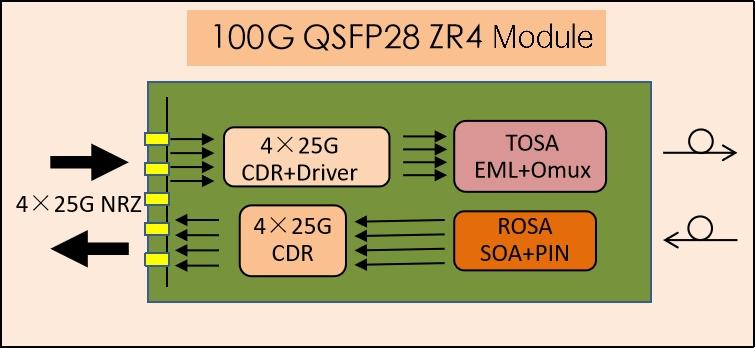 100G QSFP28 ZR4 框图
First of all, 100G ZR4 QSFP28 supports 100G Ethernet and can achieve 80km transmission. Moreover, the QSFP28 ZR4 is small in size and low in power consumption. Provides point-to-point solutions in data centers without deploying legacy CFP/CFP2 interfaces, and can operate on point-to-point links up to 80km without optical amplification and dispersion compensation. This is a true plug and play solution.
If you have any questions about QSFP28 100G ZR4, please feel free to contact us at QSFPTEK.COM.
Also Check:
Data Analytics Can Be a Powerful Tool Against Cybercrime's Meteoric Rise in South East Asia
What To Ask In Technical SEO Interviews
SEO Software Market to Grow Rapidly In Future Years
Data-driven information by Entrepreneur Tal Dilian