Let's Go! As 49ers QB Brock Purdy Wins Again, Join His Bandwagon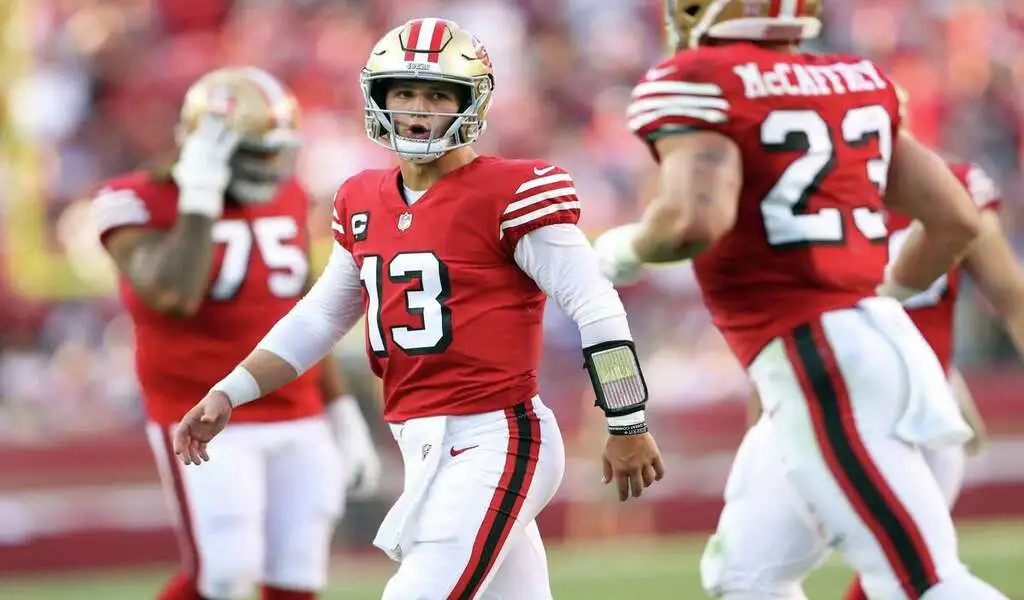 (CTN News) – NFL 49ers experts and the NFL find Brock Purdy difficult to handle.
Is it a flash in the pan? Manager of the game? A future star? It is difficult to stick labels to Purdy.
He had a chance to make a breakthrough on Thursday night. The majority of Bay Area fans, including his teammates and head coach Kyle Shanahan, believe he is the Real Deal.
They needed to see the kid in a brighter spotlight, like Thursday Night 49ers Football, to reach outside the Bay Area.
Purdy's bandwagon would surely load up if he could whittle down the Giants. If the 49ers win this game, it would be hard to deny props to a kid who has started and finished 10-0 NFL games.
As a result, Purdy carved up the Giants in a 30-12 Niners win, making the Niners 3-0 for the season.
Is he ready to be crowned now? I don't think so. It's no secret that he's the most interesting quarterback to come along in a long time, but some jurors want more evidence.
They are convinced. With a passer rating of 111.2, Purdy passed 25-for-37 for 310 yards, two touchdowns, and zero interceptions.
Purdy had the best quarterback rating in the NFL, 86.6, which takes the strength of defense into account, unlike a passer rating. In both games, Purdy has been right alongside the big boys. Purdy has to rank among the top five or six quarterbacks in the league at this point.
The 49ers depend on him to be efficient and clean, even if he isn't spectacular. Purdy has thrown only four interceptions in 324 passes, including playoffs, in his NFL career. It was in last year's second-to-last game against the Raiders that he picked. So far, he hasn't intercepted a ball in seven straight games, including three playoff games.
Purdy and Shanahan were tested in the first half by flurry of blitzes. During the 49ers' first series, Purdy looked like a shooting star that fizzled back to earth. His passing efficiency was 3-for-8 with one highball in nine drop-backs. It's not impressive.
It was a little choppy at first because I was off, inaccurate, or some things didn't go according to our plan," Purdy explained. Eventually, we figured out what they were doing after a few drives. Our first task was to put together some drives."
An 11-yard looper by rookie wideout Ronnie Bell broke a 3-3 tie on the 49ers' third drive.
McCaffrey, who caught five Purdy passes on five targets, said he improved as the game progressed. As he started seeing things, he was rolling." As a quarterback coach, I don't always comment on quarterback play.
A 17-yard pass play to 49ers McCaffrey on third-and-13 at the Giants' 31 really got Purdy rolling early in the second quarter. Bell scored three plays later.
Ignore the money, though. What is your opinion of Purdy? In your opinion, how does he look now?
Don't tell the 49ers when you decide. There's no turning back now. As they see it, they believe it.
McCaffrey said he was lucky to have him as his quarterback. Unlike some 49ers quarterbacks, he doesn't fear throwing the ball deep. You saw the one to Deebo, right? Just keep making plays for him."
SEE ALSO:
When Inter Miami Play Toronto, Messi Leaves The Field