Police Arrest Alleged Chinese Triad Gang Leader in Bangkok, Thailand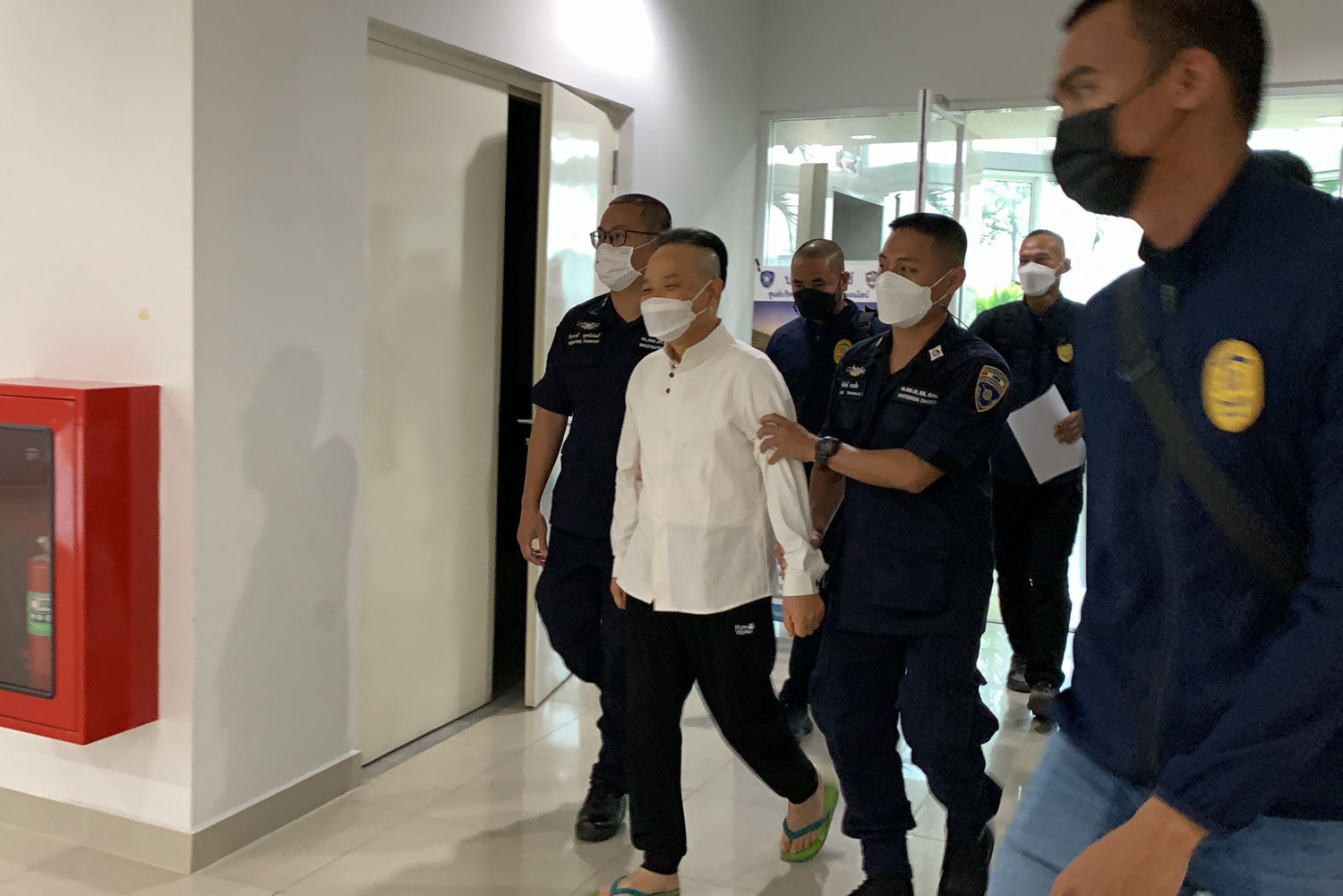 Police investigators are getting ready to file charges against another alleged Chinese triad gang leader for his participation in a dubious business network in Thailand who established an illegal Chinese association and a business school that catered to Chinese Nationals.
The action was taken in reaction to information learned by Move Forward Party MP Rangsiman Rome during a House debate on Wednesday concerning a Chinese suspect named Yu Xinqi, who allegedly controls a second dubious business network similar to Chinese businessman Chaiyanat "Tuhao" Kornchayanant.
Former massage parlour magnate and politician Chuvit Kamolvisit informed Mr. Rangsiman that the suspect established the Shaanxi Association, which is under the control of the Kannayao police, as a front for triad operations.
According to reports, the organization doesn't have a registration and runs a for-profit business school to give its members access to student visas. Mr. Rangsiman claims that it also has contacts with senior state officials.
Additionally, it was said that Mr. Yu liked to take images with prominent Thai figures, such the prime minister, and post them on social media to trick investors in the UK and China into making investments.
Mr. Rangsiman claimed that the association allegedly imported roughly 7,000 Chinese members of its network into the country illegally, citing 2020–2021 data.
Thailand's deputy national police commander, Pol Gen Surachate Hakparn, announced on Friday that authorities had worked with the Immigration Bureau to get the suspect's visa revoked and had discovered his whereabouts at a mansion in Bangkok.
Police were already suspicious, due to Mr. Yu's appearances with powerful people. Without realizing it, "Even I, myself, was captured in a shot [with him]," he claimed. "I think Thais supported the association," Pol Gen Surachate said.
He added that Mr. Yu had been called in for interrogation in order to ascertain whether his house had been used as the association's base and that the police intended to file charges against the suspect for investment fraud and forming groups without licenses. For failing to look into the association, action will also be taken against the Kannayao police station chief.
Police Corruption in Thailand
After a resignation letter was uploaded to Facebook claiming to be from a Suphan Buri police sergeant sparked a flood of comments and questions from readers in Thailand. The sergeant claimed that his loss of morale is attributed to "protection of the criminal" and "neglect for honest personnel.  He said that the police officers "never faced a criminal charge or underwent a disciplinary committee reviews".
Since the letters posting on Facebook, there have been a lot of comments and responses to the posting.
I feel the same, a fellow cop who shared the letter on Facebook wrote. Not because I don't love the police — I do — but rather because some higher ups have made this organization intolerable, I would also think about leaving if I wasn't in debt to the police cooperative.
Resignation is easier than changing the culture of an organization you do not own, a user posted in a picture. The majority of remarks and responses have been in the police officer's favour.
A number of charges, including helping Chinese gangsters to engage in extensive internet gambling and tourist extortion, have shaken the force in recent months.
Prime Minister Prayut Chan-o-cha acknowledged corruption in the Royal Thai Police has existed for years and that all parties concerned must work together to clean up the police force.
Police Aligned with Gambling Networks
Thailand's national police commander is being urged by media crusader Mr. Chuvit Kamolvisit to take urgent action against senior police officers who are allegedly responsible for a significant internet gambling network. Following a police crackdown on gambling site macau888, Mr. Chuvit, who recently exposed police misconduct tied to "grey industries," has turned to gambling.
A series of accusations made by TV actress Arisara Thongborisut on Facebook started the case.
She said that four brothers, including her ex-boyfriend "Benz Daemon," ran the macau888 network. Police have reportedly detained 46 suspects and seized a variety of assets, according to the Cyber Crime Investigative Bureau.
In comparison to another gaming network managed by "Inspector Sua" and "General Jor," Mr. Chuvit claimed that the macau888 network, which had approximately 5.5 billion baht in circulation, was comparatively tiny. According to him, they operated the network with more than 10 billion baht in circulation using their connections.
He continued, pointing out that the network is connected to the unregistered massage parlour Lalisa, which was raided by authorities on February 3. The network has its own cooperative and multiple businesses acting as fronts, he said.
He added that "Inspector Sua" is an ex-cyber police officer who works in logistics but is infrequently present for work and that the national police head must purge cyber police units beginning with him.
The former boss of the massage parlour said, "I give you until Monday, and if you take no action, don't blame me for any harm to the reputation of the police force." He added that unlike physical gambling establishments, which pay off police units to keep authorities from taking action, online gambling sites only deal with cyber police.
With regards to the macau888 network, he claimed that the four brothers left because the cyber police took too long to act. He claimed that "General Jor" was supposedly asked to assist by the network in exchange for 500 million baht.