Teachers, Doctors Join Fight to End Dog Meat Trade in Vietnam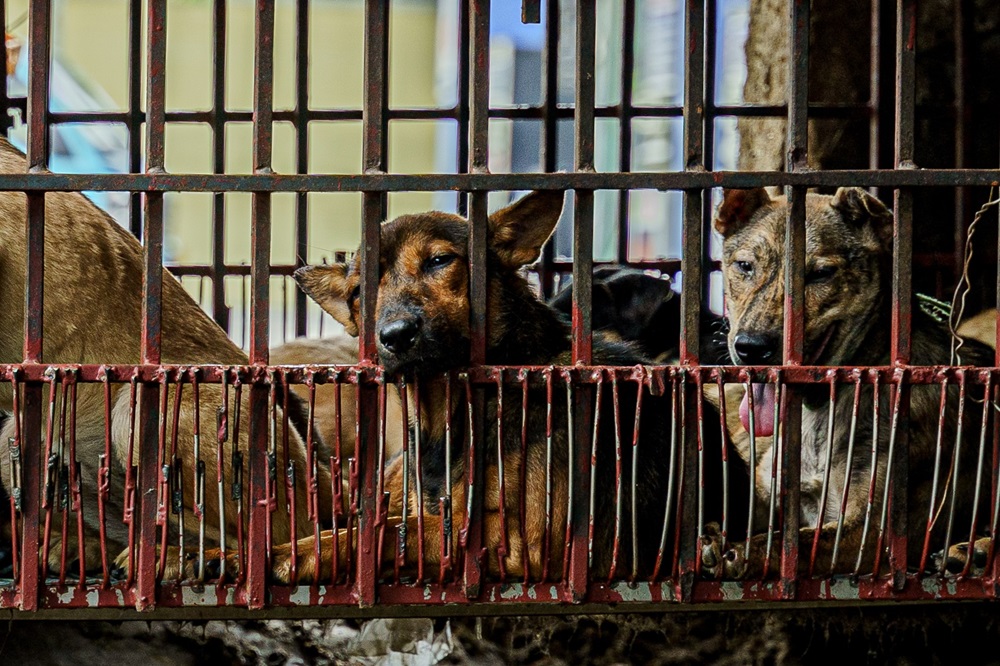 Vietnam's education sector and traditional medicine community are spearheading efforts to end the dog meat and cat meat trade – a significant step forward for animal welfare from two of the country's most influential sectors.
The consumption of dog and cat meat is a longstanding practice in Vietnam, rooted in unfounded beliefs related to nutrition and medicinal properties. However, a growing awareness of the risks associated with the dog and cat meat trade, including the transmission of diseases such as cholera and rabies, has prompted a collective response from teachers and traditional medical practitioners in the country who are joining the fight to end the trade once and for all.
Just last month, leaders of the Vietnam Orientally Traditional Medicine Association (VOTMA) – the official voice of traditional medicine practitioners across the country – categorically denounced the use of dog and cat meat in traditional medicine in a landmark move.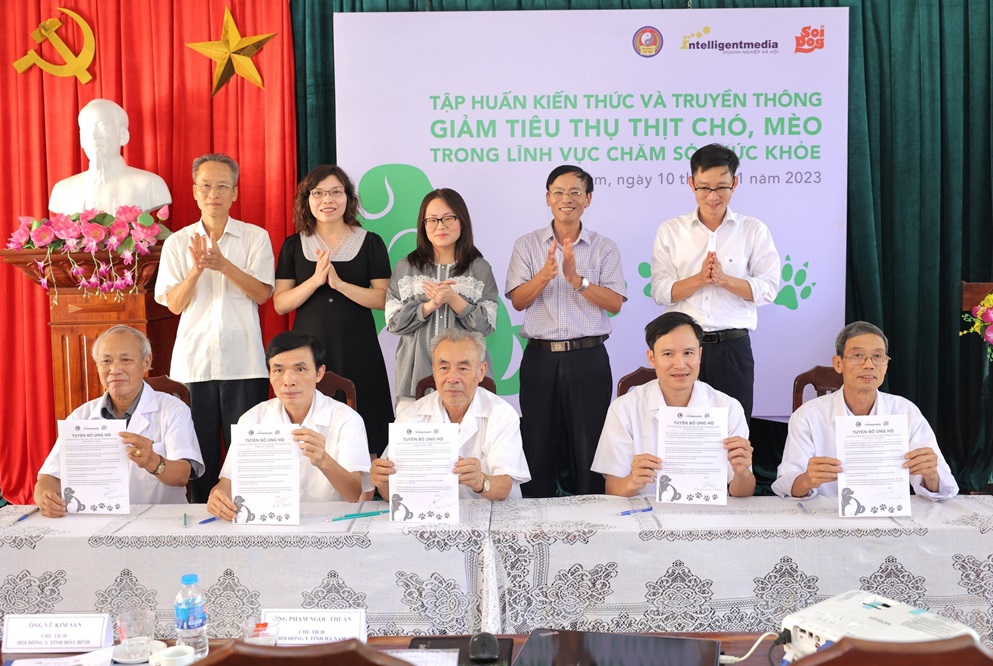 On November 10, VOTMA member Ha Nam Traditional Medicine Association followed suit at a workshop in the northern province, pledging to cease using dog and cat meat in their practices and to educate their peers and patients that there is no scientific evidence of its claimed medicinal qualities.
The workshop, led by animal welfare organisation Soi Dog International Foundation and social behaviour change agency Intelligentmedia, included open discussion about the dog and cat meat trade and expert coaching to equip Ha Nam's traditional medicine practitioners with the knowledge and tools to discourage the use of dog and cat meat among their patients.
"We are in favour of the initiative because we recognise the benefits of removing non-scientific traditional medicine ingredients and products for public health and, more than that, the sustainable development of Vietnam's traditional medicine reputation," said Head of Ha Nam Traditional Medicine Association Pham Ngoc Thuan.
"The Association commits to assigning and monitoring our traditional medicine individuals in disseminating the zero-tolerance message against the consumption of dog and cat meat and guiding our patients towards safer natural-based ingredients."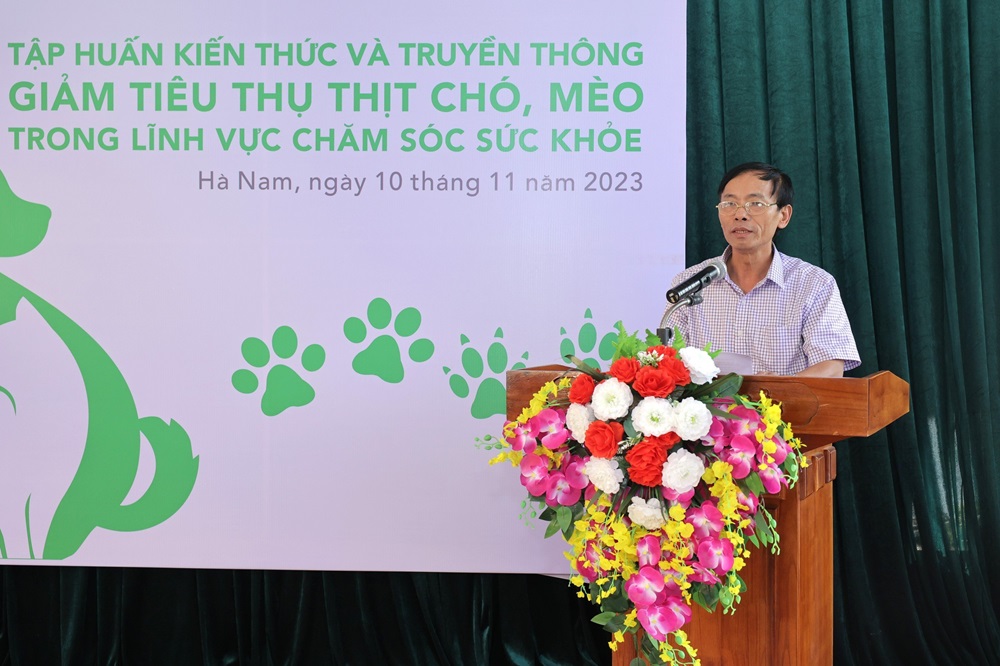 In a separate but complementary initiative in the Vietnamese capital Ha Noi on November 3, teachers from more than 30 secondary schools joined together to discuss ways to educate the next generation about the ethical and health implications of the dog and cat meat trade and inspire them to effect change.
Also organised by Soi Dog International Foundation and Intelligentmedia, in partnership with the Hanoi Department of Education and Training, the event centred around animal welfare and responsible pet ownership as well as rabies prevention in line with Hanoi's goal to eliminate rabies in the city by 2030.
"Dog and cat meat trade and consumption are becoming controversial, and that needs to be addressed from an educational aspect," said Tring Dan Ly, Head of the Education and Training Department in Dong Da district.
"Integrating information about self-protection and pet protection for students in extracurricular activities is a suitable and effective choice to inspire and encourage students. We will do our best to teach students about rabies prevention and living safely and humanely with pets to gradually eliminate the trade and consumption of dog and cat meat in the future."
The event was met with an enthusiastic response from teaching staff and a clear commitment to integrate the issues into their curriculum by way of reading materials, group discussion and roleplaying activities.
"No one can deny the important role of the youth in leading the future society. By providing them with enlightening facts, information, and skills, we hope that they can push forward positive social changes including stopping dog and cat meat consumption," said Soi Dog Foundation's Director of International Advocacy Rahul Sehgal.
"We highly appreciate the active engagement of secondary school leaders and lecturers in bringing the issues closer to students and making changes."
Soi Dog Foundation has long fought for an end to the trade, which claims the lives of an estimated five million dogs and one million cats in Vietnam every year. In July, the foundation participated in a roundtable discussion with the National Assembly – Vietnam's most powerful legislative body – to discuss a roadmap for ending the trade, starting with Hanoi. It was the first time in Vietnam's history that the trade and consumption of dogs and cats had been deliberated upon at this level of government.
"The partnership with the National Assembly marked a critical milestone in raising the profile of the issue to the top of government so that laws and regulations to control the dog and cat meat trade can be further improved and enforced," said Rahul.
"We are committed to supporting… a multi-faceted approach which includes education, legislation, promoting alternatives, cultural change and collaboration leading to a zero-tolerance attitude towards dog and cat meat consumption."
—

About Soi Dog Foundation
Established in 2003 on the island of Phuket, Thailand, Soi Dog Foundation is Southeast Asia's largest organisation helping stray animals. Its mission is to improve the welfare of dogs and cats in Asia, resulting in better lives for both the animal and human communities, to create a society without homeless animals and to ultimately end animal cruelty.
The Gill Dalley sanctuary in Phuket is home to over 1,800 animals. Soi Dog also has a treatment facility in Bangkok and responds to crisis situations throughout Thailand. The organisation is dedicated to implementing effective, sustainable solutions that reduce the suffering of dogs and cats in Asia, runs entirely on donations and works efficiently so all donations are used to help animals as effectively as possible.
Contact 
Website